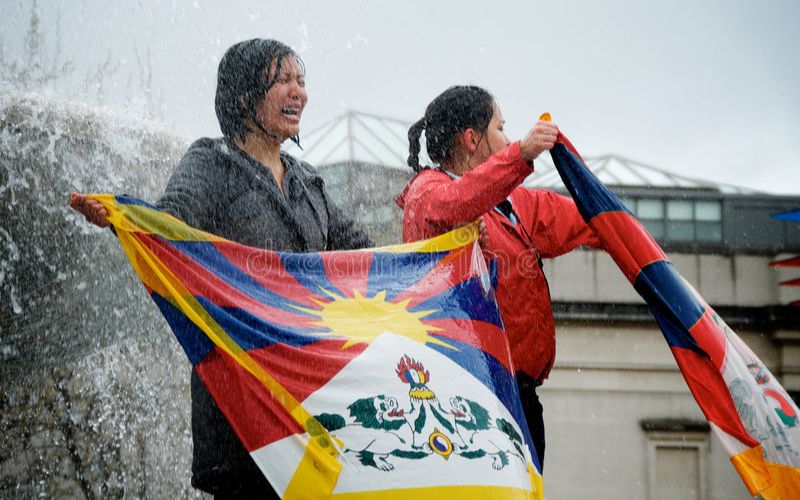 Chinese officials in Tibet who killed Tibetans and schemed the Galwan incident sanctioned
Introduction
This International Human Rights Day, we Tibetans and all those who suffer and continue to suffer under the strict authoritarian Chinese Communist regime were given further acknowledgement of our struggle that resembles the David vs Goliath situation.
The US Treasury Department under the Global Magnitsky Human Rights Accountability Act sanctioned two top Chinese officials namely Wu Yingjie and Zhang Hongbo, both of whom have had a strong presence in China occupied Tibet for many years. In retaliation for Washington's actions against Chinese officials, Beijing also imposed sanctions on two Americans who were engaged in determining US policy. Beijing imposed sanctions on Miles Maochun Yu, who served as principal China policy adviser to former secretary of state Mike Pompeo, and Todd Stein, deputy staff director of the Congressional-Executive Commission on China (CECC).
Wu Yingjie was the party secretary of the so-called Tibetan Autonomous Region (TAR) from 2016 till 2021. Zhang Hongbo, the other Chinese official sanctioned, is the director of the so-called TAR Public Bureau Security from 2018 till 2022 (November). These officials were the dual leaders of the administrative and security department of Tibet representing Beijing and were the ones who oversaw an increased level of suppression in Tibet through the enactments of several inhumane policies but also were the ones to usher an aggressive Chinese attitude in the Indo-Tibet border. They also were the one driving and navigating the repressing policies adopted towards Tibet after the resolution of the 7th Tibet Work Forum held in August 2020.
Killing Tibetans and wolf-warrior attitude to India
Wu Yingjie prior to becoming party secretary of TAR, served in Tibet at varying capacities. Right after becoming the Party Secretary of the TAR, in his opening statement, he criticised the Dalai Lama and called for the people in TAR to expose the Dalai Lama of his lies. This statement in 2016 clearly showed the mindset of Wu and how it would eventually seep into Tibetan plateau for many years under his stewardship.
Wu Yingjie furthermore set the template and platform in Tibet which led to president Xi Jinping visiting the Tibetan capital of Lhasa for the first time since his presidency in July 2021. Wu in June 2021, just a few months prior to Xi's secret visit to Tibet in a meeting in Lhasa mentioned Xi's name a dozen times. He further backed Xi's ideology, "Socialism with Chinese characteristics and Tibet in a new era". All in line to welcome president Xi Jinping, the following month.
While Wu Yingjie was shoring up the administrative side of Tibet, it was Zhang Hongbo, the director of the TAR Public Bureau Security who was the individual who inspected whether the policies implemented under Wu's direction were carried out or not. He further took the role of a strongman and under his leadership several notable Tibetans in the capital of Lhasa were either arbitrarily sentenced or died after suffering in prison.
It was under both Wu Yingjie and Zhang Hongbo that the case of Tibetan Businessman Dorjee Tashi was quashed even though a committee of six high-profile Chinese legal experts in their expert opinion in October 2018 concluded that Dorjee was wrongfully convicted for "loan fraud". To make matters worse, these and other human rights lawyers in Beijing have been barred from pursuing Dorjee's case. We often think of rich people to be untouchable due to their wealth but the case of Dorjee Tashi not only contradicts this but makes it clear how right from the very top to the bottom, Tibetans under Wu Yingjie and Zhang Hongbo have been severely suppressed, initiated and traumatised.
However, their illegal activities did not stop and it affected not only the Tibetans but also India because they along with the CCP leadership in Beijing were the main driving force in shifting and morphing to an aggressive China on the Indian border. They were the core Chinese Communist Party leaders when the Chinese PLA troops were allowed to encroach into Indian territory at Galwan in 2020. This set a precedent of sorts which continues to this very day and the recent Tawang clash between PLA troops and the Indian army were most likely because of Chinese attitude after the Galwan incident and their implementation of wolf-warrior diplomacy even at a terrain like the Himalayas.
The salami cutting of Indian territory has been in the news lately and it is solely because of Chinese aggression at the border areas. Here the pioneers and implementation of such tactics lies in the hands of these very Chinese officials who under the guise of governing and ruling Tibet have been conjuring plans in annexing and occupying Indian territories.
Conclusion
It is high time that India takes notice of such sanctioning by the west to Chinese officials based in Tibet. Because these very officials are the ones who impact and affect India's border which has been historically shared with Tibet and was morphed to China only when Tibet was illegally occupied in 1951.
When one's sovereign territory and national security becomes threatened, sanctioning can be a diplomatic tool to not only send a strong message but to form a base on which one can build upon in overriding aggressive attitudes from the foe.