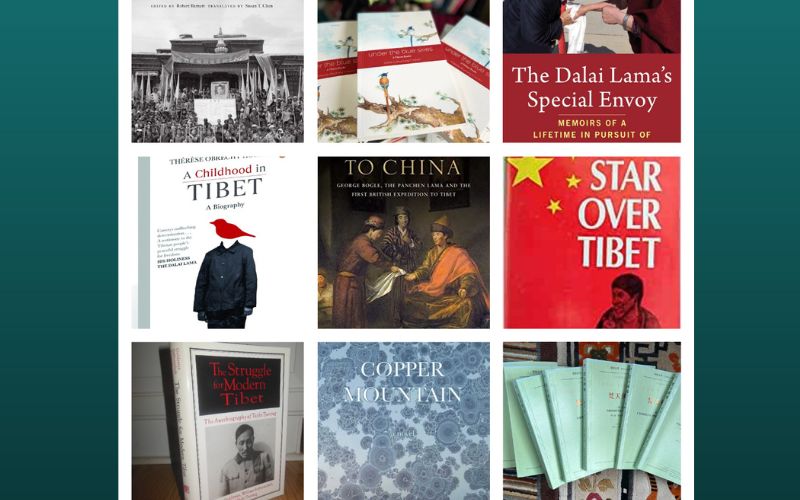 Favourite Tibet Reads of 2022
2022 is almost over. As the year draws to a close, we asked researchers, activists and journalists to name their favourite Tibet reads of 2022 that left an impression on them. Here are their responses.
Human rights activist and lawyer Teng Biao's favourite read of 2022 was 'Forbidden Memory - Tibet During the Cultural Revolution' by Tsering Woeser (Author) and Robert Barnett (Editor). "Xi Jinping has been recycling narratives and policies of Maoism and Han-chauvinism in various ways, including, the cult of personality, cultural genocide, and ethnic cleansing. So, it's timely and essential to read 'Forbidden Memory' by Tsering Woeser (Author) and Robert Barnett (Editor) to see what Tibetans experienced during the Cultural Revolution", Biao told us.
Tibetan journalist Dorjee Wangmo's favourite read of 2022 was 'Under the Blue Skies' the Tibetan anthology; "What I really liked about the book is that it captures the lived exile experiences faced by Tibetan refugees across age group in the political and the larger socio-cultural realm." 'Under The Blue Skies' doubles as documentation of experiences in exile, touching the core of existential questions of Tibetan refugees & their connection to their motherland, observed Dorjee Wangmo in her review of the book.
Historian and Professor Swati Chawla suggested Tendöl Namling's autobiographical account 'A Childhood in Tibet: Tendöl's Story' (Penguin Viking, 2021). Tendöl was born on March 1959, in the same month that the Fourteenth Dalai Lama escaped from Tibet into exile in India. She was the youngest daughter of Paljor Jigme Namseling (1907-1973), an aristocrat whose family has been in public service from the time of the Fifth Dalai Lama. Her autobiography, told through Thérèse Obrecht Hodler, is a peek into the warp and weft of social connection in Himalayan India and Tibet, which comprised intergenerational networks forged through marriage, customary seasonal migration, colonial education, trade, and monastic patronage. The historical imperative looms large over her reconstruction of the traumatic memories of her time in Tibet. She remembered as a duty for future generations: 'I thought at the time, when Tibet is free again, the world must know this. Over a million Tibetans were killed. Thus, the soul of a people is annihilated.'"
Activist and poet Sonam Tsering read 'Red star Over Tibet' this year and he found in it a great read that shares information about the historical facts of the early Chinese occupation of Tibet. It also shares the hardship experiences of the Tibetans who made their way into exile in the early stages.
Scholar and former Information Secretary of the Central Tibetan Administration Tenzin Dhardon Sharling recommended Lodi Gyaltsen Gyari's "The Dalai Lama's Special Envoy, Memoirs of a Lifetime in Pursuit of a Reunited Tibet"(2022). She wrote, "The memoir is written with all honesty and invites the reader to not only understand but also experience the threads and themes in the life of the most influential diplomat/politician/strategist in Tibet's history. Lodi's unwavering loyalty towards His Holiness the Dalai Lama sets an important benchmark for the younger generation of Tibetans to emulate. Reading the book brought back happy memories of my meetings with Lodi in Ottawa and Dharamsala and got me inspired to take a more active role in Tibetan politics".
Tenzing Dhamdhul, Research associate, Foundation for Non-Violent Alternatives spoke to us about three of his favourite reads this year: The High Road to China by Kate Teltscher, Copper Mountain by Thubten Samphel and The Struggle for Modern Tibet: Autobiography by Tashi Tsering. Here is what he wrote about the books: "The High Road to China" by Kate Teltscher which engages upon the role of the Panchen Lama and the whole Great Game that was taking place before the actual Great Game in the Himalayas. "Copper Mountain" by the late Thupten Samphel la which captures the essence of the Tibet-China conflict. But it was "The struggle for Modern Tibet: The Autobiography of Tashi Tsering" by Melvyn Golstein, William Sienbenschuh and Tashi Tsering which was suggested and lent to me by my good friend Tenzin Thinley that captured me and won't let go of me even now. The book touches on Tibet through the lens of Tashi Tsering (a commoner) from the mid 1900's and shares his journey through a sub-altern lens which our Tibetan literature lacks. It goes from Tibet an independent nation, to one occupied by communist China, being a refugee in India, studying in USA and boldly returning to Tibet to bring a modern Tibet as the title says. This book showed me a Tibet which I was not aware even though I have been learning and studying on Tibet for the past many moons. These very lines of the book "Who? Or What? I sometimes ask myself is the Tibet I am trying to help? Who represents Tibet?" will remain forever in my grey matter.
Writer, activist and Founder & Chairman of Global Alliance for Tibet & Persecuted Minorities Tsering Passang spoke to us about two books- Middle Way Policy and all Recent related documents and 'The Dalai Lama's Special Envoy - Memoirs of A Lifetime in Pursuit of A Reunited Tibet' by Lodi Gyaltsen Gyari. He wrote: "As part of my political and human rights activism, I regard it's vital to learn, reflect and analyse on developments that have shaped and continue to impact the China-Tibet conflict in the fast-evolving geopolitical world. I recently read the 'Middle Way Policy and All Recent Related Documents' once again, which I found very helpful. Published by the Department of Information & International Relations (DIIR), this book provides detailed official accounts of the Central Tibetan Administration (aka Tibetan Government-in-exile) towards the resolution of the China-Tibet conflict to bring about a lasting peace on the Tibetan plateau which will have a positive impact in the region. 'The Dalai Lama's Special Envoy - Memoirs of A Lifetime in Pursuit Of A Reunited Tibet' by Lodi Gyaltsen Gyari, a veteran Tibetan elder and skilled diplomat is another inspiring book, which must be read by all especially those who have keen interest on Tibet, China, India and the US. Gyari's full loyalty and decades of dedicated service for the cause of Tibet and the Tibetan people under the leadership of His Holiness the 14th Dalai Lama at the Central Tibetan Administration and later at the International Campaign for Tibet has enabled him to reach out to the highest offices in Washington DC, New Delhi and Beijing".
UK based activist and Advocacy Officer at Free Tibet Tenzin Kunga also suggested The Dalai Lama's Special Envoy - Memoirs of A Lifetime in Pursuit of A Reunited Tibet' by Lodi Gyaltsen Gyari; "In this prestigious role he led the Tibetan team responsible for negotiations with the Chinese government to resolve the longstanding Sino-Tibetan conflict. The chapter on negotiations provides valuable insights into the challenges faced in the dialogue process, from which lessons can be learned. The book also talks about his diplomatic & advocacy experience in his pursuit of durable political support for Tibet".
Tibetan writer and poet Tsering Woeser suggested the famous book Indo-Tibetica by the Italian Tibetologist G. Tucci (Chinese translation of "Brahma and Buddha Land" volumes 1 to 4, a total of 8 volumes). "I read the e-book in Beijing last February, and in Lhasa last September I read paper books, but due to the restrictions of the new epidemic, my mother died of illness, and Lhasa was closed. Until recently, I only finished reading intermittently. For me, this set of books is powerfully healing and inspiring, such as the evaluation of the great translator Lochen Rinchen Sangpo. Reviewing Rinchen Sangpo's life, travels and Career, we seem to re-experience that spiritual atmosphere and the historical moment he is in. Nowadays, the impetuous beings in this dharma-ending era need real piety, enthusiasm, and actions without fear of suffering to survive impermanence and it is easy to be impermanent. meaningful life", she observed.
MP and Convener, All-Party Indian Parliamentary Forum for Tibet Sujeet Kumar wrote, "The book related to Tibet that I read in 2022 which has greatly influenced me is "Tibet Brief 20/20" by Michael Van Walt Van Praag and Miek Boltjes. The book has convincingly argued that Tibet is not China's internal affair. Contrary to what Beijing claims and to what many people take for granted, Tibet was historically never a part of China, and Beijing does not have the right to rule Tibet and exploit its resources. Its illegal occupation of Tibet is in breach of international laws and the international community has an obligation and responsibility to bring China's unlawful occupation of Tibet to an end. The book explains how, by treating Tibet as China's internal affair, most countries today are not also acting contrary to their international legal obligations; they are also indirectly encouraging and enabling China's aggressive and ugly behavior. Tibet Brief 20/20 is a call to action. The book is a must read and indispensable reference for policy makers, civil society advocates and global leaders".