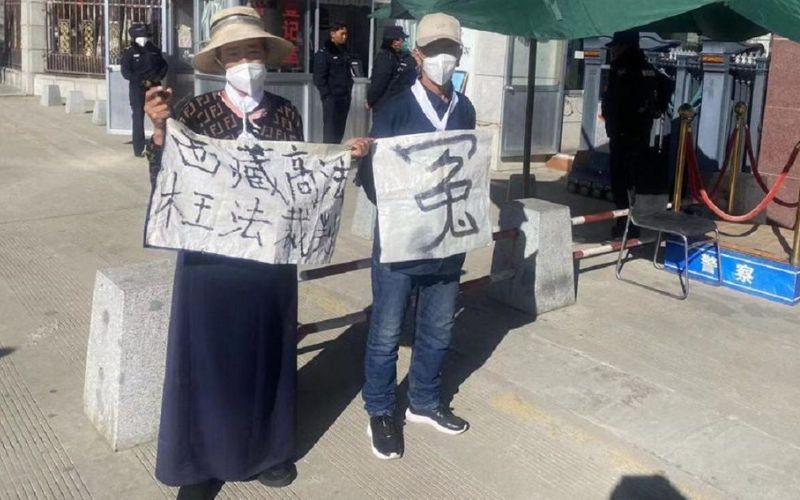 Fighting for the Truth: Gonpo Kyi's Relentless Fight for Dorje Tashi
Tibet, which was unlawfully occupied by China, is the least-free country on earth. According to a report released by freedom watchdog Freedom House, Tibet has a global freedom score of 1 out of 100. The report mentions how Tibetans are subjected to illegal detention, enforced disappearances, arbitrary arrests, denial of due process in criminal matters, and torture in jails.
The case of Dorjee Tashi and Gonpo Kyi's unrelenting fight for justice talks volumes about China's mechanisms that are subjecting Tibetans to torture and injustice and the deep-rooted corruption and lawlessness that prevail in the system run by the Chinese Communist Party.
Background
Dorje Tashi is a business entrepreneur arrested after the March 2008 protests in Lhasa, accused of funding overseas Tibetan groups and sentenced to life in prison on June 26, 2010. On 10 July 2008, he was detained in Lhasa by security officers for allegedly funding the protests of 14 March 2008 that sparked a widespread uprising in many parts of Tibet. He was framed as a "secessionist" by spiteful and vindictive political and party leaders taking advantage of the political situation in the wake of the mass Tibetan protests.
He was held in a Public Security Bureau detention center in Lhasa where he was interrogated and brutally tortured for four months. Tibetan Center for Human Rights and Democracy has reported that, while in prison, he was deprived of timely food and water, his wounds were left unattended, he was forced to stay awake without sleep, and he was later put in solitary confinement. Dorjee Tashi's testimony about the torture and ill-treatment he experienced during his pre-trial detention reveals the painstakingly difficult situations he was forced to go through. Dorje Tashi also reportedly staged a 15-day hunger strike to protest his wrongful imprisonment but was forced to take an IV drip by prison guards. In 2012, when Dorje Tashi refused to wear a prison uniform for six months, he was not allowed to see his family. His lawyers also faced multiple barriers in securing a meeting with his client despite numerous attempts and the rules kept deferring Dorje Tashi's appeal process for six years, according to a report by TCHRD.
According to reports by International Campaign for Tibet, before the COVID-19 outbreak in Tibet, Dorjee Tashi's elder sister, Gonpo Kyi, staged sit-ins before the People's Court in Lhasa in June 2022 demanding justice for her brother. In December 2022, Kyi staged a peaceful protest calling for her brother's release outside a courthouse in Lhasa until security guards took her into custody. She also staged sit-ins outside another courthouse in the capital in June 2022. Dorjee Tashi's brother, Dorjee Tseten, has also been demanding justice for his brother for years. He posted several video clips on the situation of Dorjee Tashi on January 6, 20323, including his brother Tashi's worsening health condition, the fact that he has not been able to visit his brother even after trying several times, and he has not been able to see Tashi since 2019.
Despite the police threat, a determined Gonpo staged a protest on March 20, 2023, seeking justice for her brother, who is serving a life sentence. Unlike her previous four protests in front of the TAR Higher People's Court, when she was removed from the site with warnings, the police from Lhasa Middle Road police station manhandled her. They forced her to the police station this time for overnight detention. During the detention, the police beat Gonpo. In a video clip, Gonpo is seen lying on the floor inside the Lhasa Liberation Road police station. & she shows the bruises on her upper right arm from the police beating. Undeterred by police violence and attempts to intimidate her, Gonpo Kyi defiantly organized a protest outside the TAR Higher People's Court on April 23 and 24. Despite maintaining a peaceful approach during the demonstration, the authorities sought to silence her by using long black sheets to conceal her protest.
On 26 April, Gonpo Kyi and her spouse were apprehended by the Public Security Bureau (PSB) officers in Lhasa and were released the following night on 27 April, as reported by Radio Free Asia. During their detention, they were reportedly subjected to physical abuse, rigorous questioning and warned not to engage in such activities in the future. Recent videos have shown her protesting on 11th May and 16th May and police dragging her away from the protest site.
Gonpo accuses the Chinese court in Lhasa of double standards and discrimination against Tibetans. She argues that a Chinese businessman and his wife who were indicted for loan fraud and sentenced to 15 years imprisonment were released after serving 10 years, whereas her brother continues to be behind bars for the 15th year of his life imprisonment sentence.
International Support
In a statement released in September 2022, the European Union urged China to "ensure full respect for the rule of law, to guarantee procedural fairness and due process of law", and called for the immediate and unconditional release of, among others, Dorjee Tashi, Go Sherab Gyatso & Rinchen Tsultrim".
Tibet advocacy and research groups have been highlighting the case and Gonpo Kyi's protests and calling on the international community, governments, and United Nations human rights experts to urgently raise Dorjee Tashi's case with the government of China. International Campaign for Tibet's Vincent Metten emphasized the continued and systematic infliction of torture on Tibetans, as illustrated by the case of Dorjee Tashi, at the recent 52nd session of the UN Human Rights Council in Geneva.
Human Rights Watch has also highlighted his case along with many other Tibetans wrongfully imprisoned in connection with the 2008 protests.
Why the World Should Take Notice
Dorjee Tashi is one among the many Tibetans in arbitrary detention in occupied Tibet under the Chinese Communist Party today. Renowned Tibetan writer, intellectual, and monk, Go Sherab Gyatso, was sentenced to 10 years in prison in a secret trial for the "crime" of writing essays critical of Chinese government policies restricting freedom of expression in Tibet. There have been reports of his deteriorating health conditions. Rinchen Tsultrim, a Tibetan monk was arrested and sentenced to four years and six months in prison for inciting "separatism" for the posts he made on social media about religious and political issues in Tibet. A-Nya Sengdra, a Tibetan nomad and environmental activist from eastern Tibet, was arrested and charged on false charges linked to his peaceful activism as an environmentalist, community leader, and anti-corruption activist.
Tibet's Panchen Lama who was abducted by China when he was just 6 years of age is the world's youngest political prisoner. Even after 28 years, the whereabouts of Panchen Lama and his family remain unknown. Meanwhile, China has appointed a fake Panchen Lama, who is a mere puppet in the hands of the Chinese Communist Party. Many Tibetan monks and nuns have been detained and forced to undergo political reeducation as part of the CCP's Sinicization agenda.
Dorjee Tashi case is an instance of blatant violation of the fundamental rights of Tibetans in their own homeland. This is a serious breach of international law and safeguards in place. Everyone is entitled in full equality to a fair and public hearing by an independent and impartial tribunal, in the determination of his rights and obligations and of any criminal charge against him according to the Universal Declaration of Human Rights. Article 9 of the International Covenant on Civil and Political Rights states that anyone who is deprived of his liberty by arrest or detention shall be entitled to take proceedings before a court, in order that that court may decide without delay on the lawfulness of his detention and order his release if the detention is not lawful. The legal safeguards for the detained Tibetans in occupied Tibet are grossly inadequate despite Chinese claims of removing corruption.
The tight information blockade that China maintains in Tibet makes it more difficult to access information about the case. Foreign journalists are routinely denied entry to Tibet and even those who are allowed have to face several restrictions while reporting and traveling.
The international community should push for an independent fact-finding mission to Tibet. It has been 24 years since a UN Human Rights Commissioner visited Tibet. The last independent UN Fact-finding Mission visited Tibet in 1985. No meaningful investigation has taken place regarding the treatment of Tibetans, while arbitrary detentions, prison deaths, self-immolation incidents, and enforced disappearances continue to happen in Tibet. Any independent fact-finding mission should push for the release of arbitrarily detained Tibetans like Dorjee Tashi.