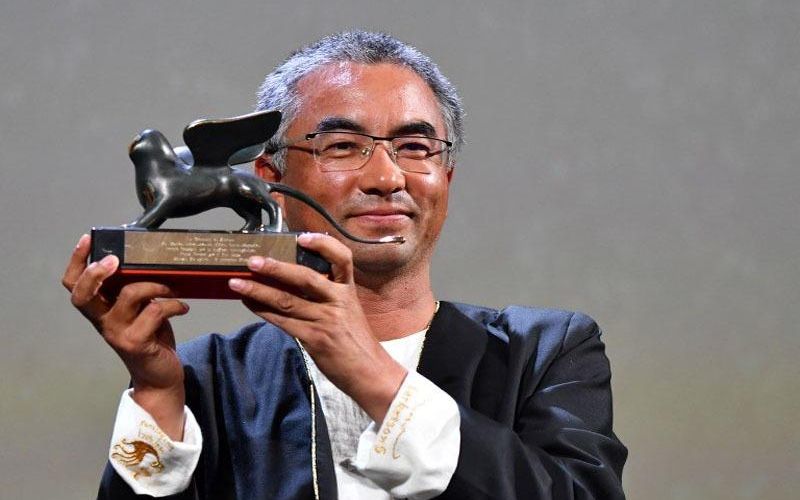 Nothing much, but nothing less, about Pema Tsetan
By Tenzin Lhadon
"Films are the medium of the new modern culture" -Pema Tsetan.
I can vividly recall that it was a poster. It was just a poster that first introduced me to Pema
Tsetan. Just one simple poster of his film Jinpa (2018), with the two main characters side by
side in what seems like a truck, one on the left with the Tibetan red tassels in his hair and the
Tibetan traditional shirt 'Honjuk' seemed quite submissive, and on the right with the sharp
rectangle sunshades, a small mustache, and he had big jades around his neck falling heavily on
his leather jacket, had a bigger presence that had me all frenzied. From the first glance at it, the
authenticity and purity of Tibetan culture came to mind. And because till then I had never
witnessed a Tibetan film so Tibetan and an art so rich, I immediately had to dive into the film,
which turned out to be quite an exceptional one.
Every single scene in the film sparked excitement in me, and every single line of dialogue felt so
natural and not at all awkward. And since I have never seen a film so professional and Tibetan,
it felt satisfyingly weird to see how much I enjoyed this film.
Born in Amdo, Trikha, Tibet, in 1969 to a semi-nomadic family (Samadok), Pema Tsetan is a
director and a screenwriter. More significantly, he was the pioneer and the beginning of Tibetan
cinema, which brought raw Tibet and its culture to many Tibetans in the diaspora and around
the world. He studied Tibetan language and literature at Northwestern University for
Nationalities in Lanzhou, China. He did his film studies at the Beijing Film Academy for two
years in acting, and in his first year he made a short film 'The Silent Holy Stones', and in his
second year he made his first reel movie 'The Grassland (2004) and a longer version of the film
'The Silent Holy Stone' in the same year, which would be considered his debut film. Two years
later, he went back to the academy and studied film directing. By 2009, he had made another
film called 'The Search'. This film, which he made during his studies, won several prestigious
awards in China, Poland, Bangkok, and Switzerland.
In an interview fifteen years ago, when his first feature film, "The Silent Holy Stone," was
released, he gave a statement to Asia Society about how sad and hurtful it is to know that
Chinese cinema has been around for 100 years and that it took 100 years for a film that really
reflects Tibetan life to appear. But on the other hand, when the Silent Holy Stone was released,
it was screened in many regions of Tibet, and Tibetans were very pleased to see a film that
finally reflected their lives and was made by someone who really understood and not by any
outsiders, which Tsetan la claims has a very untrue and unrealistic portrayal of Tibetan culture.
He, who sets films in the land of Tibet, casts Tibetan-born actors, and writes his stories and
dialogue entirely in Tibetan, has till now directed and made around seven films, most of which
have won domestic and international awards. His work includes The Silent Holy Stone, which
was previously known as The Silent Mani Stone; The Search (2009); The Old Dog (2012);
Tharlo (2015); Jinpa (2018); Red Balloon (2019); and the most recent, The Snow Leopard
(2023).
The leading figure of Tibetan New Wave Cinema was once a teacher (a civil servant), a
surrealist writer of his book 'Enticement: Stories of Tibet', and now one of the most phenomenal
filmmakers talks about his inspiration embedded in the folklore and folktales from his hometown.
He grew up listening to Ling Geyser's lore and the opera of Drimey Kunden, which later became
significant in his film 'The Search'. He also elaborates on one of his scenes from the film, saying
that since Drimey Kunden is a mere imagination for him, he placed the back of the character
and never showed its face to the camera out of curiosity.
He takes great inspiration also from Thangka (a Tibetan Buddhist painting), which explains his
shots in the film 'The Search'. He tells how he finds it aesthetic for one roll to tell the whole story
and that he implements it in his own shots using this deep focus method. "With this visualization
approach within the setting, we reveal human relationships, reveal the plot, and reveal the
human condition." Pema states.
One significant and prominent signature style of Pema Tsetan's film is having an incredibly long
shot of one action and placing the camera far away from the focal point of the action. When
asked why by Asia Society, he says that his intention is to create a calm visual style. His
placement of the actors far from the set is not to impose any interpretation, and he simply wants
the audience to make their own decision. Secondly, since the film is set in contemporary Tibet,
Pema Tsetan feels that the environment in which the characters are in is more important than
their facial expression.
Since during his childhood he wasn't exposed to much international film, despite his love for
film, he recalls in one of his interviews with the Trace Foundation that he really loved the Charlie
Chaplin film that was screened very often in his hometown. He also felt great empathy and
sought immense inspiration from Iranian films, as he found great similarities in terms of the
restrictions on film and cinema in the country. He states, "Under the current circumstances, we
are limited in terms of what topics we can film. So up until now, I've focused on contemporary
life in Tibet," which personally made me wonder what kind of film he would make without any
sort of restriction. And it will always be a wonder and an imagination to everyone, as, with grief
and much denial, the proficient and distinguished Tibetan New Wave film maker died at 53 in
Lhasa due to a heart attack, according to various sources. But with every weight, his death will
always be a mystery to the Tibetans, and his works will always prevail as an inspiration and a
path paved for many filmmakers around the globe.