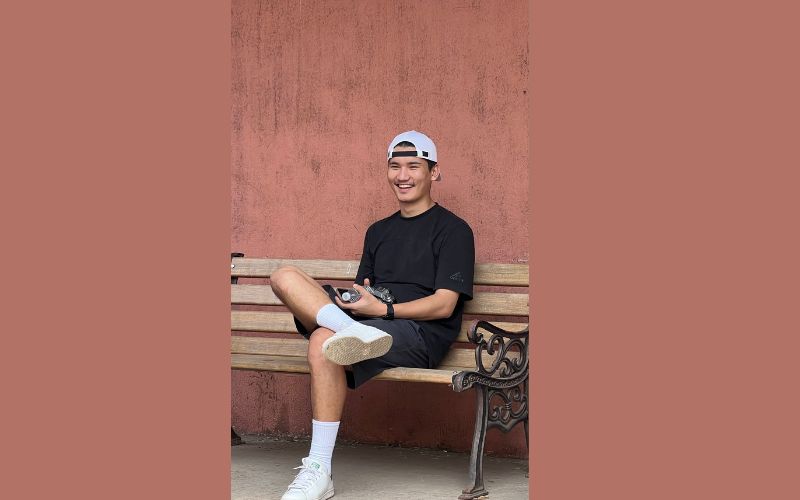 My journey is my greatest achievement: Cinematographer Tenzin Kelsang on his journey and favourite projects
In our next edition of Conversations with TRC, we interviewed the popular cinematographer, DI colorist, and photographer Tenzin Kelsang la, who spoke to us about his favorite projects, the role of TCV school in his life, and the influence of His Holiness the Dalai Lama. You can find Kelsang la on Instagram here.
1. Please tell us a bit about yourself and your career as a cinematographer.
Tashi Delek, my name is Tenzin Kelsang and I am an editor and videographer at incink Records, Mumbai. I also do freelance projects, especially Tibetan music videos, and most Tibetan people know me through music videos. I direct and shoot videos by myself.
2. What do you consider yourself your greatest achievement and why?
When I was a kid and in school, I dreamed of becoming a good videographer and contributing to Tibetan society. Now I am working as a videographer in Mumbai and I got to work with well-known Bollywood stars and directors, so I think this is my biggest achievement. Frankly speaking, my journey is my biggest achievement.
3. Where did you learn your skills as a Cinematographer?
Since childhood, I have had an interest in photography. Both cinematography and photography need composition; cinematography has movement, otherwise framing is the same. So, I think I got interested in cinematography through my interest in taking pictures. As you have noticed, in my videos, most of the framing is photographic framing. That's how I started taking interest in cinematography.
4. Which project are you most proud of and why?
I don't have a specific project that I'm most proud of. I usually like to self-criticize my work because it helps me to find mistakes so that I can improve it in the next project. I would not call it my proudest, but my most memorable project is when I had to shoot and direct Tnammy's music video. I realized that this is my lifetime opportunity and I felt so nervous and pressured even though I had once worked with Tnammy in vlogging. Thankfully, it went very well so 'Aro' video song is my most memorable project.
Like the story of 'Aro' music video, there are lots of stories and favorite moments in my other music videos also. I chose 'ARO' because it is my first official music video as a freelancer. Before that, I worked in a lot of music videos such as 'AMA LOLO', 'SUYIN', and 'GYURSHA' with Bhoeja Music but for me 'ARO' stands out among these music videos.
It has been more than a year since I came to Mumbai and working in companies feels safe for the future but I want to work as a freelance assistant cinematographer with well-known cinematographers and I am planning to apply and send my portfolio. I look forward to working more and exploring new avenues in this field.
5. What has been the role of TCV and how has the school changed the trajectory of your life?
Children who studied at TCV are very grateful for the whole system. The staffs and other students treat you as a family member. You not only get a formal education, but the school also provides life skills and qualities to understand how society works and how to survive in it, which helped me the most in my career.
6. Ka was a coming together of three well-known singers/ rappers of Tibetans in exile. Tell us about your experience working with them.
We have a group chat where artists share their samples for the new unpublished songs to take feedback from each other. I happened to see 'Ka' in that group chat which I liked and I asked him to plan a music video to which he agreed and said he was already thinking about that. For a few days, I made concepts and a deck and I showed them and discussed the same with them. That's how the music video 'Ka' was made.
Tnammy trusted me and assigned me the work. He got an offer from Snow Region and chose me to shoot and trusted me. He has always been very helpful to new artists; he always supports them.
Artist 8Asian has a deep knowledge of music and art. He produces songs very well especially his energy and willingness during the shoot are outstanding and I was amazed to see his passion for his work. He is a special one, humble, and very down to earth.
Talking about Ngale, I used to listen to a lot of Ngale's songs when the first music videos of Tibetan artists came. I feel that his songs and style resemble Hollywood artist Lil Wayne. His songs are comical, funny, and easily understandable. Working with him, I have felt that he is very humble, has excellent conduct, and is a very hard-working person. What I have noticed is that most Tibetan artists are down-to-earth and very humble.
7. Who was your role model while growing up?
My inspiration and role model is my father and uncle Nyibum. My father used to work in the media field. Watching his work when he was live streaming, shooting, and editing videos I got very interested and I always wanted to do that. And my father's co-worker uncle Tenzin Nyibum who is the Director of 'Wild Tibet pictures' was famous for making Tibetan music videos in Delhi has also been an inspiring figure.
8. What is your advice, if any, for the younger Tibetans while choosing a career as a cinematographer?
I don't think I am in a position to give a piece of advice, but as guidance, if you want to work in cinematography or filmmaking, do watch a lot of movies and research on that as much as possible. If possible, join filmmaking schools where you can learn theories that personally helped me in this field/ career. You should not only be watching cinematographers' work but also researching back stories of their work.
9. Talk to us about 'Ama Lolo', one of your popular works.
When artist Tashi published that song, I thought about how I can bring that song into the music video if I make a story on 'AMA LOLO'. I felt I have to give justice to the word AMA (Mother) which is precious to everyone. I love documenting so I took many photos of AMA (mother) in villages. The music video of AMA LOLO is one of my favorite videos and it is also liked by many people.
10. How has His Holiness the Dalai Lama influenced you in your life?
HH Dalai Lama has been influential on every Tibetan and many more because he taught us to be compassionate and kind. Tibetans are more likely to help others and have compassion and are kind-hearted people. His Holiness the 14th Dalai Lama's teaching has played and will always play a big role in our daily life for what he taught us.