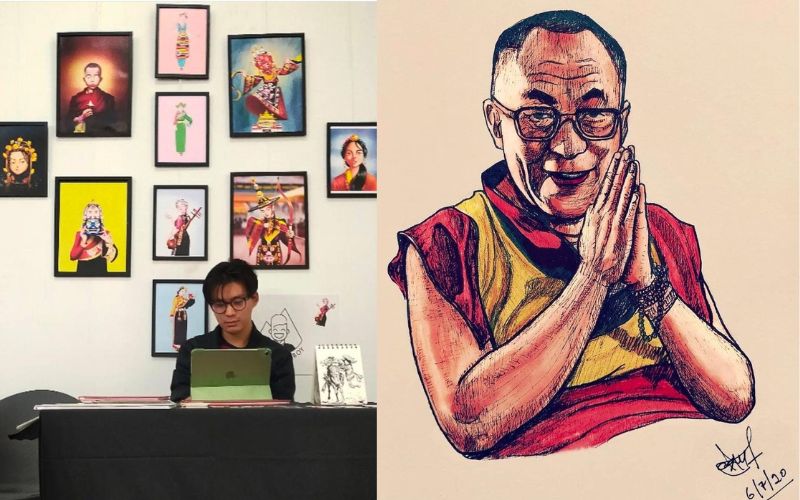 I want to keep exploring, learning and representing Tibet in the world of art: Illustrator Tenzin Gonpo speaks on his art, social media and Tibetanness
Tenzin Gonpo is an illustrator whose simplistic and recognizable works have gained him popularity among social media users. With illustrations depicting different aspects of Tibetan culture, he is an artist who has conquered hearts. We spoke to the young talent who shared with us his thoughts on art, challenges he has overcome and his dreams. You can check his works here.
Please tell us a bit about yourself and your career as an illustrator.
Tashi delek! My name is Tenzin Gonpo. I'm from Mainpat(Phendheyling) shichak, Chhattisgarh. I've completed my schooling from Upper TCV, Dharamsala and recently graduated from my four years of bachelor's degree in visual art(BVA) from Karnataka Chitrakala Parishath, Bangalore. I'm currently working as an concept artist in a video game Industry ( Lakshya digital.pvt). Apart from that I'm also selling my personal work and doing commission works.
What do you think is the importance of illustration as an art form in modern world?
Illustration has always been a mode of communication since the ancient times and human have always used images to tell stories since from the cave paintings of early times.
In simple words, where words and texts fails to convey the messages illustration does their jobs. Illustration is now used everywhere, Illustration not only gives life to the text and convey moods and emotions to the readers but it also helps people understand better and remember. One good illustration have the power to changes one's mood. Different colours and shapes creates different moods and emotions and illustrators spends years mastering that skills. Image is the easiest and most effective way of communication and the touch of some artistic skill can give so much impact in one's story.
You have often highlighted different aspects of Tibetan ness and Tibetan culture in your sketches. How far has the culture you belong to inspired the artist that you are?
Every country has their own culture and history. And like every other artist, their own culture have strong influence over their artworks which is clearly visible in their works and same for me as well. Growing up, I've witnessed a lot of interesting stuffs about our culture, the songs the dances and the traditions that we have been following from our ancestors which is now kind of falling a part. Knowing the fact that I can't sing or dance I can at least entertain people with little knowledge with my drawings. the more I looked into it more I realise I know a very little about my country and creates that obsession to learn more as I draw. I believe it is a responsibility of everyone to respect one's culture and make sure to keep it alive, carry it forward and pass it over to their younger generation.
When did you realise that you are interested in Art/Illustration?
Drawing has always been with me since I was child. I was always a shy and introverted guy who sits at the corner and just draws mostly. I think that's how I developed interest in art. I feel alive when I draw and that obsession for art kept growing as I sketched more.
If you could go back and change one thing about your career, what would it be?
If I can go back and change one thing then that would be, I would have started doing internships or side job from the first year of my college, I realised you learn a lot more from actually doing the Job and getting experience than just learning. I started doing job in my 4th year of college and I saw a huge improvement in my skills than ever before.
I think Tibetan schools should show some interest in art field and give at least a basic knowledge about choosing art as a career. I had no idea about how deep and diverse taking art as an career is when I joined art college, all I know was I love drawing and I want to make living out of it. I had a tough time making decisions all by myself without any guidance.
How do you think we can advance the cause of Tibet using art?
Art has always played an important role in raising one's voices, be it in the form of illustrations, music, dramas or through movies. And in todays generation, through internet it has become much easier to communicate with the world out there. I try to give a little Tibetan touch in every artwork I create. Not just painters but singers, dancers, storytellers, movie makers, people who are on their journey of creating and exploring are doing this. Art has influenced humankind and this is the least we as a younger generation of Tibetan artist can do; advancing the knowledge of our existence as we advance in our world of art.
What is the most challenging aspect of illustration that you have encountered?
The most challenging aspect is to coming up with the ideas. Even though we are surrounded by interesting stories to take inspirations from but I often struggle with finalising one idea as everything is so interesting that I wish to try everything. And sometimes I have this composition inside my head but struggles putting it down on paper and that's I think where every artists struggle's with, the skill, it will eventually over come with more practice and experience so it's a never ending journey. That's what every old master says "art takes time" have patience and enjoy the journey.
How has social media helped you in developing your art?
For me to social media has always been of a great help, I didn't really get to learn much from college as during lockdown college was complete shutdown and online classes were not vey effective. Social media was the only option left for me to advance my skills. I've watched a lot of videos in YouTube. I attended some paid online art courses too. Some are pretty expensive but you can learn a lot from such free online platforms like YouTube, google, Instagram, ArtStation and Pinterest. These platforms are my teachers and mentors.
Have you faced any challenges due to the fact you are a refugee away from your homeland in your career?
I have faced several challenges in my personal life being a refugee and that's what we all have feared but for my career. It's just start so till now there hasn't been one but back in my college days I do have several positive experiences, In fact I've got more support from my Indian friends than Tibetans; people appreciate my artworks they love my styles and often shows interest in our culture and asks me questions about our culture as they buy my artwork, we exchange our languages, they teach me theirs and I teach them mine. This is what I was saying in my previous conversation, art can be a medium of raising our voices in the world.
Tell us about your favourite work so far and what is your dream project?
For me every artwork is so dear to me. But if I have to choose one then that will be "destroyer of evil" an illustration I made of a CHAM dance, it talks about how Buddhism was introduced in Tibet and the first Buddhist monastery. It took me so much time to finish that, drawing all the details from face mask to the costume designs. About my dream projects I don't really have a big or fancy dream projects, I just want to keep exploring and learning and represent tibet in the world of art.
What does His Holiness the 14th Dalai Lama mean to you/ How has HH the Dalai Lama inspired you?
HIs holiness the 14th Dalai Lama is the inspiration and hope for all the Tibetan. Being born under the blessing of His Holiness I consider myself so lucky. Being artist was a lonely journey and it was his Holiness's teachings that gave hope and strength to stay positive during hard time.