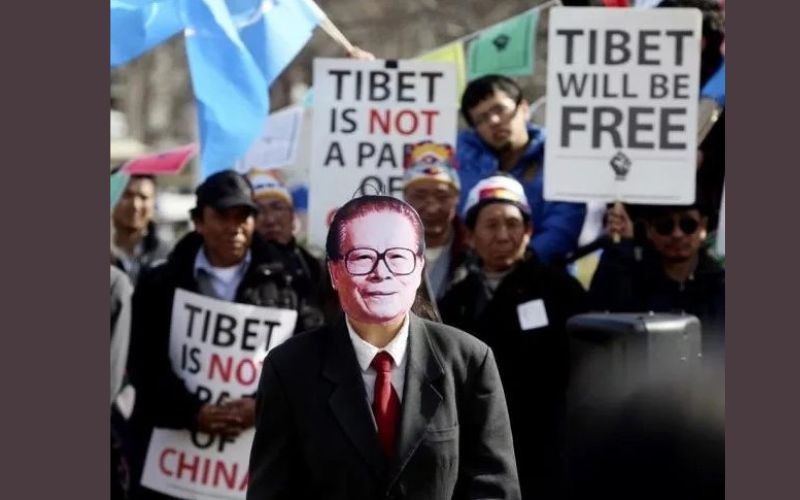 Jiang Zemin & his tainted Tibet Legacy
By Team TRC
China has been rocked by widespread protests against its irrational, absurd and brutal Zero-COVID policy and unscientific lockdowns since the last few weeks. Referred to as the Blank Paper/ A4 Revolution, the protests feature people holding blank papers symbolizing their displeasure with the government's efforts to silence dissenting voices. Another key event transpired in China last week; former Chinese President and a former general secretary of the Chinese Communist Party, Jiang Zemin, passed away at 96. He served as the Chinese Communist Party General Secretary (1989-2002), as chairman of the Central Military Commission (1989 -2004), and as President of China (1993 -2003).
Announcing his death, the Communist Party's central committee referred to him as "an outstanding leader" who enjoyed "high prestige acknowledged by the whole Party, the entire military and the Chinese people of all ethnic groups." Tibet party Branch Secretary was quoted as saying, "We are deeply saddened because we really have deep memories of him." However, it is beyond doubt that Jiang is leaving behind a tainted Tibet legacy – one that reeks of crimes against humanity and authoritarianism against Tibetans in CCP occupied Tibet, which it illegally occupied in the 1950s. Tibetans and Uyghurs recall Jiang's rule as the beginning of the tightening of already repressive policies that Xi, today, has since intensified to dystopian levels.
China hardened its policies on Tibet during his tenure, as reflected in the outcome of the "Third Forum on Work in Tibet" held in Beijing in 1994 during which the policy of assimilating Tibet in the Chinese economic structure was proclaimed. The Forum had observed that "instability is caused by the Dalai clique's mischiefs . . .and their main aim is to separate our country"; "Although sometimes (the) Dalai speaks softly and says nice things to deceive the masses, he has never ceased his separatist activities". It also added that the monasteries in Tibet "must practice all-round the Party's and the State's religion policy thoroughly". This approach adopted in 1994 continued to shape the Chinese discourse on Tibet for the times to come- an approach that blames the Dalai Lama personally for everything. As observed by Tibetologist Robbert Barnett, "It was a cul de sac for China's policy. They have never been able to extricate themselves from that position."
A report by the International Commission of Jurists (1997) concluded that the repression in Tibet increased in 1994, when high-ranked Chinese officials, including Jiang Zemin, chose to adopt a new strategy for the country. From then, the number of Chinese migrants to Tibet increased drastically, tighter controls on religious activities were imposed, a strong smear campaign against the Dalai Lama and his religious and political influence was led, the surveillance was increased, as well as the number of political and arbitrary arrests, and widespread suppression of protests.
In an article published in the wake of his passing away, International Campaign for Tibet has noted how Jiang Zemin's tenure saw re-engaged talks to resolve the Tibetan-Chinese conflict. His Holiness the Dalai Lama's Special Envoy Lodi Gyari and his team were able to establish direct connections with the then President Jiang Zemin.
It was the government under Jiang that detained the then six-year-old boy Panchen Lama and selected their own boy as the Panchen Lama in November 1995. His whereabouts remain unknown even to this day. On 14th May 1995, His Holiness the Dalai Lama officially proclaimed a six-year-old Gedun Choekyi Nyima as the reincarnation of the 10th Panchen Lama, the second highest spiritual leader in Tibet after His Holiness the Panchen Lama's demise. Within days of the announcement, the six-year-old boy and his parents disappeared from his home. On 28th March 1996, the Chinese authorities stated that "He has been put under the protection of the Government at the request of his parents." PRC has been campaigning hard for Norbu; he is now a member of the Standing Committee of the National Committee of the Chinese People's Political Consultative Conference, Vice President of the Buddhist Association of China and President of the Association's Tibet branch.
In 1996, Jiang Zemin became China's first head of state to have visited India. More than 600 Tibetans demonstrated in New Delhi and set fire to his effigy hours before his arrival in the Indian capital. After they were not allowed to march to the Chinese embassy, a group of Tibetan refugees burnt a Chinese flag. In Dharamsala, monks and nuns staged a demonstration and the Dalai Lama urged Zemin to halt the cultural genocide in Tibet.
When President Bill Clinton visited China in June 1998, Mr. Jiang allowed a joint news conference to be broadcast live on Chinese television in which Clinton raised the issue of Tibet and His Holiness the Dalai Lama. President Clinton said: "I urge President Jiang [Zemin] to assume a dialogue with the Dalai Lama in return for the recognition that Tibet is a part of China and recognition of the unique cultural and religious heritage of that region." To the Dalai Lama, those televised moments were, he said in a New York Times interview, one of the best things that ever happened for the Tibetan cause.
Protests and controversies often marked his visits abroad. In March 1999, when Jiang Zemin arrived in front of the Federal Palace at Berne, he was confronted by pro-Tibetan protesters who took to the roofs overlooking the Swiss parliament with banners demanding "Free Tibet". Later, he refused to participate in a guard of honor or to greet government members waiting to receive him. He went on to declare that the Suisse had "lost a friend". In October 1999, more than 200 human rights protestors chanted "Free Tibet" and "Bloody murderer" as Jiang Zemin as royal procession passed by.
In 2013, a warrant for the arrest of Jiang Zemin was issued by Spanish Courts as part of a probe into universal jurisdiction for crimes of genocide, crimes against humanity, torture and terrorism, committed against Tibetans in the late 1980s and 1990s. In the order, Spanish judge Ismael Moreno observed that Jiang Zemin was "responsible for acts of torture and other major abuses of human rights perpetrated by his subordinates against the people of Tibet" due to his position of authority at the time.
In short, his tenure witnessed a new low in attack on Tibetans and human rights. Nothing more, nothing less.
Edited & Collated by Team TRC