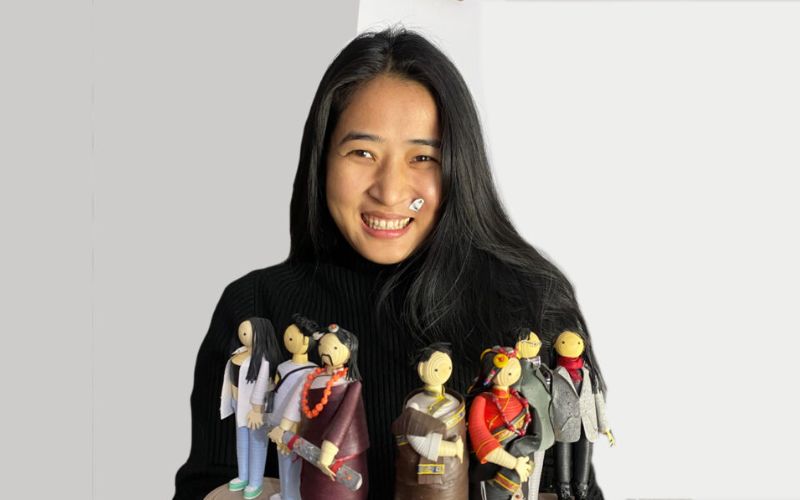 In Tibetan culture lies my inspiration: Tenzin Kalsang on her quilling journey
We caught up with the amazingly talented quilling artist Tenzin Kalsang aka Tenzin Quilling who spoke to us about her passion for quilling, her experience of participating in One of a Kind, and her commitment to the environment.
Check her Instagram profile here & website here.
1. How did you get started in quilling, and what inspired you to pursue this art form?
I started quilling during my college time as I saw my Indian friends using quilling paper to make flowers. I started getting interested in quilling and searched it on Google, bought quilling papers, and made flowers, which, to my surprise, turned out to be good.
I tried to learn more from the available sources on the internet and I came across Japanese miniatures. During school times, I was interested in and used to participate in Tibetan cultural dance. That's when I thought why can't I do miniatures in our Tibetan culture dresses?
So, my work is deeply rooted in Tibetan touch and I would say that I got inspired by our Tibetan culture.
2. What are some of the key skills and techniques that are essential to quilling, and how have you developed these skills over time?
Quilling is a time-consuming process and the key skill required for quilling is patience. As you put in more time and as you gain more experience, you learn more new techniques in the process of quilling.
3. How do you stay up-to-date with the latest trends and innovations in quilling, and what resources do you use to continue learning and growing in your craft?
The art of quilling dates back 500 years old. Since the art of quilling is not as popular as other art forms, options to learn as far as a new artist is concerned are fewer. You need to depend much on your own creativity and imagination to work on yourself and improve. I focus on working on customized paper dolls, portraits, earrings, and pins to give new gifting experiences. I specialize in creating miniatures with Tibetan traditional dresses for wedding gifts and cake toppings.
In the case of my work, I mainly focus on gifting on weddings so every time I make any quilling art, it turns out to be new as I customize it according to the ongoing celebration.
In quilling, we can't copy anything so I usually search on Google and social media to know and learn more about Tibetan ethnic dress. I mainly get orders from Instagram so my main resources are the picture or ideas of what my client wants.
4. Can you tell us about a particularly challenging quilling project that you worked on, and how you overcame any obstacles or difficulties?
At the end of March 2023, someone I got to know about a show called One of a Kind, he suggested I participate in this show so I searched it on Google and I got really interested in it. North America's largest craft show, One Of A Kind has been integral in championing creativity, the culture of craft, and supporting Canadian entrepreneurs from all backgrounds. So in that show, the person who is showcasing should be present in Canada, you can't buy other products and sell there. So, I applied to participate and I also applied for a scholarship as I was new there and I got a scholarship to showcase my quilling art and to get a shop.
The show was very big and I carried my name as Tenzin Quilling, which includes Tenzin so I felt more responsible being a Tibetan, there is no way I let other people humiliate our Tibetan society. I worked hard for the show and I have done my maximum to fulfill my responsibility as an artist and a Tibetan.
I felt overwhelmed at first because I was also new in Canada, I never had any experience in the market place so it was my first participation and the show itself is a very big platform so it was very challenging for me as I worked really hard in a short time and as I got scholarship a little late.
I felt so stressed to complete it on short notice and I felt getting stressed which I love to do is a little disappointing but I overcame these difficulties through my hard work staying up late at night and also taking breaks in between to rejuvenate and think about it.
It was a huge learning opportunity for an artist like me. Participating in this big platform taught me so much there are lots of people doing the same art, and few have over 20 years of experience. I am usually a little introverted, but there I tried to open up and talk about how newcomers can continue this work so they suggested some places and ideas for the future.
5. Can you tell us about any upcoming projects or exhibitions you have planned?
As for future projects, I don't have anything planned yet but I am planning to continue it whenever I get the opportunity. I want to continue my Quilling journey which is my passion with the daily work here. So I'm trying to find that balance right now.
6. In your opinion, what makes quilling art unique and valuable as an art form, and how do you see it evolving in the future?
Another reaction to my quilling artwork is that they are interested in it because it is made of paper and they ask what I stuffed inside of miniatures and especially spending lots of patience on art makes it valuable. After many experiences of making Quilling arts, I learned new techniques and I am focusing more on details which take longer than before so that's how I see it evolving in the future.
7. What advice do you have for aspiring quilling artists who are just starting out?
I don't know of any other Tibetan artist doing quilling art yet but whoever is interested should never quit after the first attempt. It is not very popular in Tibetan society yet. It is an extremely time-consuming process.
My advice is to stay consistent and one day you will get colorful results for sure.
8. How do you select the colors and materials for your quilling projects?
I select colors and materials according to the picture of the clients that have been sent. There is no way I find the exact color paper according to Tibetan dress material so I try to find the nearest matching color for the quilling projects.
9. Can you tell us your quilling process, from the initial concept to the finished product?
When I get the order, I see the picture that the client demands to make, so if I feel that it is possible to make it, I take the order. I basically charge according to the material and the time I have invested to make it, I never charge too high because nobody wants to pay expensive money for a gift so I adjust according to it. I start with the head of the doll and then I work on the body structure, then I start decorating as on a Tibetan chupa or dress. It has a lot of designing so I draw with my hand on quilling miniature dolls, hats, jewelry, and designing so after around 18 hours it gets complete. Then I proceed to make a base where the doll stands.
The packaging that I use is reusable and I decorate my packaging so that whoever is getting this gift feels special and valuable. Lots of people feel happy getting packages as a gift, my decoration packages are environmentally friendly. I prefer recycled or up-cycled materials and packaging to minimize the impact of my work on environmental pollution.
So, after packaging, I send the package to the client so this is the process of my quilling finished product.
10. What do you hope viewers take away from your quilling art, and how do you hope it impacts them? Especially Tibetans.
When I initially started quilling art, few people said you are wasting time making dolls but the majority supported me.
There is no particular place to copy or learn quilling art, all depends on your hard work, research, consistency, and patience.