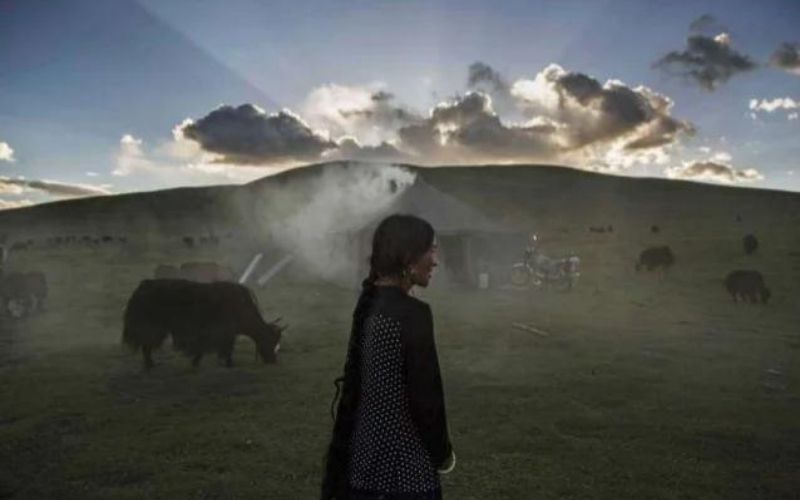 Relocation and Resettlement of Tibetan Nomads
"You are the first to uphold our plateau's foundation
You are the last to uphold our plateau's foundation
Ah…nomads"
- "Nomads" (translated by Tenzin Choekyi)
In a corner of the world we call the Third Pole, a community of pastoral nomads who led a sustainable and mobile lifestyle is being sent to concrete settlements in remote urban areas where the members are being subjected to constant surveillance and propaganda lessons. The story of the Tibetan nomads is one of the darkest episodes in the account of the unlawful Chinese invasion of Tibet which, unfortunately, is criminally under-reported. China's human rights record in Tibet is appalling and it is trying to Sinicize Tibetan culture, traditions, education and language; Tibet was ranked the least-free country in the world by Freedom House recently. Under the larger umbrella of these human rights violations, the resettlement of nomads by China is a grave atrocity against the Tibetans. This article stems from an interest in understanding how life has changed for the nomads and their earth-based way of life post 1950s.
Drokpa herders (high pasture people) account for nearly a quarter of Tibetans in Tibet. They make up 90% of the population in several Tibetan counties. They are the traditional land managers and water protectors of the globally significant range-lands with a deep understanding of the pasture dynamics; for more than 8,000 years, they have been following a unique pastoral culture close to nature.
Driven by a disdain for Tibet's nomads as backward, superstitious, primitive, incomplete and in need of China's civilizing hand, CCP's policies were designed to alter the way in which the nomads operated. A series of policy changes included forced transfer of proprietorship, arbitrary detentions, compulsory vocational training and resettlement of nomads, compulsory fencing of allocated lands and construction of houses on winter pasture, limits on herd size and pressure to sell more animals at younger ages. Here, the focus is on the socio-political aspects and consequences of the displacement and resettlement of Tibetan nomads in prefabricated buildings in urban towns under the policy of 'converting pastures to grasslands' (tuimu huancao).
Since 2006, CCP has implemented large-scale programs to accelerate the relocation and sedentarization of the nomadic population. The grounds which the government stated for this relocation are three-fold - one, to uplift them from poverty and deprivation as a part of "rural rejuvenation" project, two, the claim that the nomadic grazing practices by nomads are unscientific and are contributing to the degradation of Tibetan grassland and three, the narrative that dubs them "ecological migrants"- migrants who are being relocated for the larger protection of nature.
From Poverty to Prosperity
The decision to displace Tibetan herders from their ancestral lands to relocation camps in "New Socialist Villages" where they are provided with vocational training to get more 'urban' jobs aims to alleviate poverty, deprivation and unemployment among them, according to China. It claims "to rapidly increase the living standards of rural Tibetans" and boost the local economy. Another reason cited by the authorities for the decision to relocate the Tibetan nomads is the "inconvenience these people face due to lack of access to drinking water, sanitation, education and medical facilities". However, this policy designed to uplift nomads from poverty to prosperity seems to have had quite the opposite effect.
In the book Meltdown in Tibet, Michael Buckley elaborates how the nomads thus 'relocated' "end up in concrete hovels where they have little chance of earning enough to make both ends meet". Earlier, they used to barter their surplus yak milk and butter with the farmers to get tsampa and clothes; once resettled in concrete houses in remote urban corners with no yaks to herd (They are even compelled to slaughter their livestock before moving into the newly built housing colonies), they are left with nothing to do trade in. With no formal education/ knowledge in Chinese language, their vocational education often does not help them compete with their Han counterparts for jobs.
The nomads are subjected to political and ideological indoctrination/ re-education along with vocational training which includes Beijing's policies on religion, ethnic, anti-separatism, and "gratitude education". The 'pairing assistance' program lets party members and cadres stay at the homes of local Tibetan nomads and farmers for weeks to conduct political education sessions and gather sensitive information.
The nomads are kept under surveillance; authorities reportedly detained many nomadic Tibetans in Drago county and sent them to labor camps for having content deemed politically inappropriate on their cell phones in February 2022. There are no temples/ monasteries where they can pray. In fact, resettling of nomads is making it easier for the Chinese authorities to control them within designated boundaries.
Overgrazing and degradation in Tibet's grasslands
The authorities see the nomads as "ignorant, backward and irrational", whose "overgrazing" caused significant damage to the Tibetan grassland ecosystem. They further argue that careless overgrazing and unscientific land management by ignorant herders has caused grassland degradation, erosion and gradual desertification, which is far from the truth.
The traditional grazing practiced by Tibetan nomads are crucial for Tibetan range lands and help promote plant diversity and nectar production; they move their herd from summer pasture to winter pasture in a rotational fashion which helps avoid overgrazing. Such land management techniques renew grasslands, improve wildlife habitats and help sustain the Tibetan plateau, Asia's water tower. Studies by Nobel prize winning economist Elinor Ostrom have shown that it was when China imposed agricultural collectives on grassland areas, formerly home to nomadic peoples who moved herds with the seasons, they became degraded.
"Ecological Migrants"
The authorities have also been framing the removal of Tibetans in terms of "conservation and protection" of the environment. 2017 saw the announcement of a policy that said "vast areas of Tibet will be turned into "national parks" - contingent upon the removal of Tibetans from their ancestral lands. Accordingly, huge watersheds on the plateau are declared national parks in an effort to mitigate climate change and offset its reputation as a major world polluter. China announced the displacement of more than 1,000 Tibetans from a nature reserve in northern Tibet in 2018, which it called, "high-altitude ecological migration".
This act of driving away nomads from their lands involuntarily in the name of preservation and conservation of nature is ironic given that these nomads have been the traditional land managers for thousands of years. This approach also conveniently forgets the role of nomads in the conservation of Tibetan antelopes in the 1990s, a period when the species were facing the threat of extinction due to poaching. Interestingly, Chinese social media handles and the cyber army keep posting pictures of these antelopes to portray a positive image of their occupation of Tibet, which brings out the Chinese dichotomy on Tibet. If the authorities intend to curb environmental degradation and pollution as they claim, a ban on mining and construction activities on the plateau should be the first step.
Thus, the policy that tries to put an end to a traditional way of life that has existed for thousands of years on the highland grasslands of the Tibetan plateau is just another colonial tool to suppress dissent and Sinicize Tibet. The Tibetan grasslands are one of the last remaining agro-pastoral regions of the world. The impacts of climate change on the Tibetan Plateau – melting glaciers, river runoff, rising lakes and increasing rainfall – are well known. Only if the experiences of local nomadic communities at the front-line of climate change are heard and acknowledged, can Asia's water tower be preserved.
As the team of Tibetan environmentalists who attended COP26 to highlight the significance of Tibetan plateau in global climate discussions pointed out, in the way forward to protect Tibet's environment, the initial measure should be a return of stewardship of the Tibetan plateau to the nomads who have the indigenous knowledge to reverse China's disastrous policies.
(Lakshmi P and Jyotsna Jayaram are currently serving as Research Associates with Tibet Rights Collective.)