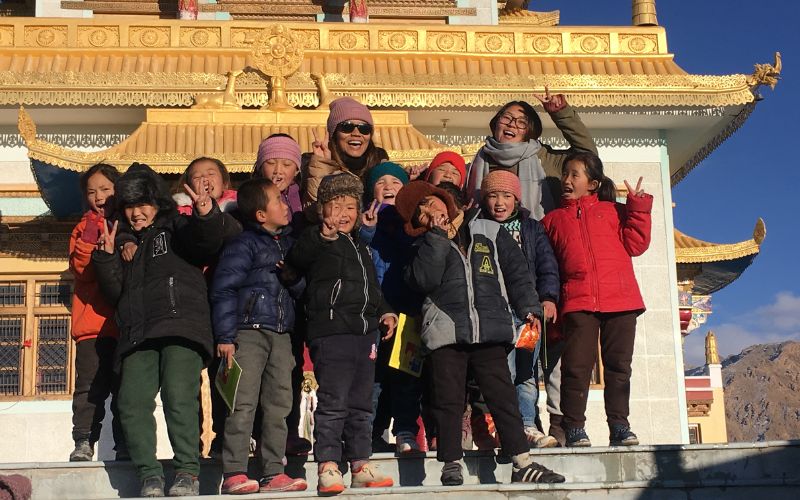 Shatsa and Readers in Making: On Spreading Kindness and Compassion Through Reading
Between the pages of a book is a lovely place to be and so is Shatsa, a nonprofit organization based in Sonamling settlement Ladakh that started with the sole purpose of contributing to the society by infusing reading habits in the society. Funded by the Tibet Fund and Tibet Relief Fund, this organization is the very place where children sprout to become a part of a garden, an inspiration to the youth, and a beautiful space for the readers to build relationships with books.
This organization has been run for more than two years now by five young Tibetan youths Dawa Dolma, Tenzin Pema, Tenzin Palden, Tenzin Geychey, and Tsering Norbu.
With two fellow members of Shatsa, Dawa Dolma, and Tenzin Pema we had a brief conversation that shed light on the origin, functioning, working, and spread of the organization in the community.
1. How did Shatsa come into existence or in other words what is the story of Shatsa?
We were all college graduates when we first thought of forming a community or an organization that could help our Sonamling settlement (Tibetan Settlement in Ladakh).
It all started with a discussion in a tea shop with twenty-one Tibetan youth. We discussed and brainstormed about what is needed for society and what we, as a youth can provide for society.
And we got down to three main aims:
1. Activism for our nation
2. Tibetan Youth Employment
3. Reading Culture in Tibetan society.
And since we won't be able to reach all three of these broad aims, we finally decided to help the society by Cultivating reading habits from childhood with the guidance and help from Manjushree Gen Gyaltsen la from Tibet Fund.
So around June 2019, we started functioning as a Mobile Library that visits each camp/group every Sunday for a reading session. And since most of our members were working full-time, our members also started to drop out and we became 21 to 15 then 15 to 11 and now we are five members.
In 2020 we got our own Community Library space which was originally the Regional Tibetan Youth Congress place. But due to Covid, we were able to function through online only and from march, 2021 we officially opened our library to the public.
2. Why did you name the organization SHATSA?
Our Tibetan children have grown under the huge umbrella of Kindness. Knowing we should practice good deeds and try not to harm others in any way.
Personally, we weren't grown up reading a lot of books and neither did anybody insisted or guided us to read books and because of that, only when we grew older did we start noticing the importance of reading books and felt like we were lacking behind a lot in the society.
That's why we didn't want the future generation of Sonamling to feel that way. And because we felt Shatsa (empathy, care) towards the younger youth we named it Shatsa.
So we would say this is an attempt to spread Kindness and Compassion through reading. Even though we won't be able to execute the result in a very short time, we believe in this organic functioning of our organization and since reading is something that we can carry throughout our life, we hope to help and bring a positive change in someone's life.
3. What is the purpose (Vision and mission) of this organization?
We would say that our mission is:
-to nurture young readers into becoming critical readers as a way of bringing positive change in our community.
And our vision is:
-To envision and inspire a community of critical readers.
4. It has been almost two and a half years since the beginning of Shasta. So what would you say, Do you see any changes and development taking place or is it still the same?
Of course, we see a huge difference from then to now.
Firstly, Parents have become more aware of the importance of reading and storytelling for their children. Initially, only the parents who are teaching staff and are related to academic fields are interested in making their children read not the regular parents. But now almost everyone sees the importance of reading in their children's lives.
More parents are becoming aware and becoming attentive towards their children's reading habits. They also initiate by setting up mini libraries in their own homes to cultivate reading habits. We think it's a very big step even though its very growth is organic in nature.
Secondly, the thinking and the idea of society that if a child doesn't know how to read alphabetically, there is no reading, has changed drastically over the years. Storytelling can also happen aurally and visually which is honestly more fun and through such small steps, we were also able to attract a lot of young readers.
We see the great importance of storytelling in a child's life. Every Wednesday two of the Shatsa members, Palden and Pema, they head to the TCV School and Dawa goes to Menla School for storytelling. Even though English is a medium that they aren't aware of, still through illustration we make the stories heard. And surprisingly these stories stay so well in their hearts that they tell us what will happen next.
Our own readers have increased a lot in the past two years. And now we can say that this storytelling has also brought a lot of closeness amongst the readers with the books. We see fewer students who would look for stars and more who really love to read. Rather than reading the books that are provided by the teachers like in older times, they would ask for specific genres of books. Some ask for Sci-fi and others adventure books. They started to get to know and love books based on genre and that itself is a very big step that we think we have achieved. We noticed that when they don't like the book, the rhythm of reading the book breaks so if they find a book of their liking it becomes more like an inspiration to read more.
We also do a lot of sharing sessions that also help them bring their voice out.
Lastly we would say that the own functioning of Shatsa has developed a lot.
When we started this organization, nobody was professionally qualified and experienced in library courses and work. So we didn't know what kind of activities we should do and even if we did one, we really didn't know the reason or how it would help in the reading, the advantage of such activity and solely did it for the purpose of fun.
Later we met a lot of people and societies in the same field such as Manjushree community library in Dharamshala and many reputed Indian Library such as Bookworm. We attended some workshops and courses related to library and management. We also had the chance to have a discussion with other Tibetan Community libraries across India to help build a better society to live in. Through such thorough discussion and workshops, We got to know the importance of a librarian and that it plays a very crucial role in curating books.
We started looking at the content of the book, whether it could open a good discussion or not, before accepting the donation and before getting new books. We started doing activities where children can feel inclusive and feel free to share their opinions.
The relation between the reader and the organization has also grown a lot closer after we got a space to build a library. Before that we were only able to visit the children once in a week or sometimes once in two weeks. So it became a huge hindrance when it came to building a relation between the readers and us but now as we got a space which is friendly and safe, Readers started visiting us very often. And gradually we formed a good relation with the readers, children and the parents also.
It's a very congratulatory thing to know that the organization has benefited a lot to the society and the readers. And since you run that organization throughout the days what problems do you face majorly?
One of the major problems we are facing right now is that we are not able to reach a wide range of communities as we wish to because of several unavoidable conditions and secondly, the perception of the society of our organization is very misleading.
Shatsa is a community library not a children's library. Due to the misconception, only children come and read here when we also welcome and appreciate for the youth of the community to come read and get themselves involved in the activity we organize every week. We have a lot of interesting books for the youths so we encourage you all to come and have a look.
5. Shasta would go for the Winter Reading Program and Reading Intervention Program to Jangthang(Nomadic and secluded areas of Ladakh)as part of the yearly program. What would you say is the difference you notice between the children here in the city and children there in the Nomadic area?
Children are more privileged here. Parents are more attentive and responsible.
But there, in the hilly areas even though the parents are not much involved and would not show much importance to the reading but the children are so fond of reading. Since they don't have gadgets, internet and entertainment to play around their attention span is greater leading them to read more books per day than the children here in the city.
Children there in Nomadic areas are more grateful than here. We only visit them only once in a year and still then they would be very happy and be very respectful for what they get to read.
Reading endurance or stamina compared to the Nomadic children are less here in the city children. After one or two reads, children want to play activity here but over there as they usually spend time together playing when they come to read, they read until their reading tables get filled and our books get finished.
6. You both have been running this organization for more than two years. How is your experience so far in this organization?
Dawa Dolma:
I started and got involved in this organization with a 'let's just start' motive and not with such great ambition or anything. But now I see that all my effort and time was worth it.
After all, this is all about the community and not for an individual.
Since I didn't have the opportunity to build a close relationship with the book from a young age, I wish and I attempt to give what I didn't have to the younger generation.
So far the experience was very enriching.
I have grown up personally and learned a lot from this organization. I have grown myself towards children's books and towards children themselves, though the process was a bit weird as I am not fond of children too much but yet very fulfilling.
And when the parents show their gratitude, It comes in the form of an encouraging power to us to work more and give more.
Tenzin Pema:
I have a huge personal shift from this organization.
Since I wasn't a reader myself before, I had this thought that how would I cultivate reading habits in society when I didn't have any? But I knew that I had to set an example for the younger youth. So I also started reading to become a better individual myself.
I also got a new perspective of myself towards children, that we can also learn from them and that we need to respect and give importance to what the children have to say. Reading with children and building a relationship with them has always been such an understanding yet fun thing to do.
You can always visit their website here: https://shatsa.org
Follow them on Instagram for reading inspiration and to stay updated about their upcoming books and activities here: shasta.organisation