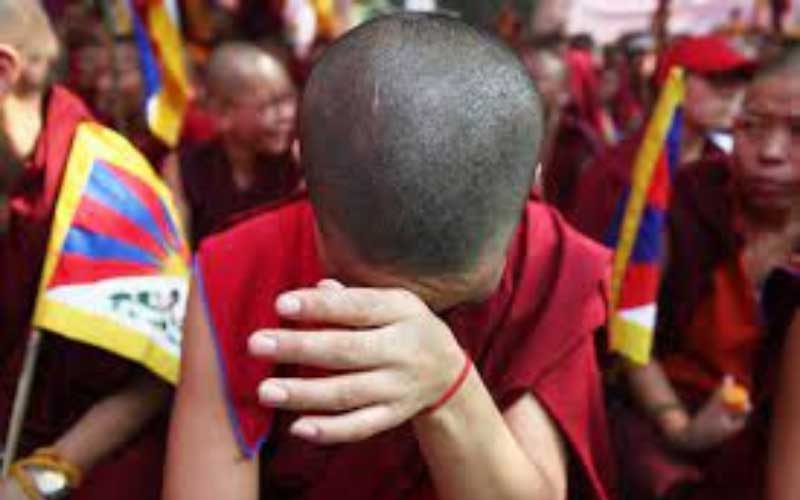 The Chinese Communist Party's Long-Standing Attempt to Erase Tibetan Language and Why They Will Not Succeed
In 2017, His Holiness the Dalai Lama said that the Chinese government must respect Tibetan culture and language. Speaking with the Times of India, His Holiness described how narrow-minded Chinese officials were by deliberately attempting to erase Tibetan language – which in his shared view is impossible to do. He goes onto compare the fact that the Chinese and Tibetans both have an ancient culture, and for harmony and stability to succeed you must respect peoples' culture and language, otherwise it gets very difficult.
It is wonderful that nearly 60 years on Tibetan people still display how much they love their own culture.
Going Back in Time and an Attempted Silencing of Tibetan Teachers
Winding back to 2010, the BBC released a media report which stated that "at least 1,000 ethnic Tibetan students in China have protested against what they call the erosion of their culture and language." The students were angered by changes to their education policy, limiting the use of Tibetan language, and were told that all textbooks and subjects will be in Mandarin Chinese, aside from Tibetan and English language classes.An unnamed former Tongren teacher was quoted saying: "The Chinese as enforcing reforms which remind me of the Cultural Revolution."
Fast-forward to 2018 when Tibetan activist, Tashi Wangchuk, made the headlines when he was sentenced by the Chinese authorities to five years in prison for "inciting separatism" after appearing in a documentary by the New York Times. The documentary highlighted Wangchuk's work on protecting his culture and his concerns that Tibetan language education was being heavily repressed by the Chinese Communist Party.
In October 2021,Tibet Watch reported that Chinese-state police arrested three Tibetan children from their boarding school in Markham County under the pretext of needed psychological counselling. The arrest of these children took place around the time of looming sadness amongst Tibetan students in response to the Chinese government's harsh language policies in Tibet, including the ruling out of classes in their mother-tongue.
On 13 February 2022, headlines again appeared when a university student was arrested after teaching the Tibetan language to children in Yamda during the school holidays. With no prior criminal record, nor any wrongdoing being committed, the Chinese authorities in Riwoche County arrested Choedon (ཆོས་སོན།) and she has not been seen since. A similar case occurred on 1 August 2021, when Tibetan teacher, Richen Kyi, was detained at her home. With no evidence of any wrongdoing, she was later charged with "inciting separatism". Kyi's arrest followed the unexplained forced closure of the school where she taught, with students being instructed to enroll in other government-affiliated schools in the region.
Following a lengthy campaign, including international pressure from United Nations special experts, Rinchen Kyi was released and quietly returned to her home by police on Sunday 24 April 2022.
Separation From Their Parents and When Will the Global Community Wake Up
A shocking report from Tibet Action Institute, "Separated from Their Families Hidden from the World: China's Vast System of Colonial Boarding Schools Inside Tibet", found that an estimated 800,000+ Tibetan students have been forcibly put into Chinese colonial boarding schools. In these schools, the instructed language is Mandarin, and children are politically indoctrinated.
An interference with education is a key part of Xi Jinping's brutal campaign against Tibetans in order to attempt to replace their identity, further confirming that Chinese Communist Party policies are continuing to provide a grave risk towards the survival of the Tibetan language.
Speaking with a Tibetan about the CCP's policies he described the fact that by aggressively pushing for Chinese language as the medium of instruction in all Tibetan schools in Tibet, whilst at the same time deliberately promoting Chinese language at a very young age, the Chinese government is directly attacking the root of the distinct linguistic and cultural identity of Tibetans. He finished his thoughts by highlighting that the Chinese-state is showing a complete disregard and contempt to the Tibetan people's basic rights to speak their mother-tongue as enshrined in the Chinese constitution and National Regional Autonomy Law.
After reflecting on my thoughts above and discussions I have had with people from the Tibetan community, I was left thinking how many more distressing cases do we need to read about people disappearing or 4-year-old-children being forcibly separated from their parents and sent to colonial boarding schools until the global community comes together and addresses the Chinese Communist Party's longstanding threat towards Tibetans?
(Emily is a Parliamentary Assistant in the House of Commons and focuses the rest of her personal time on raising awareness of human rights violations taking place across China, Myanmar, and Afghanistan. She founded Tories for Tibet in 2021.)