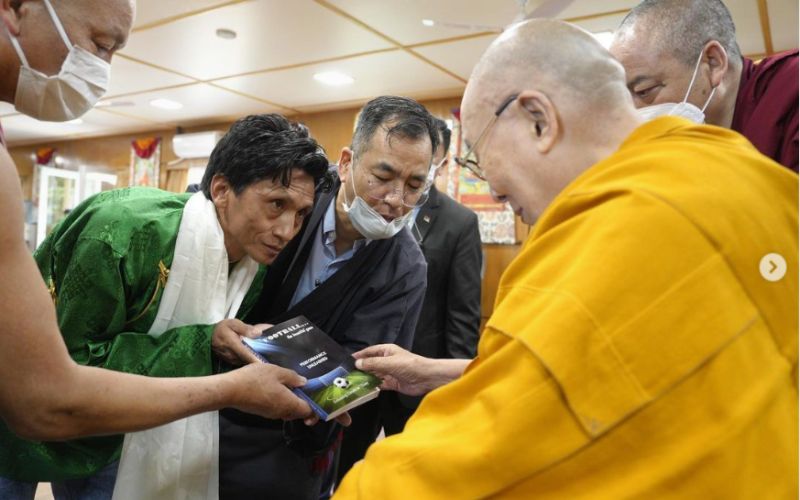 Football brings people together: Lobsang Chodear on Football, the beautiful game.
Lobsang Chodear, a football coach, has released the second edition of his book titled "Football - The Beautiful Game." We had a conversation with Chodear la who spoke to us about the book, his love for the game and the admiration Tibetans share for the game.
1. Congratulations on the release of the second edition of your book, "Football - The Beautiful Game." Could you tell us about the inspiration behind writing this book and what sets it apart as an academic reference for football coaches, students, and those in the field of physical education?
Thank you so much. I am overwhelmed by this opportunity. Well, the beautiful attribute about writing this book is that it allows me to take a moment and just be. I can find this peace when I take a moment and refresh my mind and soul by translating all of these emotions into words, and this can be rather cathartic and publication. The purpose of this football book is to serve as a support tool for coaches implementing a football-based project for children engaged. Moreover, it helps young aspiring footballers and should be of reference book material in the field of Physical Education too.
2. What do you hope your book will teach readers, particularly aspiring football coaches and players?
Brain fitness is a must. As the late, great Johann Cruyff said: "You play football with your head, and your legs are just there to help you." Reading for pleasure is proven to train your brain to think faster, harder, and smarter. It could help players process information and spot patterns where others see chaos. Reading is fitness work for the brain. The brain is the most complex organ in the human body and reading is proven to actively increase its power. There's no downside. Reading a football book is just like any actor reading a script before signing any movie.
3. How do you handle challenging game situations or unexpected setbacks, and what strategies do you employ to keep the team focused and motivated?
There are always challenges and unexpected setbacks in football. I Focus on the task at hand, not how difficult it is or how much pressure I am feeling. I am most likely to have negative thoughts when I am under stress, it can be easy for negative thinking to take over such as "I Can't" or "Just stop". To reduce pressure on myself during a hard game try saying things to yourself like "I've got this" "Keep going" Stay strong" "Breathe" etc. Lots of self-conflicts and conversations indeed. And for the players to keep focused and motivated it is important we look at techniques to help deal with pressure or reduce its impact. we have established that pressure is always present in football. Yoga, meditation, positive talks, embracing their inner critics, recreational activities etc. would be of great help.
4. In a rapidly evolving sport, how do you stay updated with new coaching techniques and adapt your strategies to changing trends?
Coach plays a critical role in terms of the development and success of footballers and the team. As such, it is essential for me as a coach to stay up to date with the very latest trends and developments in football coaching. Keeping abreast of new coaching techniques, training methods, and technologies can help me improve my players' performance, enhance performance, and keep my coaching skills relevant and effective.
5. Football has garnered remarkable interest within the Tibetan community, becoming an event that galvanises them. How do you perceive the role of football in bringing the Tibetan community together, and what do you think makes the sport particularly appealing to them?
Football brings people together, and the Tibetan community is no exception. I always feel that it's something that just happens naturally with football because we can just go into a bunch of strangers and we can get on with it because football's its own language, its own vibe. Football is a very appealing and attractive game. Anybody can enjoy with full knowledge or with very little knowledge of football. Football is known as "The Beautiful Game" for a reason. Football is a visually appealing sport. It is thrilling to watch a football match because of the crowd's fever, the clamour of the spectators, the emotions, the green grass, and everything else. Anyone can be easily connected with the football game because of its not-so-complicated rules and laws.
6. In your experience, what challenges have you encountered in promoting football and sports within the Tibetan community, and how do you see these challenges evolving in the future?
The biggest challenges are infrastructure and amenities. The lack of proper football ground is the main drawback of most Tibetan settlements. Hence, many good footballers have no option but to play and practice at smaller grounds and Futsal arenas, which obviously have adverse effects on performance. It's like practising pool and going to a snooker tournament. Apparently, many settlements in India are focusing on proper ground maintenance through their respective sports clubs with the gaining popularity of the game. Shortly, we will be having suitable football fields in every settlement….fingers crossed!
7. Fortunately, you also got the opportunity to present the book to His Holiness The Dalai Lama at His Holiness residence at Dharamsala during the 2023 Gyalyum Chenmo Memorial Gold Cup. How has HHDL inspired you?
I feel myself the most fortunate person as I am recognized as the first Tibetan to write a book on Football. More than that it was my lifetime opportunity to offer my book to His Holiness personally. What could be more amazing than this? For me, I have already conquered the World. My heart is still palpitating remembering that precious moment. His Holiness's hand on my head inspires and blesses me further to write more books in the future too.
8. What advice would you give to young Tibetan football enthusiasts who aspire to play professionally or become coaches themselves?
For our young aspiring footballers, please remember, that a good attitude will take you a long way in your career. Even though we can only control ourselves, football is a team game and a bad attitude is detrimental to not only ourselves but to the team. Always try to be a good teammate and remember that you are now a part of a team aiming to win games of football. Becoming a professional footballer requires you to see enough games, though, you are learning things like the player's attitude, charisma, self-confidence, self-control, calmness and how to approach a heated game. Learn to work hard like your idols such as Messi, Ronaldo, Neymar or any other. Don't work hard to look like them. Work hard like them during training so that you can play like them. Remember, it's hard for a bad player to become a good coach.
9. What role does football play in building a sense of community and camaraderie among Tibetans?
Football has a profound societal impact. It fosters unity and camaraderie, as fans from diverse backgrounds rally behind their teams, fostering a sense of community. Moreover, major events like the GCMGC, Dalai Lama Cup, South Cup, His Holiness Birthday Cup etc. serve as platforms for different Tibetan clubs to showcase their culture and hospitality, promoting relations. Certainly, football helps narrow the gap between Tibetans living at different ends. Football is more than a sport; it is a global phenomenon that influences and is influenced by societal, economic, scientific, and technological factors. It brings joy and despair, unites and divides, and prompts reflection and action. As it continues to evolve, it will undoubtedly continue to captivate the hearts and minds of Tibetans all over.
10. In what ways does Tibetan culture influence your coaching philosophy and approach to the game?
Regarding my coaching philosophy, assuming that I am a coach, I carry out my role based on my experience, knowledge, values, opinions and beliefs. This in itself is a philosophy, and I do this unconsciously. The question is - do I know myself well enough to understand what my core values and coaching methods are? A coaching philosophy that is well thought through clarifies many aspects of the coach's delivery and presents a consistent and positive message to my players being coached. One of the strongest benefits arising from a consistent and sincere approach to coaching is trust. A strong bond between myself as a coach and footballers leads to higher levels of commitment and athletic performance. With that in mind, it is the wise coach who takes the time to think through and formalize his or her personal coaching philosophy.