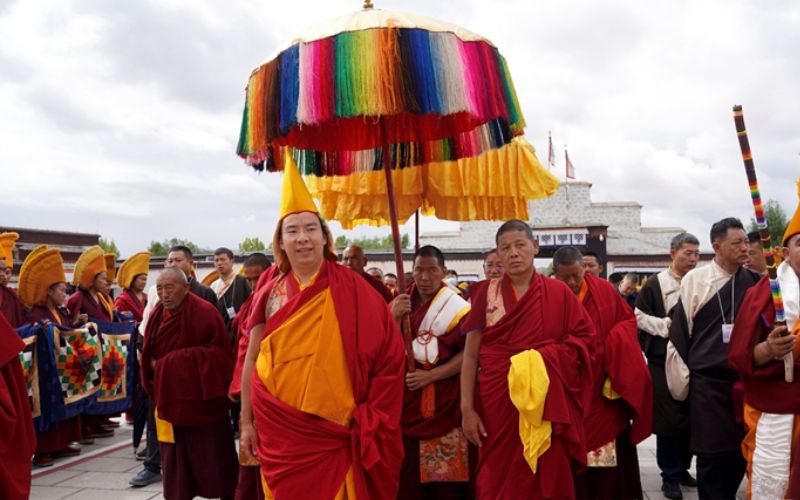 Tracking and Decoding China-appointed Panchen Lama Gyaltsen Norbu's visits to Tibet
Tenzin Tseten and Lakshmi P
His Holiness the 14th Dalai Lama, during his visit to Ladakh, was accorded a hero's welcome. Hundreds gathered to welcome him as he reached Ladakh in his first trip outside Dharamshala after COVID19. Meanwhile, in occupied-Tibet, China-elected Panchen Lama Gyaltsen Norbu is also busy orchestrating visits to monasteries, giving lectures on Tibetan Buddhism and meeting Tibetans and Chinese official media is talking about him and his activities with much enthusiasm.
Since his appointment as the 11th Panchen Lama by China in 1995, Gyaltsen Norbu has been presented as the 'face of Tibetans and Tibetan Buddhism'. PRC has been campaigning hard for Norbu; he is now a member of the Standing Committee of the National Committee of the Chinese People's Political Consultative Conference, Vice President of the Buddhist Association of China and President of the Association's Tibet branch. Over the years, Norbu has undertaken numerous domestic and foreign trips as a Chinese puppet and made various speeches to talk about Buddhism, Tibet and China. However, CCP's efforts to gain recognition and acceptance from the Tibetans have largely failed. Here, we examine Gyaltsen Norbu's visits to regions of Tibet in the last three months and try to find out a pattern, if any, in the choice of the locations and his activities there.
On June 17, 2022, Norbu, who CCP describes as "one of the most influential Living Buddhas in Tibetan Buddhism" reportedly visited the Tibet Buddhism Academy in Nyethang Township under Chushur County in Lhasa "where he gave lectures and performed head-touching rituals for students".
On July 21, 2022, Norbu was reported to have visited a newly built village of Lowa. Claude Arpi, in his article, observed that this village is in fact Longju, the site of the first bloody clash between India and China in August 1959. "For decades, India has considered the place, where the new village is located, to be in Upper Subansiri district of Arunachal Pradesh and not in Tsari Township of Lhuntse county in Lhoka prefecture as mentioned by the Chinese", noted the Tibetologist.
The village has been subjected to the infamous relocation scheme of CCP where they relocate Tibetans to concrete settlements from their original habitats. Chinese media reports about the visit gloated about villagers waiting to receive blessings from the Panchen Lama ("with tears in (her) eyes"), the development that the village underwent under Party supervision and its rural revitalisation scheme and how he asked the border people to "feel the Party's grace, listen to the Party, follow the Party . . . continue to work hard to guard the territory of the motherland". As pointed out by Claude Arpi, his Lowa visit was "pure propaganda to show that Longju belongs to China".
In a speech given at Lhoka city, Gyaltsen Norbu mentioned that "Tibetans are the happiest people in the world". "Without the Communist Party of China, there would be no achievements made today, and without the Communist Party of China there would be no bright future. Therefore, we must be grateful to the Party, listen to the Party, and follow the Party", he added. Reports suggest that Gyaltsen Norbu also visited Sangding Monastery in July 2022 where he "expressed the hope to jointly make efforts and make due contributions to the Sinicization of Tibetan Buddhism". On 31st July 2022, Norbu reportedly paid a visit to Lhasa too.
Tibetans must be grateful to the Chinese Communist Party (CCP), according to the Chinese-appointed Norbu, who reportedly made these remarks on August 2nd during his visit to the Tashilhunpo Monastery, located at the foothills of Nisiri Mountain.
On August 8th 2022, he reportedly chaired several meetings, including a meeting on sharing experience of Tibetan Buddhist lecturing and a seminar on the interpretation of Tibetan Buddhist doctrines. Its official Xinhua news agency Aug 8 indicated that the otherwise Beijing-resident Gyaltsen Norbu was busy performing his party-dictated duties to Sinicize Tibetan Buddhism, a signature campaign of China's current state president and party General Secretary Xi Jinping.
An analysis of these visits and their media coverage in Chinese media has helped us derive certain observations. To begin with, most of the visits are being executed in the border areas. According to reports, Sangding Temple was the last stop of the Panchen Lama's trip in Shannan. From July 19 to 29, it lasted 11 days. The Panchen Lama and his entourage crossed the Himalayas and went to Longzi County, Cuona County, Luoyang County, Shannan City with four border counties, Zha County and Langkazi County, carrying out Buddhist and social activities. He donated 1 million yuan to people living in the border areas in October 2021 to encourage "more young representatives of Tibetan Buddhism to participate in social activities and contribute to national unity". This is part of CCP's plan to assert its claims and strengthen the border village system.
The second one is regarding the wide coverage in Chinese media and the tone used in the reports with an aim to glorify him. The media often describes him as "one of the most influential Living Buddhas in Tibetan Buddhism" and the reports are often filled with pictures of "monks lining up to welcome the Panchen Lama'' and narratives about "happy smiles on the face of the border people" as they meet Norbu.
Media also makes it a point to highlight his visit to monasteries and Buddhist sites. For instance, Tashi Lhunpo Monastery founded in 1447 by the 1st Dalai Lama, is the traditional monastic seat of the Panchen Lama, and an historically and culturally important monastery in Shigatse, the second-largest city in Tibet. Gyaltsen Norbu's celebrated visit to the monastery seems to be an attempt to emphasize its role in controlling Tibetan Buddhism, Sinicization of Tibet and to assert its authority over the reincarnation debate of Dalai Lama. An impression is also provided in the reports that Tibetans are given the freedom to practice their religion, while in reality, monasteries and Buddhist structures are being destroyed.
The renewed vigor with which CCP is orchestrating Norbu's visits to Tibet might have something to do with His Holiness the Dalai Lama's visit to Ladakh. It is important to understand that for China, Norbu is a mere pawn. His visits to Tibet are CCP's attempts to garner support and credibility for their candidate, who Tibetans haven't accepted as the real Panchen Lama. Each visit is perfectly planned and executed by CCP and they are propaganda tools to spread disinformation about Tibet and hide the real human rights crisis unfolding in Tibet.