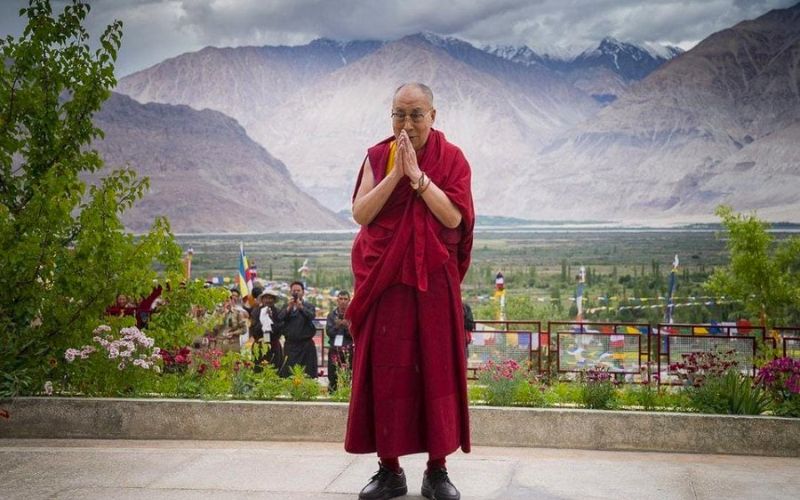 Why does China want to block the Dalai Lama's visit to Sri Lanka?
Chargé d'affaires Hu Wei of the Chinese Embassy in Sri Lanka has stated that "the government and people of China including in the Tibet Autonomous Region strongly oppose any foreign country to receive the Dalai Lama in any name". On 11th January 2023, he called on the Mahanayake Thero of the Malwathu chapter of Siam Nikaya, Most Venerable Thibbatuwawe Sri Siddhartha Sumangala Thero in Kandy. This comes after the group of high-ranking Sri Lankan Buddhist Monks, who were on a pilgrimage to Bodh Gaya recently sought His Holiness Dalai Lama's visit to Sri Lanka, which is reeling under a severe economic crisis. They met the Buddhist spiritual leader the Dalai Lama in Bodh Gaya on December 27, 2022 and were overwhelmed by witnessing a large gathering at the holy city.
Decoding China's Public Meltdown
The 14th Dalai Lama is not a "simple monk", but "a political exile disguised as a religious figure who has long been engaging in anti-China separatist activities and attempting to split Tibet from China", the media release stated. This is a narrative peddled by the Chinese Communist Party to portray His Holiness the 14th Dalai Lama, who was forced into exile when his homeland was invaded by CCP, as a "splittist".
"Our relations with China must not be hurt. It is better that the government also understands the importance of contribution rendered by China for the upliftment of the Sri Lankan economy. We as Sri Lankan always indebted to China for their continued support and humanitarian assistance to Sri Lanka whenever we are in need. Seeing is believing. I hope more Bhikkhus and Bhikkhunis from Sri Lanka could visit China, and more devotees from China could visit Sri Lanka and the Malwathu Maha Viharaya (sp)," the thero was quoted as saying.
"Both sides, especially the Buddhist communities, must prevent a sneaky visit of the Dalai Lama to the island to promote "Tibetan independence" and safeguard the China-Sri Lanka historical relations from being damaged", it added. The Communist Chinese invasion in 1950 led to years of turmoil that culminated in the complete overthrow of the Tibetan Government and the self-imposed exile of the Dalai Lama and 100,000 Tibetans in 1959.
"In the Dalai Lama era, about 1 million people were serfs accounted for 95 percent of Tibet's population. Its GDP was only 129 million RMB and the Life Expectancy was only 35.5 years (in 1951)". This is a baseless argument that China often repeats to parade its so-called "development" narrative. Here, it is important to read what Bhuchung D Sonam wrote in 2009 when the then Chinese Foreign Ministry spokesman, Qin Gang, described the Nobel Laureate as "the former head of a slave state." He wrote: "Before China's occupation in 1959, Tibet was neither the 'Nectar-filled Shangri-la' of foreign fantasy nor a total serfdom as Beijing claims. It was a viable independent nation with its own army, currency, legal and taxation systems. Like any other nation, it had problems too – such as lack of modern education and economic infrastructure. It is also true that many Tibetan peasants worked on estates of the rich land-owning families and monasteries, for which they were paid, and they enjoyed freedom and had comfortable rapport with their employers. It was a relationship quite similar to today's workers at large factories. If such a system is called serfdom, as Beijing does, and compared with black slavery in America before 1865, then pretty much the whole world practiced a kind of slavery".
"Under the leadership of the Communist Party of China, the Tibetan people are now enjoying a prosperous economy with a GDP of 210 billion RMB (31 billion USD) and the GDP per capita of USD 8,000 (twice of Sri Lanka and 4 times of India where he resides now), longevity of 72.19 years on average and freedom of religion with 46,000 monks and nuns in over 1,700 temples in Tibet", the statement added. CCP social media handles are celebrating fancy GDP growth rates in Tibet, but in reality, this does not reflect the real condition of Tibetans inside Tibet. CCP, using rampant fabrication of economic data, hides the fact that the boost in GDP is led by debt-driven state investment rather than consumer spending, boosting debt levels, as once pointed out by anthropologist Adrian Zenz. This is part of China's misinformation Campaign to project misleading pictures of a 'happy & prosperous' Tibet while human rights violations continue to happen inside Tibet.
"The title of "Dalai Lama" was granted by the central government of China's dynasties", tweeted the Chinese Embassy in a thread that claimed to "smash" the lies of the Dalai Lama group. In 1578, the Mongol ruler Altan Khan conferred upon Sonam Gyatso (H.H. the III Dalai Lama), and posthumously upon his predecessors, the title 'Dalai Lama' (meaning 'ocean lama' or 'ocean of wisdom' in Mongolian). Sonam Gyatso was later invited by the Ming Emperor to the Ming Court, but he declined to go. Yonten Gyatso (H.H. the IV Dalai Lama) likewise declined an invitation from the Ming Emperor to bless a Buddhist temple in Nanking.
The statement also claims that Tibetans are being granted "freedom of religion", whereas Tibetans are being persecuted for their beliefs. They can be arrested simply for owning photographs of the Dalai Lama or celebrating his birthday. Inside Chinese prisons, they are beaten and tortured.
Who are the Mahanayaka Theros?
Mahanayaka theros are high-ranking Buddhist monks who oversee and regulate the Buddhist clergy in Theravada Buddhist countries. The title Maha Nayaka translates to English as 'Great Leader' and it is considered to be a very important position held by a monk in a Theravada Buddhist country. It is usually bestowed upon the senior Buddhist monks who are appointed the chief prelates of monastic fraternities known as Nikayas.
Reincarnation Debate
This should be seen as another attempt by CCP at strengthening their position in the reincarnation debate of His Holiness the Dalai Lama. A major aim of China is to build a global Buddhist coalition that will support its choice for the future Dalai Lama and generally hold a positive view of China's occupation of Tibet. In this regard, China has stepped up its Buddhist outreach to Sri Lanka, which remains a major Buddhist nation and is also being targeted by Beijing under its Debt-Trap Diplomacy.
Interestingly, China is also using Gandharan Buddhism in Pakistan to lure Sri Lankan Buddhists to historical sites like Taxila and Gandhara to promote Pakistan as the originator country of Buddhism in contrast to India, which remains the birth-place of Buddhism.
This outreach to the Mahanayakas comes after Maha Nayaka Theros have just returned from Bodh Gaya in India where the five-year International Bhikkhu Exchange program was launched with the participation of His Holiness, the Dalai Lama, as one of the chief participants and also the participation of the Maha Nayaka Theros of the three Nikyas of the Sri Lankan Maha Sangha. Most Ven Dr Warakagoda Dhammasiddhi had also conveyed the heartfelt gratitude of the Sri Lankan Maha Sangha for this precious opportunity.
Debt- Trap Diplomacy
China's "debt-trap diplomacy" refers to the practice of providing large loans to developing countries, often for infrastructure projects, with the alleged intention of trapping those countries in a cycle of debt and dependency on China. The Sri Lankan example demonstrates China's unique form of 'debt-trap diplomacy' – a predatory system designed to ensnare countries into a straightjacket of debt servitude.
The media statement was preceded by an exclusive interview with 'Sri Lanka Mirror' at the Nellligala Temple, Kandy, after the conclusion of the Fa Xian project in Kandy district, in which Mr. Hu Wei pointed out that a visit by the spiritual leader – Dalai Lama could damage the friendship between Sri Lanka and China and reiterated that Tibet is not an independent country but a part of China, just like Jaffna or Kandy are a part of Sri Lanka.
Any leader meeting the spiritual leader is considered a crime by CCP. In 2018, China had warned that it would consider as a "major offence" if any country or foreign leader hosts or meets the Dalai Lama as it deems the Tibetan spiritual leader a "separatist" trying to split Tibet from it. "Any country or any organisation of anyone to accept to meet with the Dalai Lama in our view is a major offence to the sentiment of the Chinese people," said Zhang Yijiong, the then Executive Vice Minister of the United Front Work Department of the ruling Communist Party of China (CPC).
These acts of China threatening Sri Lanka to block any potential visit by the Dalai Lama should be seen as its desperate attempt to ensure that Sri Lanka, a Buddhist nation which sees the Dalai Lama as a beacon of hope and compassion, remains 'loyal' to its wicked strategies.