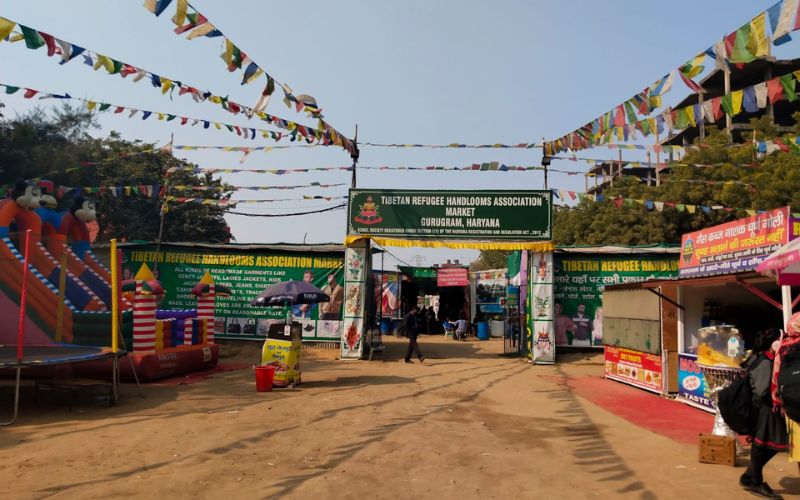 A Day with Tibetan Sweater Sellers in Gurgaon
Delhi winter is almost over, and the Tibetan winter handloom markets are gearing up to wind up their businesses. The winter business is a four-month hustle that starts in October and ends in mid-February. We visited the Tibetan winter market areas in Gurgaon, Haryana, in the second week of January 2023 to interact with the sweater sellers and listen to their stories of grit and determination. We returned with pictures and memories of having known a bunch of incredibly hardworking Tibetans.
This photo story is an ode to their incredible story.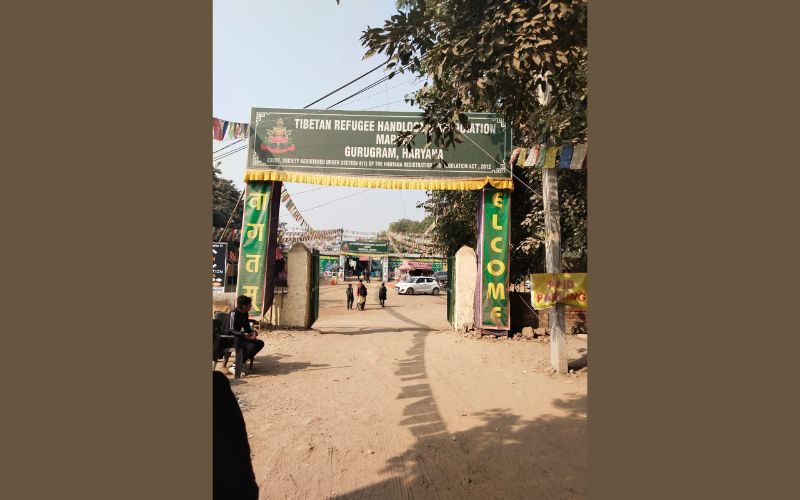 The Tibetan Refugee Handlooms Association Market is located at Gurgaon Sector 14, famously known as the Tibetan Market of Gurgaon. The nearest metro station is Huda City Centre, on the yellow line of the Delhi Metro.
Since 2005, the Tibetan market has been expanding. Tibetans have been doing the winter sweater business in Gurgaon for about 18 years. The Tibetan market offers a wide range of products like sweaters, trousers, jeans, T-shirts, woolen sweaters, jackets, cardigans, long/short coats, formal coats, stalls, shoes, shawls, caps, mufflers, thermals, gloves, and socks. The Tibetan market 2023 opened on October 28, 2022, and will close on February 15, 2023. They have 91 shops in total. The sellers are from Tibetan settlements such as Dharamshala, Dehradun, Shimla, Bylakuppe, Odhisha and Arunachal Pradesh.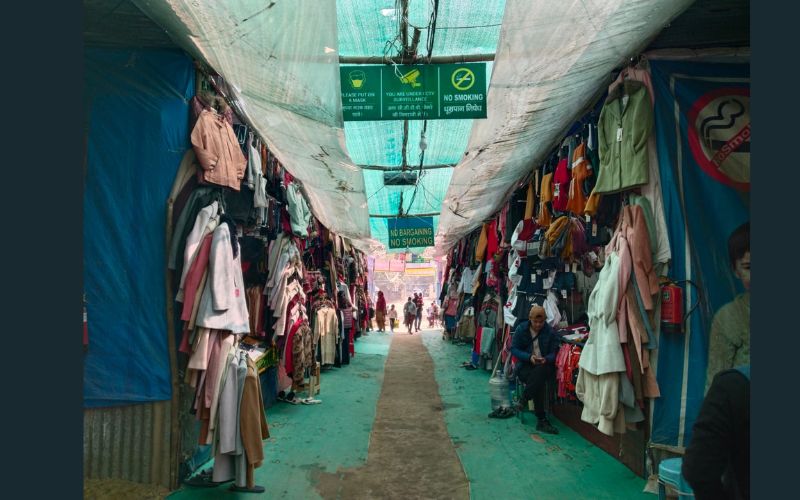 Sweater selling business is one of the significant sources of income among Tibetans in exile. Since the 1980s, Tibetans in India have been very successful and actively involved in selling sweaters during the winter months (October-January). During the pandemic, businesses came to a complete halt, and they had to abandon their sole source of income. The only source of income for around 60 percent of the Tibetan refugee population in India is selling sweaters during winter. They sell sweaters during the winter, and many are either involved in other petty trading activities or remain economically inactive for the rest of the year.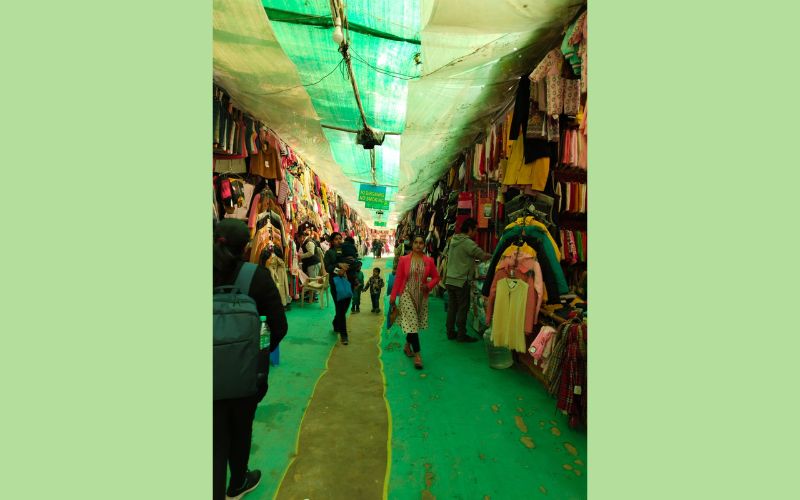 What makes this Tibetan market popular among locals? Woollen Sweaters, the quality of clothes in reasonable amounts, hospitality, and most importantly, the behavior of Tibetans towards customers. Tibetan market garments are well-known among locals for their superior quality compared to others regarding durability and affordability. In the last month of their sweater business, they will also offer a discount of 20% on the products. Their products are available in all ranges- from Rs 500 to Rs 4000.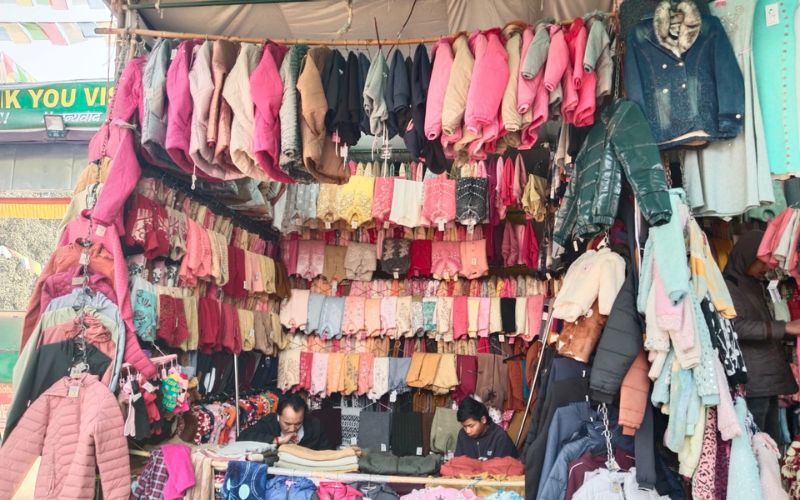 We also met Kelsang Namgyal la, an Army Veteran from Rajpur, Dehradun, who spoke to us candidly about his concerns about the business prospects. He spoke proudly about his daughter, pursuing higher studies in pharmacy in the United States, and his son, who is serving in the army for the last 15 years. He asked us to study hard and work towards building a promising future ahead. His humble and kind personality made us feel welcome and comfortable throughout the conversation. He even introduced his family to us.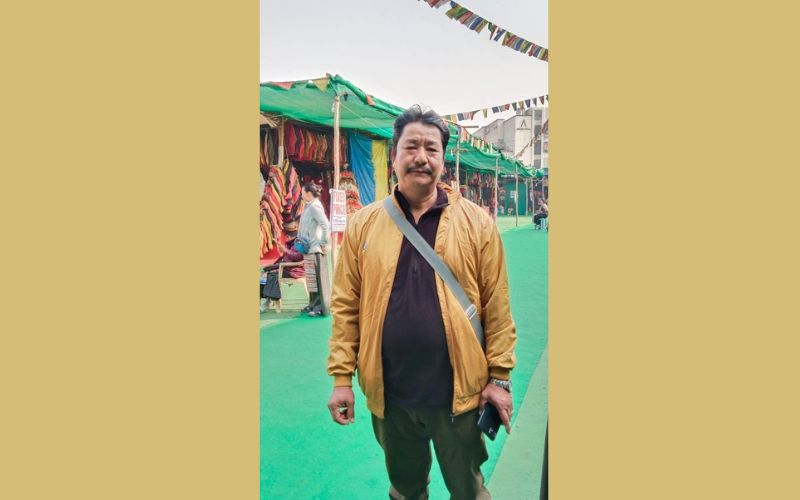 His wife, Dolma la, was seen feeding the stray puppies. When asked, she told us that she had been feeding the dogs outside every day since the winter sweater business started.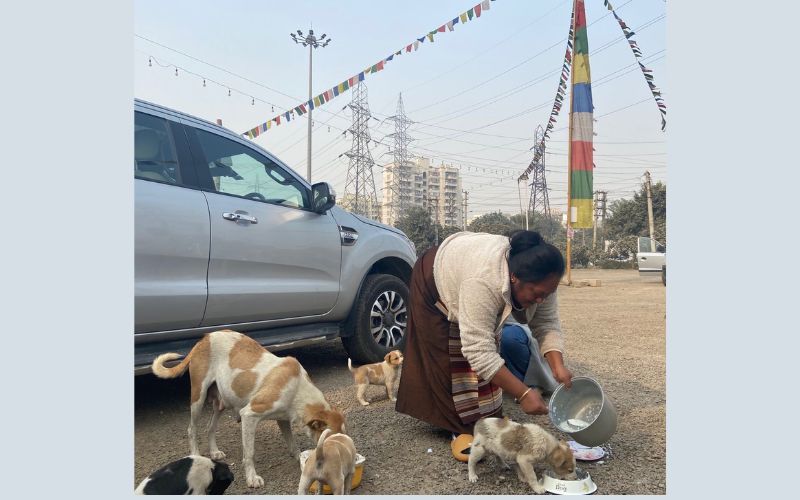 Most of the sellers come to Delhi with their families, some bringing their children along in the school holidays, providing them with some first-hand trade experience and early insight into the functioning of the sweater market. We could see kids running around, families soaking in the elusive winter sun, and having lunch together.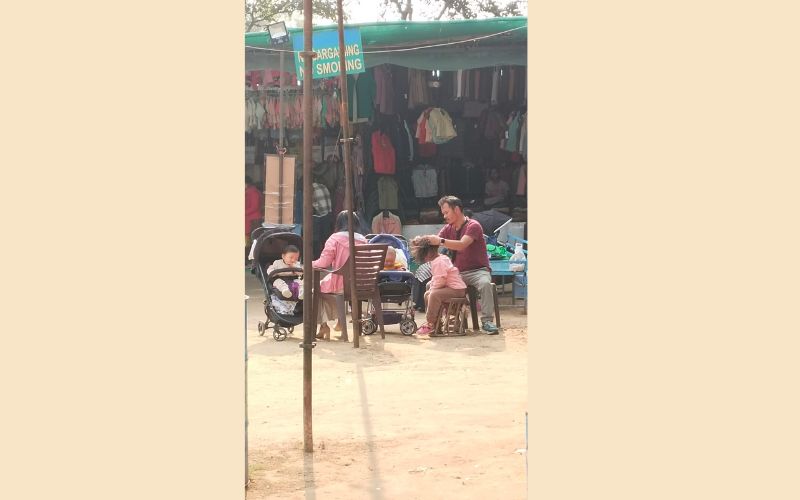 We could sense this strong sense of community, togetherness, and sharing among them. What binds them together? Their lost homeland, the memories, a strong sense of hope, and the love and respect they share for His Holiness the 14th Dalai Lama. We saw pictures of the Dalai Lama in almost every stall.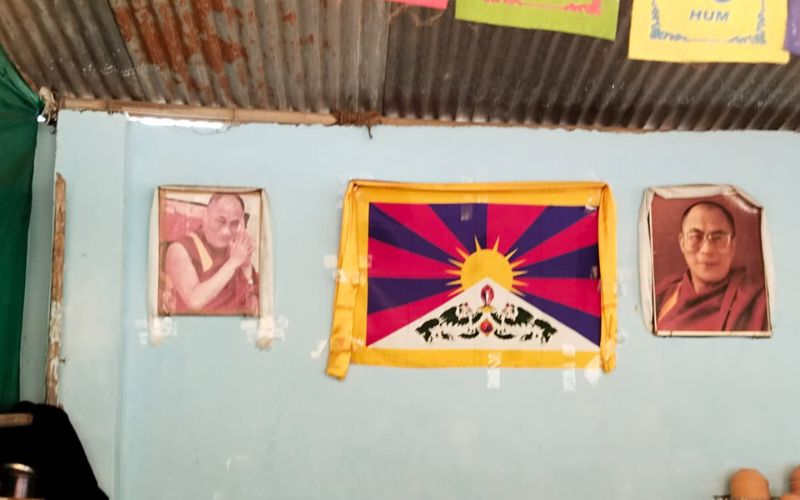 There were banners with descriptions and photographs of Potala Palace, Norbulingka palace, and Tibetan flags. We were told that on December 10, they celebrated the anniversary of His Holiness the Dalai Lama, receiving the Nobel Peace Prize by offering butter lamps, prayers, offering desi (sweet rice) to people, and playing games such as Tambola.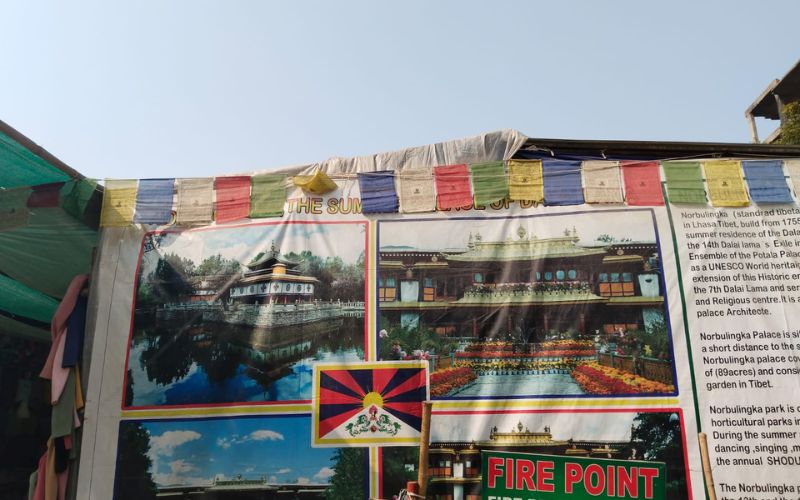 Did you also know that more females are engaged as sweater sellers than men? Wearing Chupa, we saw Tibetan women handling the stores, striking conversation with the customers with pleasant smiles welcoming them to the stalls. We could also see many Indians employed as helpers in the stalls and canteen run as part of the market.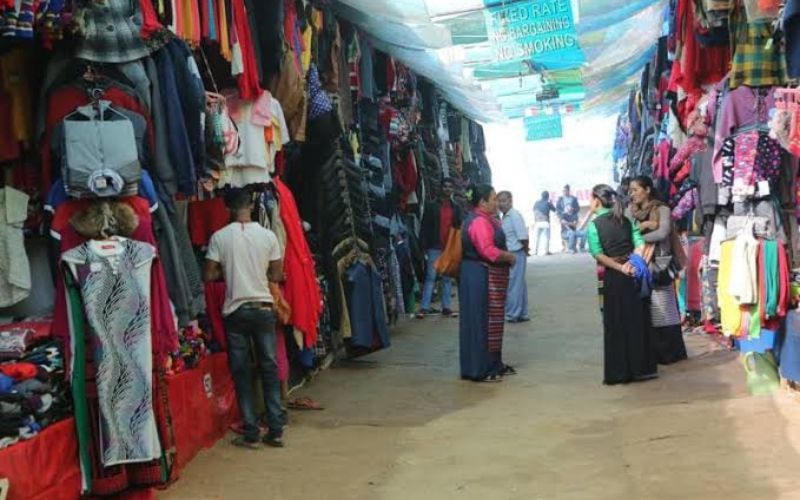 Several factors contribute to the problems that Tibetans encounter during the Winter Sweater business. For example, their margins are affected by weather conditions, fear of losing their garments and money to thieves, and they are also worried about damage caused due to incidents of fire. There have been a few cases of fire in recent years. Also, after the pandemic, lots of people prefer to stay in their homes and shop online instead of coming to shops and purchasing it. This has also affected the Tibetan market as it is their only source of income.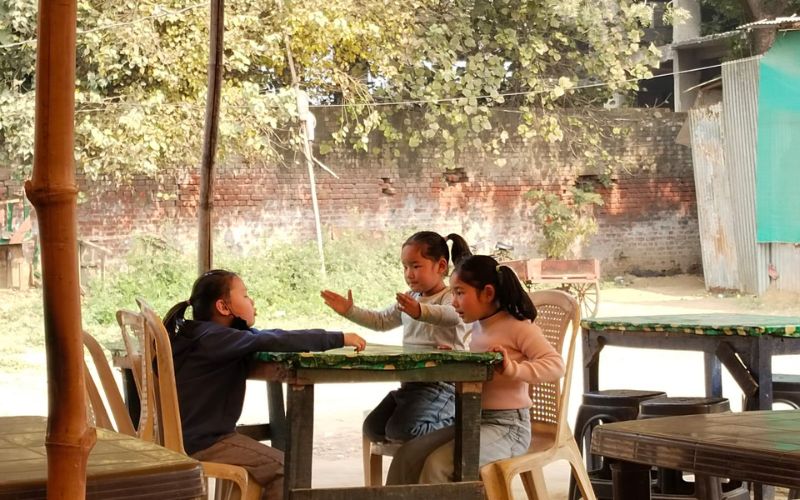 We asked Ngawang, a young Tibetan from Dehradun what helps him to face the prospects of loss and uncertainty that this business carries. He replied, "We are a group of people whose ancestors went through and handled the trauma of being driven away from our land. His Holiness and his prayers and our Buddhist selves have taught us to be compassionate, tolerant, and patient".