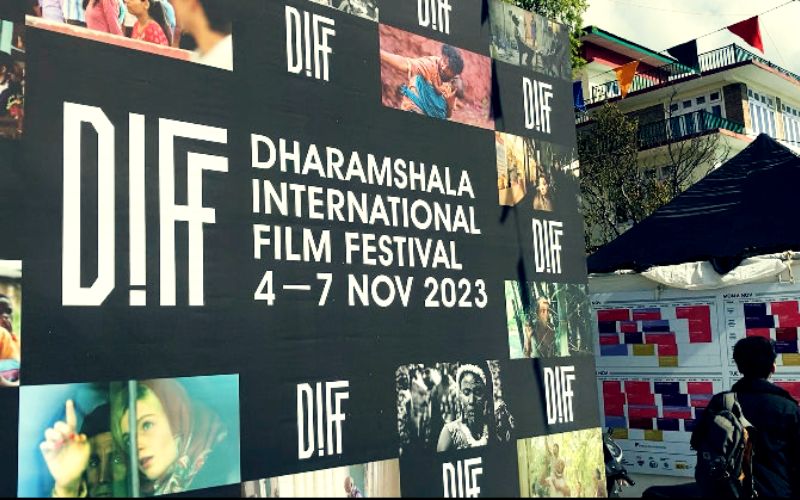 DIFF (Dharamshala International Film Festival) 2023
Founded by filmmakers and artists Tenzing Sonam and Ritu Sarin, DIFF welcomed its 12th edition from 4th to 7th November in Upper Tibetan Children Village School, Dal lake, Dharamshala.With the sole purpose of creating and building a non partisan public space drawn by the common love for cinema, this year with around 90 films from 40 different countries DIFF succeeded in promoting and encouraging regional filmmakers from different parts of the world.
In a conversation with Phayul, Tenzing Sonam and Ritu Sarin shed light on the lack of Tibetan Films in the festival this year. "The core reason for not having any films by Tibetan filmmakers is because there is an absence of new Tibetan films by Tibetan Filmmakers. Nobody reached out to us or submitted their work" Tenzing Sonam told Phayul. He also shared and revealed his disappointment with the unavailability of the film Snow Leopard by late filmmaker Pema Tsetan. They agreed to plan the screening of the film but due to some unclear reasons they didn't get the permission from the filmmaker's team.
But like every year DIFF brought the best of contemporary Indian and international independent films along with their filmmakers to Dharamshala. More than 20 directors, from Academy Award winner Guneet Monga Kapoor and India's leading screenplay writer Varun Grover to young sprouting directors, attended the panel discussion after their film's screening bringing closure and a frank interactive session with the audience.
Below I share with you the summary capsule of a selection of the films shown at the festival ranging from feature narratives, feature documentaries, short films and films for young adults or children.
All India Rank (2023)
Dir: Varun Grover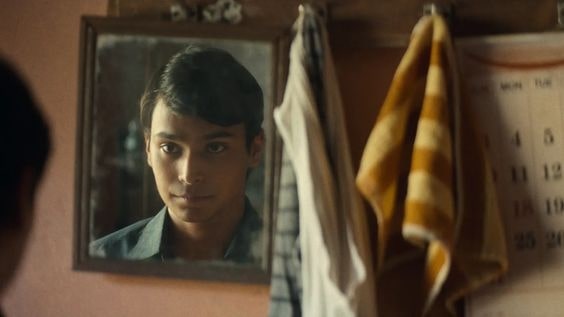 Bodhisattva Sharma in All India Rank
Set in late 1990s, this film is a slice of life dramedy that revolves around a 17 years old boy from Lucknow. Sent away from to a prep school to study for the highly competitive Indian Institute of Technology entrance examination, Vivek goes through homesickness and confusion until the encounter with fellow IIT aspirants and observes ever changing friendship, relationship and the comfort in failure. It showcases the hardworking and proud parents back in home, who also go through a host of personal problems- a pervert local kid making dirty calls from their family owned public telephone booth later implanting fear in the mother and the father getting fired from the hostile boss from the office.
Even though the story line was more of a repetition of what has always been out there in the industry, the feature of dynamic animation used to portray the imagination has been ever engaging and exciting to watch and certain dialogue within the film won the hearts of the audience as they cheered and clapped during the screening.
Innocence(2022)
Dir: Guy Davidi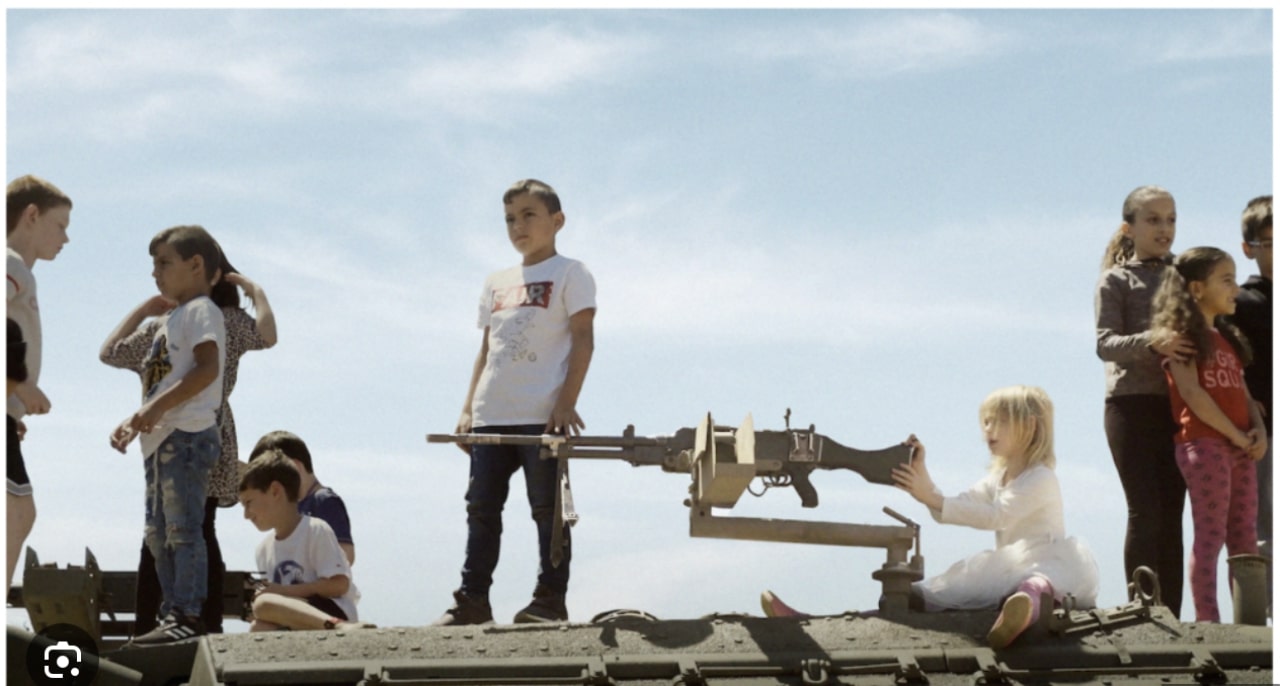 A still from Innocence
A feature Documentary tackles the issue of militarization and it's impact on the lives of young teenagers of Israel who are forced to serve against their own identity, will and values. With 10 years of research, through the narration of the documentary based on the haunting diaries of a young soldier and rare home videos that were left behind, innocence warns the global and the individual cost of an increasing militarization.
With the monologues of the victim himself, he questions why he has to hold an arm at such a young age that too against his will and why milterization is the solution. Instances were shown where he protested and detested but capitulated. In one particular scene of gun shooting training, the teengagers had to hold actual guns and shoot. One gets extremely scared but we clearly get to see how she gets forced and gets sold to fictional promises. Whilst witnessing these key moments from childhood until enlistment and home videos of the deceased soldiers whose stories are silenced and seen as a national threat, the mental state and the health of a child is being ignored, foreign and at stake.
The Poplar Trees(2023)
Dir:Manoj Kumar Pant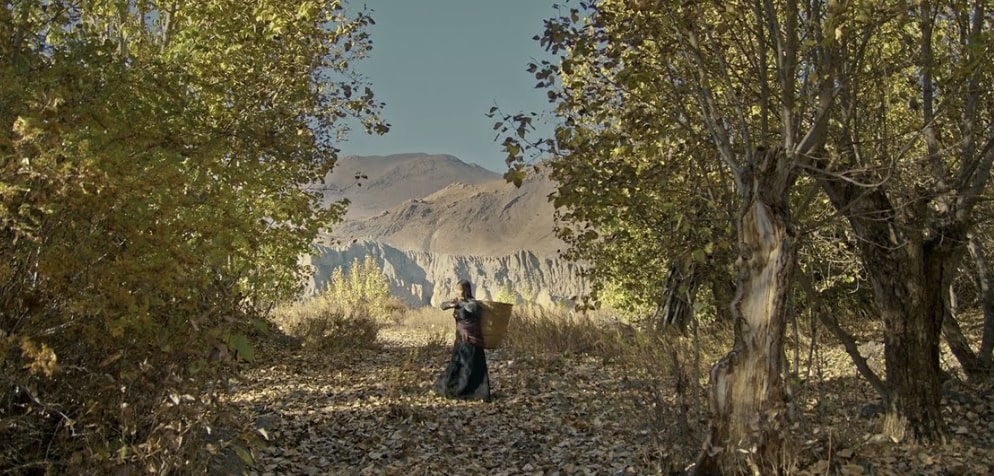 A still of Poplar tree
Situated in the Mustang District of Nepal, where two impoverished couples cross the HImalayas on foot to a more prosperous village in search of work. There they were tasked to gather leaves and chop wood of poplar trees for the approaching winter. The arrangement takes an unexpected turn when the landowner's son develops an interest in the migrant women.
With soulful nature shots, this short film ends on a note from a monk that love shouldn't necessarily be physical and that it has many forms in which you can show.
The Siren(2023)
Dir: Sepideh Farsi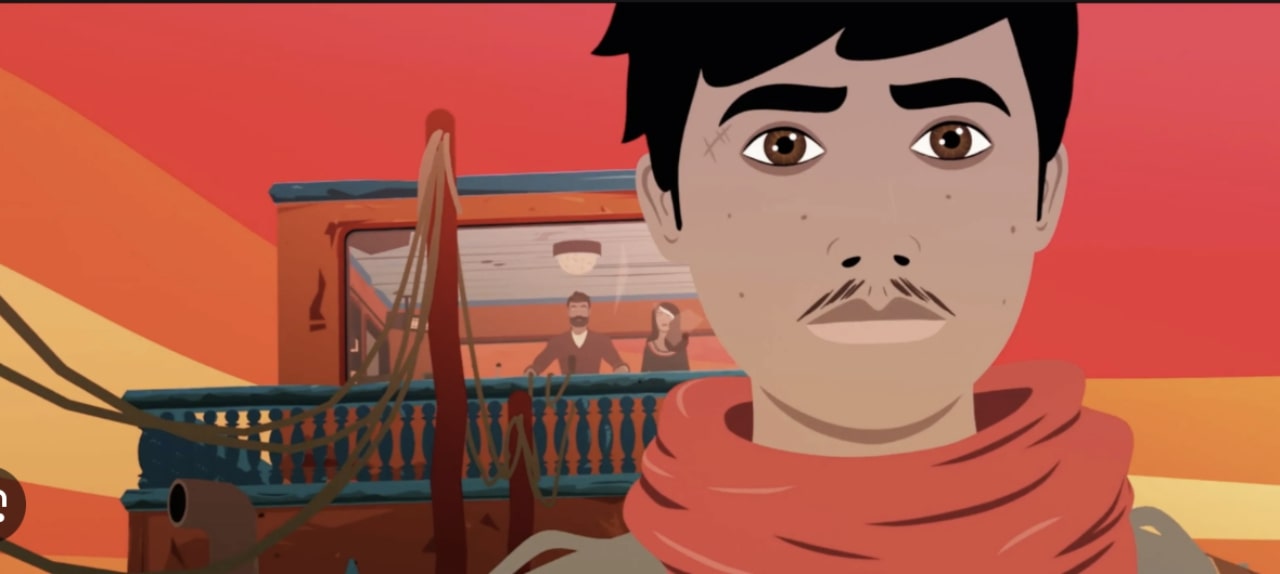 A still of Omid in The Siren
Farsi takes us back to 1980 Southern Iran when the people of Abadan have been fighting an Iraqi siege. This animated feature narrative revolves around a 14 years old boy Omid who works as a food delivery boy and has to choose to stay back in the city with his grandfather, waiting for his elder brother to return back from the frontline when every other person runs away from the explosion and massacre. People likes of Omid, many other refused to leave the place
With the sole intention of using 2-D animations to lighten up the fog of emotions around the war concept, the film also takes us to a different dimension of magical realism of the period.
The Perfect Days (2023)
Dir: Wim Wenders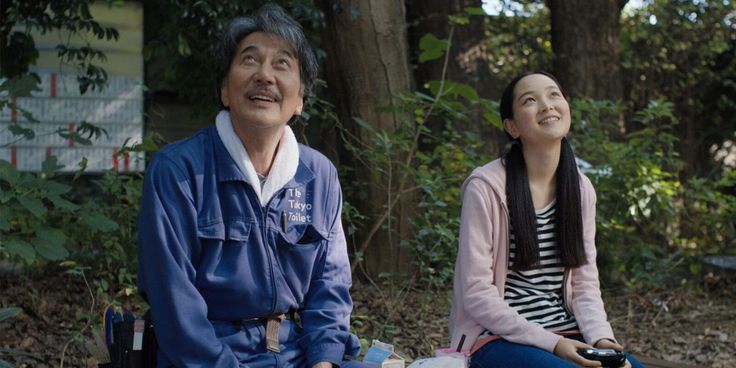 A still of from Perfect Days
Audiences during the festival lined up minutes before and some went into the theater minutes later just so they could catch a glimpse of Wim Wender's work.
This poetic, slice-of-life dramedy performed by Koji Yakusho as the main lead is an absorbing film of all the simple things around us. Unlike some films searching for complexity and dealing with life, Perfect Days is more of looking and realizing the comfort in small things. Hirayama, the utterly content middle aged man who enjoys his simple life as a toilet cleaner in Tokyo. With silent, close-up shots of him we get to see how he delves into the notes of the music and song, his love for trees and taking pictures of them. "Next time is Next, now is now" an advice to the niece taught us to live in the moment. The present is where we find happiness.
Not only the context of film but audiences enjoyed the featured songs references in the film which were utterly relatable and beautiful likes of Lou Reed's Perfect Days and feeling good by Nina Simone.
Regard Silence (2022)
Dir: Santiago Zermeno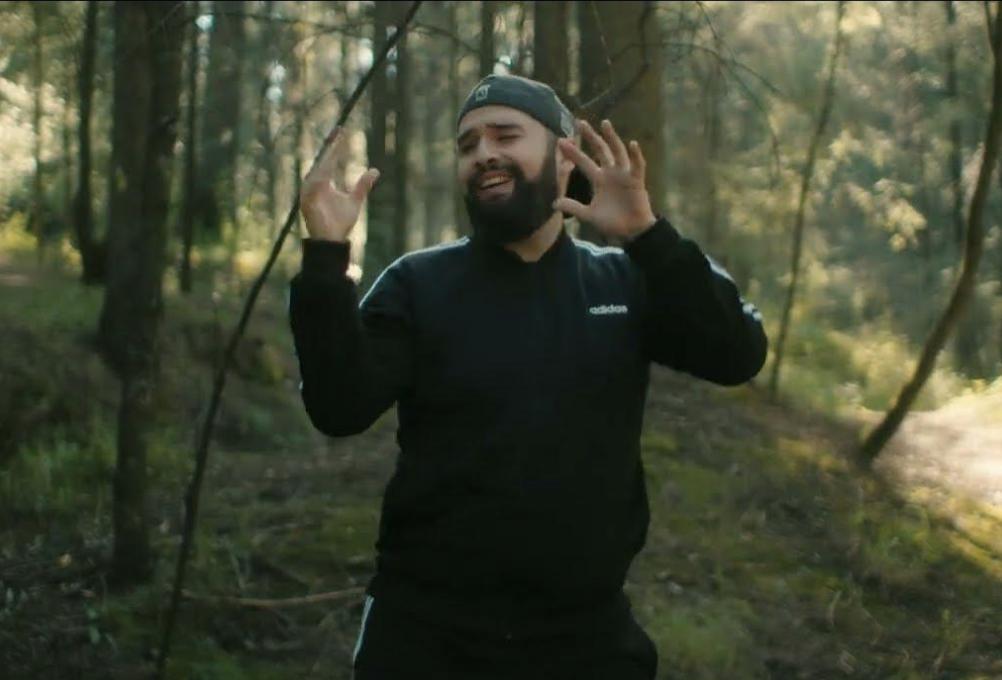 A still of recitation of the poem "Roots"
This 30 mins short film portrays a diverse group of deaf people exploring the Mexican Sign Language (MSL) through poetic creations. With no speech dialogue and complete silence, this short narrative takes us to a different realm of narration of sign languages, making us realize that you can hear the deaf if you choose to. It was fascinating how we can interpret what they were saying, whether it be a poem, a story narration or more, for their facial expression and hand gestures were far more powerful than what a non-deaf human can say. This film was an avant garde for the deaf community and a ray of light shed on more stories and films exploring such content.
Bottle Radha (2023)
Dir: Dhinakaran Sivalingam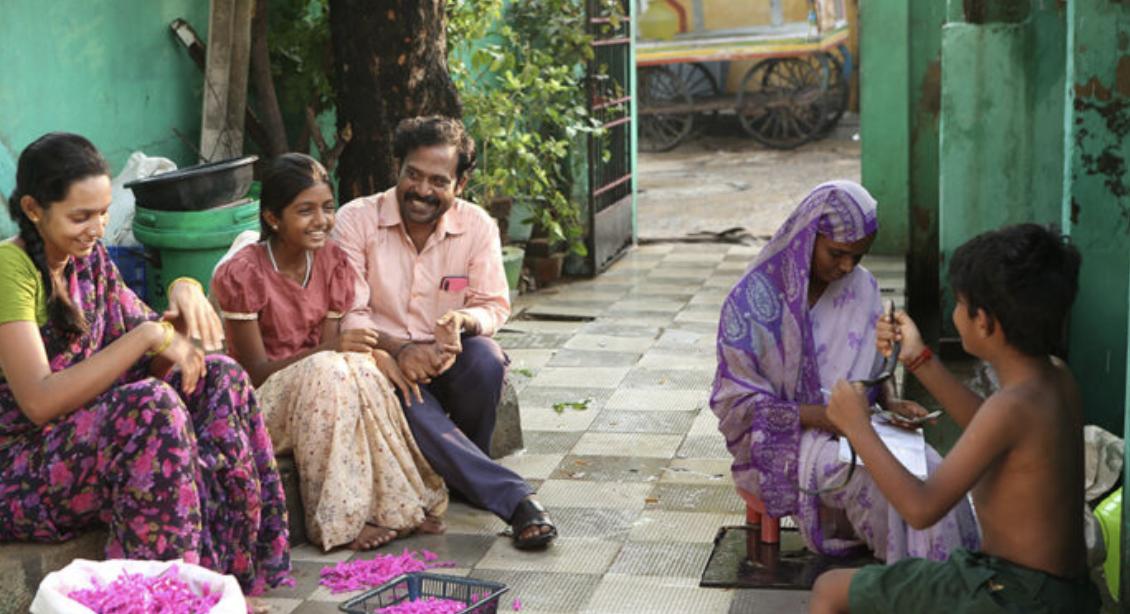 A still from Bottle Radha
Radha was never called by his actual name Radha but rather Bottle as his addiction became a ritual and bottles of Alcohol is what people see him with always. Later when his wife sends him to rehab without consent, Radha's world starts collapsing and shatters, feuling his desperate escape plan. After succeeding his escape, loneliness and estrangement follows him after his wife's death. The story delves and explores the rocky path to his recovery.
At the end, The meaning implemented in the title of the film is more of accepting both his two polar identities, one being the drunk addicted man and other being the lovable man rather than just addressing the drunk Radha. Radha's strong and indomitable human spirit and his resilience against alcoholism shows that addiction is not a choice but rather a struggle that every abused person goes through but to know that you can get out of it and to have the slightest hope is what the whole film is about.
Tora's Husband(2022)
Dir:Rima Das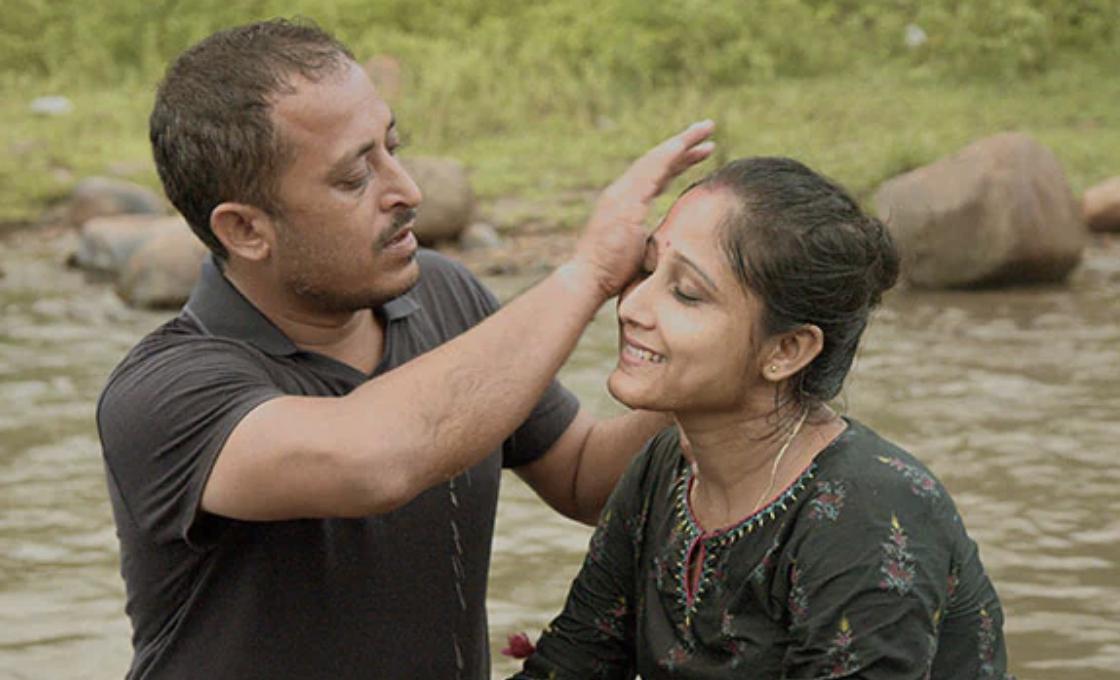 Still from the Film
In the midst of Covid-19, Tora's husband Jaan grapples with uncertainty and restlessness as his Snow White restaurant and bakery doesn't go well to keep his employees happy and he's answerable to the people he owes money to because of the lock down. Tora witnessed her husband getting withered away with all the anxiety but struggles to understand him. When things turned black, Tora's husband sought refuge in alcohol, often getting passed out in the car.
Through subtle but loud narration of story, the film showcases Jaan's constant conflict between his inner and outer world which drains him emotionally. Juggling between his underperforming business and strained personal relationship, he tries to find motivation from within to keep moving.
The title however conflicts and contradicts with the pre-notion we have of addressing a wife i.e. through the husband but in this case the husband was addressed through the wife's name which was very refreshing to know.
Last Days of Summer(2023)
Dir: Stenzin Tankong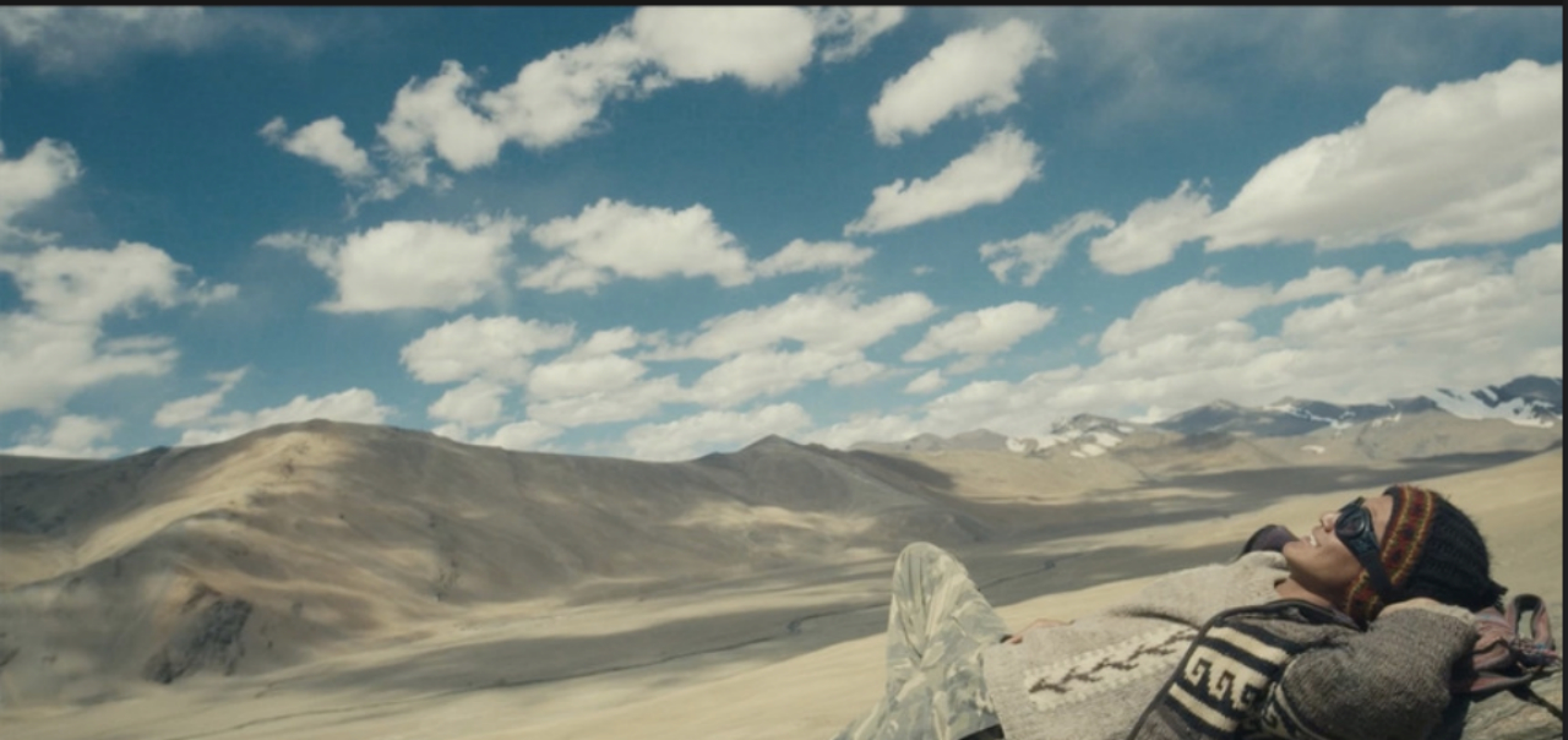 A still from Last days of Summer
Situated in Ladakh, this film explores the recurring mysterious sound from the Himalayan mountain which happens to be heard by only two young curious shepherds. When they failed to convince the villagers about the sound, both the young boys embark on a journey to unravel the mystery.
Unlike every other film which ends with conflict solved or the protagonist brought to justice this short film contradicts with the conflict resolution. The last shot of the two young lads figuring out the mysteries on mountains was not shown leaving the audience all curious and mystery unrevealed.
The very aesthetic shots of ladakh also showcases the nomadic culture in the Himalayas which is still prominent.
The Lotus and the Swan(2023)
Dir: Nirmal Chander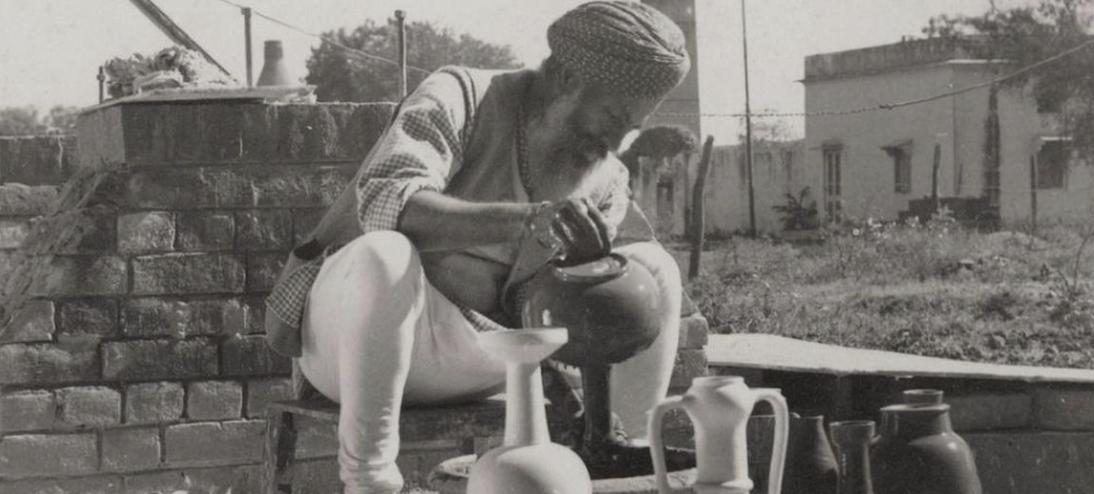 A still of Daddiji doing Pottery
This documentary celebrates the life and legacy of Sardar Gurcharan Singh affectionately known as Daddiji who is famously recognised as the Father of Pottery. When India was not so exposed to the field, the young sikh learned the pottery from Japan and brought it to India bringing a huge change in the landscape of pottery. He introduced the undervalued craft of pottery to the imagination of masses through his creation of mugs, plates and teapots at a very affordable price. One of his children also mentions how he avoids putting up 'Do not touch' signs as he believes that the beauty and the value of pottery only gets revealed through the feel of touch.
His legacy is passed down in family, all the way brimming and recognised in the new generation.
Silent Walls (2023)
Dir: Suraj Bhattarai
Still of Deki locked inside her house
In a remote village in Bhutan, a 13 years old deaf girl Deki takes on a journey in finding her little freedom from her paranoid father and invincible menstrual cycle. Getting confined by her father in her own house while her younger brother goes out for school, her frustration builds up throughout the film finally bursting out by breaking the porcelain bowl. With all the naked shots of the Bhutanese landscape and houses, we tend to see the simplicity of life and the healing of nature.
Within the 20 minutes run time, though we got to know what the story is trying to convey to us but gave a very little impact at the end. Probably because it was touching too many layers and being almost ambiguous or rather the fact we failed to get it.
The song(2022)
Dir:Bani Abidi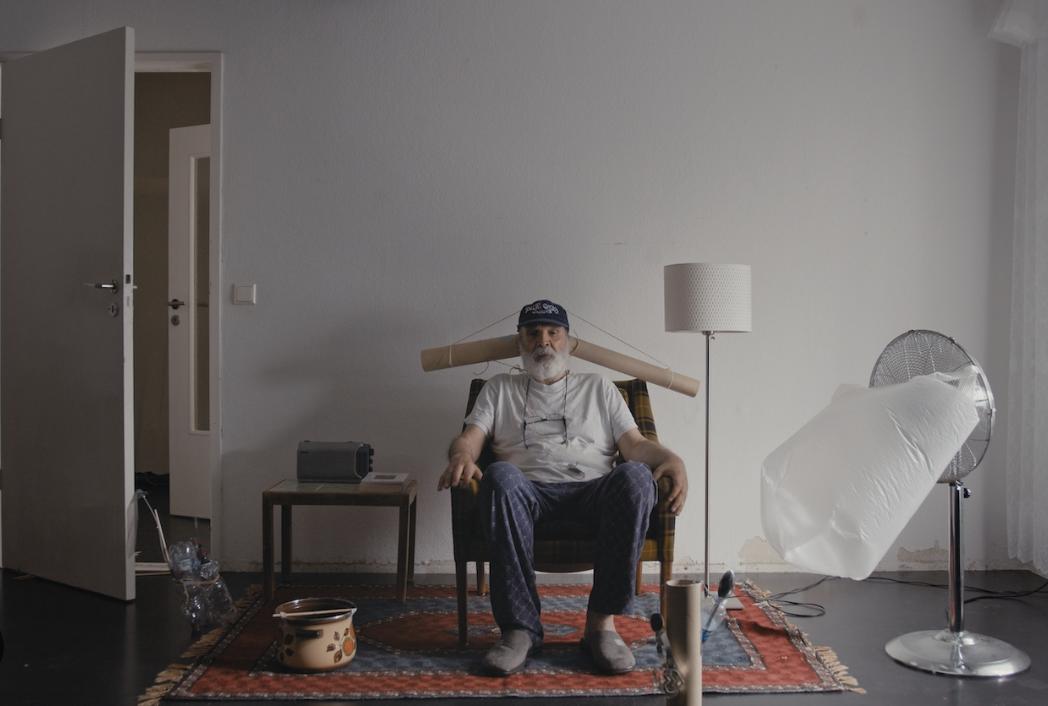 The last shot of the film
An elderly man, recently moved to this new apartment in a European city, creates his own soundscapes to recreate what is familiar and reassuring. Being in a very happening and loud city before, he finds the silence too disturbing and strangely uncalm. So with all the things run by small motors, or fans, or plastic and even with small steels he makes sound out of it and keeps it running in his empty house. Even though the things around him at the last scene made an absurd sound, the look on his face of assurance and calmness made it all oddly satisfying.
Ri (2023)
Dir: Achal Mishra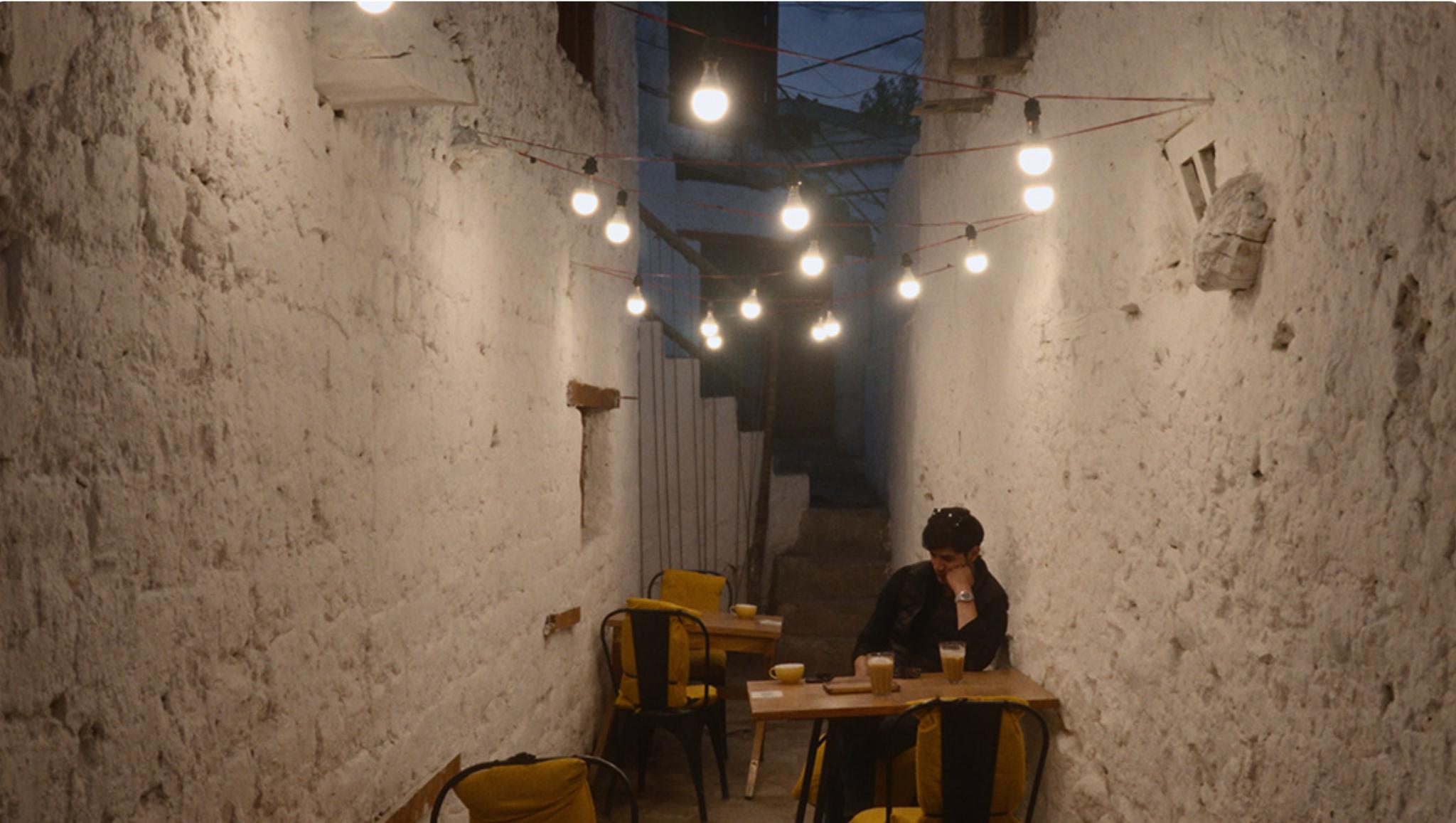 A still from Ri
A feature narrative shot in Ladakh shows everyday life in the long summer evening. Through vignettes of daily life, landscape and wildlife set entirely during the liminal blue hour, Ri paints a portrait of Ladakh seen through the eyes of a traveler.
Many might have found it meaningless to show the still escapes and the mundane life in ladakh for almost one hour long, might as well even found it boring and monotonous but the main motive behind such blue tinted, slow motion of documentary is to show it as a vapour. A vapour lifting everyday life and the cinematic shots.
Fallen leaves(2023)
Dir: Aki Kaurismaki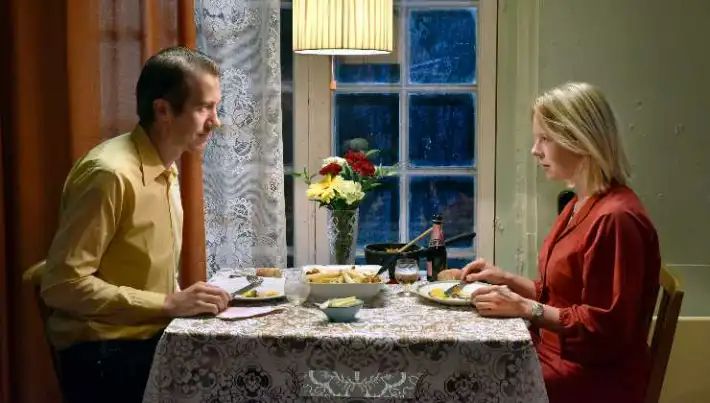 A still from Fallen leaves
Two lonely people meet each other by chance in the course of a Helsinki night in a karaoke bar and try to find the first and the ultimate love of their lives. Even though, through first glance both of them intrigued each other but with the man being alcoholic clouds and fogs every possibility they might have between each other. With lost phone numbers not knowing each other's name and mistaken addresses, makes the relationship between the two hard and almost impossible. This gentle, slow moving tragicomedy is the fourth part of Aki Kaurismaki's working class trilogy.
Kulfi(2023)
Dir:Kiran Narayan Dhamale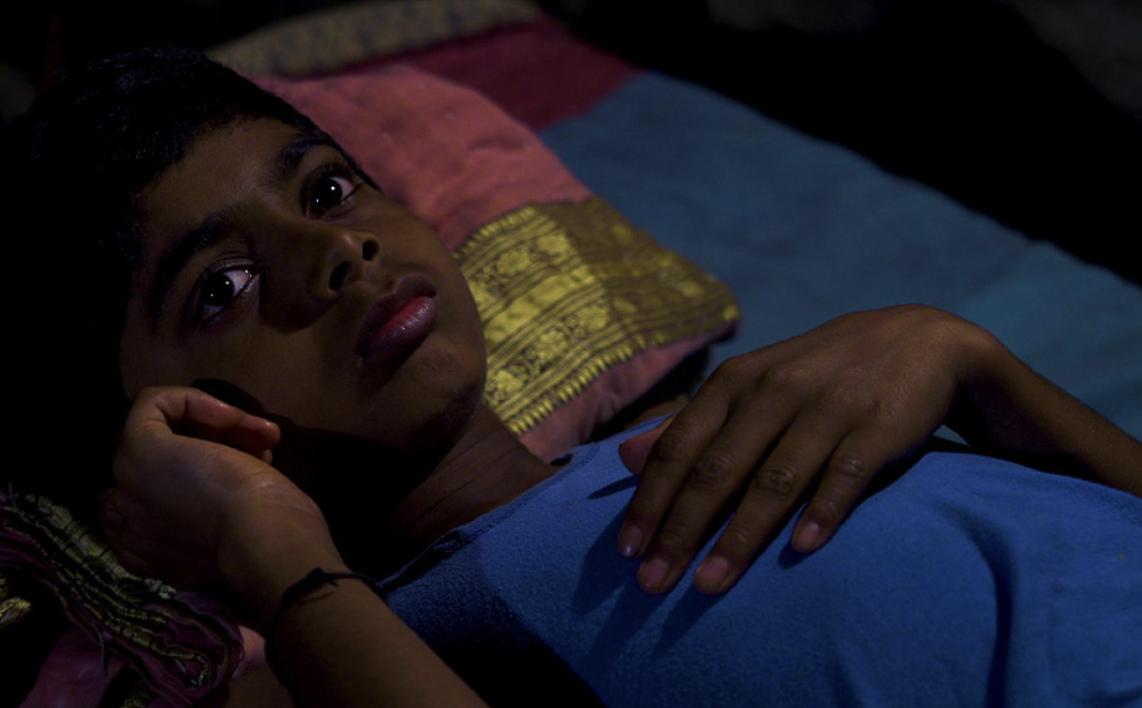 A still from Kulfi
A kid from a remote place desires to have a Kulfi but due to the family's lack of money they cannot afford to buy one. But his kind mother at the end arranges the money to get a kulfi for him and puts it in his tiffin. And once he bought one, instead of having a bite, he ran home to give it to his mother. Little did he know that Kulfi would get melted on the way, the innocent child would get surprised and question where did all the Kulfi go once he reached home.
Indeed the director made his ending specifically to create a sense of shock in the viewers but I do question whether he has any intended meaning behind it.
Think Something nice(2022)
Dir: Claudius Gentinette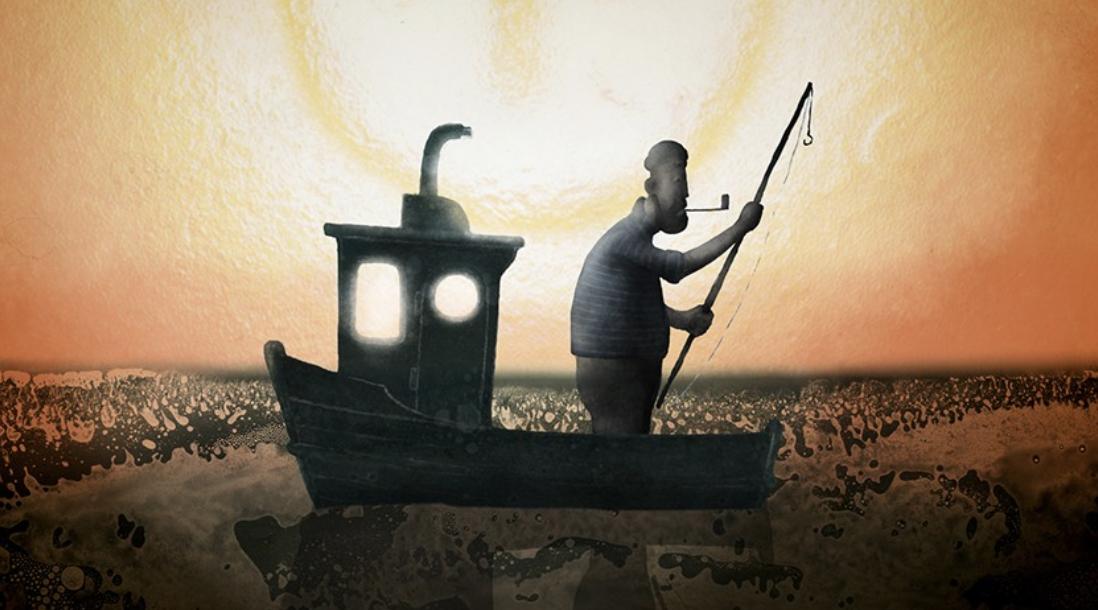 A still of the the fisherman
The fear of dentists is what we all go through as a child. Claudius with his very unique animation style takes us through the mercy of a dentist's chair, a protagonist who cannot escape the confrontation with pain and the dregs of the miserable human condition. So just as every person on that particular chair would do is to distract themselves and he takes refuge in a fantasized story of fisherman and the sea. The jolt of lighting on every anesthesia and the gurgle of every mouth washed is put out so beautifully. The imagination is so intricate that it almost feels like invading someone's privacy. Think something nice was very involved and engaging short animation which I would definitely go back to look for more hidden details.
Things Unheard of (2023)
Dir: Ramazan Kilic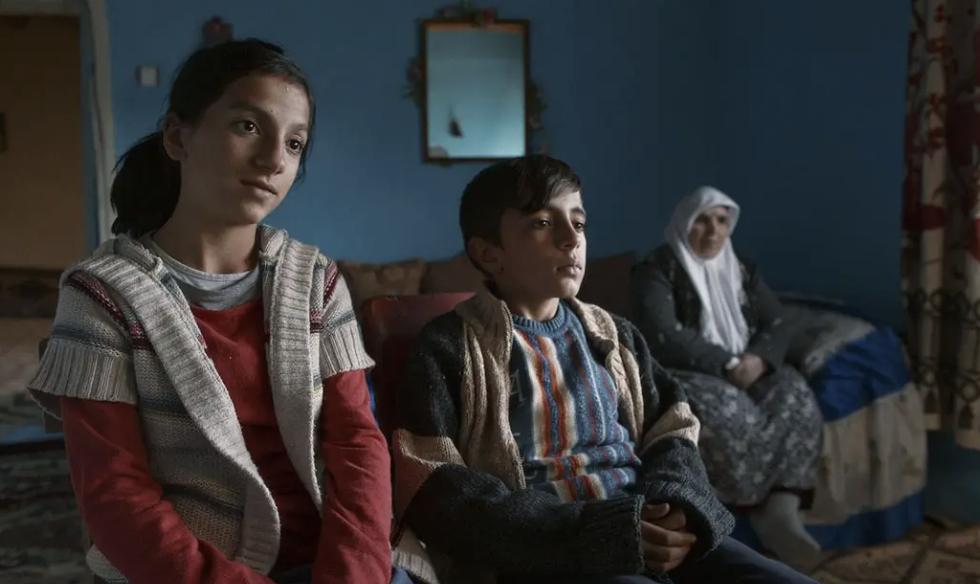 A Still of the girl with her grandmother watching TV in her friend's house
In a small village of Kurdistan, a little girl tries to put a smile on her grandmother's face after the disappearance of her television. Since they were watching a restricted show in the country, their television gets snatched by the military. And now how she helps her grandmother with her boredom is very warm. With a broken television only with it's frame, she puts her own show behind that frame. Calling out news channels and singers she puts out a whole show for her grandmother and rest of the people from her village finally putting up a smile on her grandmother's face.