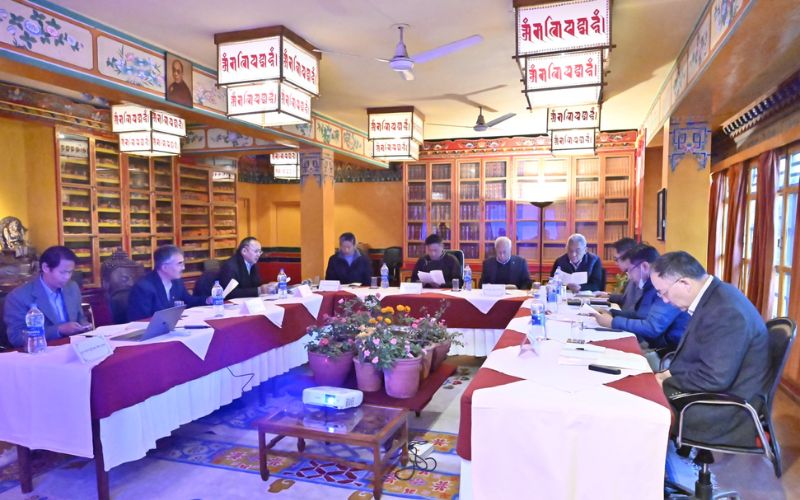 16th Kashag begins Third meeting of Permanent Strategy Committee
Dharamshala: Yesterday saw the third meeting of the Permanent Strategy Committee of the 16th Kashag, the exiled Tibetan government. Sikyong Penpa Tsering chaired the three-day meeting which being held from November 25 to 27 and all committee members, including advisers Kasur Tempa Tsering, Kasur Dongchung Ngodup, former representative of the Dalai Lama at Tibet Bureau in Delhi, and former special envoy Kelsang Gyaltsen, attended the meeting.
Other people who gathered incorporate Karma Rinchen, Secretary of the Branch of Safety, Karma Choeying, Secretary of the Division of Data and Global Relations, Dawa Tsering, Secretary of the Tibet Strategy Establishment, and political secretary Tashi Gyatso of Kashag Secretariat. Also, the meeting attended by Gaden Phodrang office Secretary Ngawa Tsegyam.
The Permanent Strategy Committee will review and discuss the progress of ongoing strategic programmes and deliberate on future advocacy initiatives as per its objectives.
This new Permanent Strategy Committee was established after the previous Task Force on Sino-Tibetan Negotiations was disbanded by the 16th Kashag. In Dharamshala, the Committee met for the first time in November of last year and for the second time in July of this year.
Edited & Collated by Team TRC