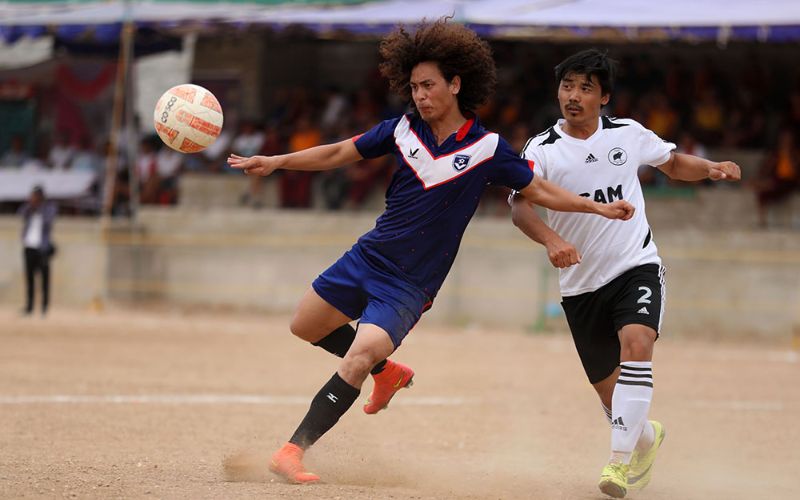 27th Gyalyum Chenmo Memorial Gold Cup Football Tournament to begin today
Paonta Sahib: The 27th Gyalyum Chenmo Memorial Gold Cup football tournament will begin in Paonta Cholsum Tibetan Settlement, Himachal Pradesh on 11 June 2022. The only football tournament held entirely within the Tibetan exile community, it is a source of great excitement for Tibetans in India.
The GCM is a perennial football tournament held by the Tibetan diasporic community since the year 1981 in memory of the late mother of the Dalai Lama. Hence, the name of the tournament Gyalyum Chenmo Memorial Gold Cup echoes this very sentiment with Gyalyum Chenmo meaning 'The Great Mother' in Tibetan.
After passing away of the great mother of H .H the XIV the Dalai Lama in January 1981 at Dharamsala, Mr. Joe Tsering, former Chief Accountant of TCV took the initiative of organizing a football tournament after her name. He is accredited as the founder of the GCMGC Football Tournament. Then an organizing committee was formed in August 1981 most of the members were TCV staffs. The first GCMGC Football Tournament was held at TCV ground in Oct. 1981. All participating teams were from Dharamshala area and TCV team won the tournament.
16 teams will participate in the 27th Gyalyum Chenmo Memorial Gold Cup football tournament, which includes teams from Nepal, Himachal region, Dehradun region and Ladakh Tibetan Settlement as well.
Such tournaments help enhance unity among Tibetans in exile and help bring together Tibetan youth from different settlements in India. Live broadcast will be shown on TibetTV social media channel.
(Information supplied by TNSA)
By Team TRC