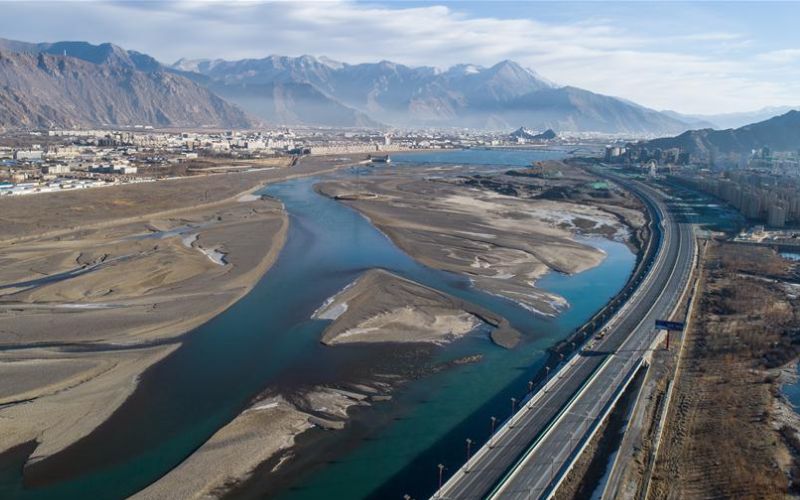 China building dual use infrastructure to assimilate Tibetan Culture and Identity
China has promoted infrastructure construction to boost economic development during the headwinds caused by COVID-19, officials from the Ministry of Transport said on Wednesday, reported China Daily. China is building dual use infrastructure in Tibet to enable the rapid deployment of its forces at strategic locations in any eventuality but at the same time fulfill CCP's strategy of cultural assimilation of Tibetans. At the same time, CCP projects this as enabling "development" in Tibet.
"Adhering to the principle of preventing the spread of the virus while stabilizing the economy and developing safely, the ministry has carried out transport infrastructure construction ahead of schedule at a moderate pace this year", Shu Chi, spokesman for the ministry, reportedly said at a news conference in Beijing.
China claims that since the 1990's, the government of the Communist Party of China (CPC) has made "an unprecedented scale of investment in infrastructure build-up in Tibet, specifically in the areas of connectivity such as railways, roads and airports". Investments were also made in Tibet to build hydro-power energy, for urbanization, mining, tourism, military and government infrastructure. These massive investments in infrastructure build-up are in fact, Chinese strategy to strengthen its control over the region which it unlawfully invaded and occupied.
Cities in Tibet like Lhasa, due to the influx of Chinese migrant workers along with the rapid urbanisation are seeing a growing trend of intermarriage between Tibetans and Chinese.
Another aspect of urbanisation along with the large influx of migrant workers can be looked as a strategy in the long run to assimilate Tibetan culture and identity. Many observers on infrastructure build-up in Tibet also view the trend as a geo-strategic "threat" to South Asia, implying Chinese expansionism in the region.
This view is further expounded by the growing network of railway lines and roads in Tibet which fits into the larger picture of China's new international dream, One Road One Belt. The expansion of railway line from Shigatse to Nyingtri bordering Arunachal Pradesh state of India, a territory over which China has repeatedly laid claim.
China hopes that through this strategy, accompanied by an iron fist rule over Tibet crushing all expressions of dissent, they will ultimately subdue and disintegrate the resistance of the Tibetans within and outside of Tibet.
Edited & Collated by Team TRC