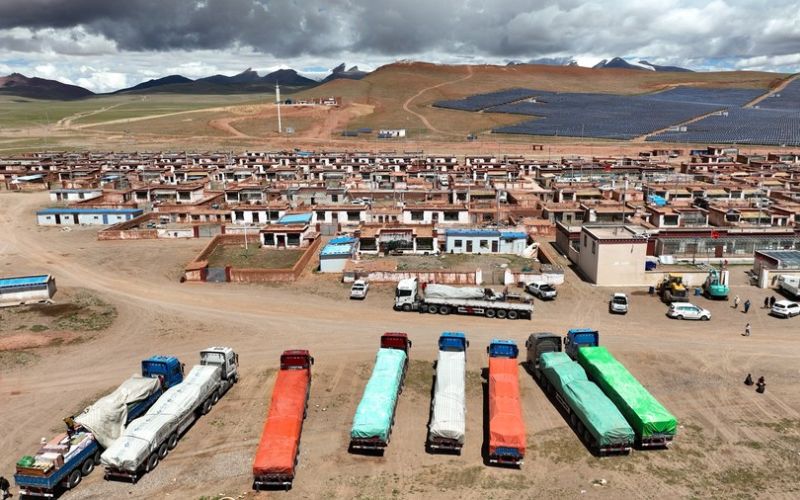 China relocates 300 more TAR Tibetans; target over 26,300 by Aug 11
Lhasa: Chinese state-affiliated media reports suggest that China has dispatched on Jul 19 morning a second batch of residents of Tsonyi (Chinese: Shuanghu), the world's highest county located in northern Tibet Autonomous Region (TAR), to their new homes nearly 1,000 km southward. The report called it a part of the region's plan to improve people's living conditions and protect the fragile local ecosystem.
The regional government relocated the first batch of 2,900 residents in Tsonyi to Singpori in 2019. The report said that more than 300 residents left their hometown in the county's Doima Township at around 7:40 am to their new home in Singpori.
Singpori is on the north bank of the Yarlung Zangbo River in Gongkar County of Lhokha (Shannan) City, at an altitude of 3,600 meters, located some 10 km from the airport in the regional capital Lhasa. The report said that four townships of the county will complete relocation by early August, and by then, all seven townships of Tsonyi, including the three that moved in 2019, will have completed relocation.
China's current plan is to relocate more than 130,000 Tibetans in nearly 100 townships of TAR in eight years, as reported by Xinhua Jun 27.
Since 2006, CCP has implemented large scale programs to accelerate the relocation and sedentarization of the nomadic population, viewed by the authorities as ignorant, backward and irrational; whose 'overgrazing' caused significant damage to the Tibetan grassland ecosystem. They argue that careless overgrazing and unscientific land management by herders cause grassland degradation, erosion and gradual desertification, which is far from the truth. The traditional grazing practiced by Tibetan nomads is crucial for Tibetan range lands; their technique of moving their herd from summer pasture to winter pasture in a rotational fashion helps avoid overgrazing. This renews grasslands, improves wildlife habitats and helps sustain the Tibetan plateau.
By Team TRC