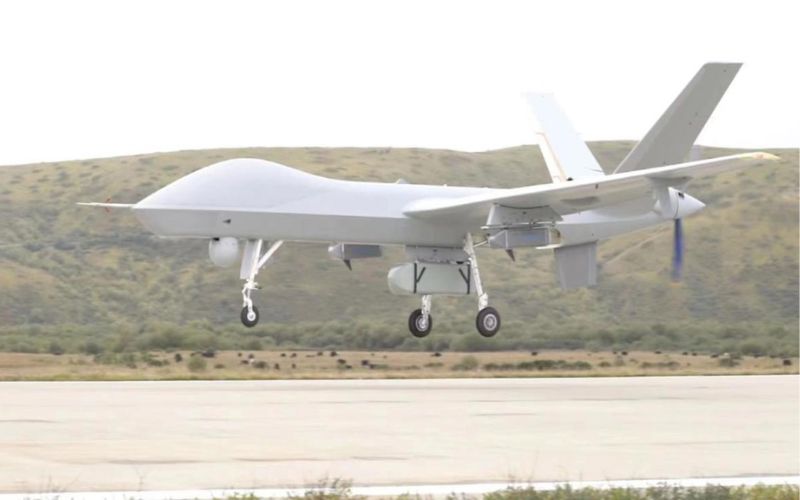 Tibet: Surveillance in the name of meteorological observation?
Source : Global Times
China's first test flight of the domestically developed plateau meteorological observation variant of Wing Loong II drone in Qinghai-Tibet Plateau was conducted successfully over the weekend, reported Chinese media Global Times. "As the Qinghai-Tibet Plateau has a great impact on climate change in China, East Asia and even the world, the test flight will provide more data for ecological protection on the plateau and scientific response to climate change", observed the report. This development raises concerns that the drones could be used for strengthening Chinese Communist Party's surveillance system in place in Tibet.
The test flight reportedly transmitted observation data including cloud system distribution, water vapor structure, wind field and underlying surface in the source of three rivers (in the Sanjiangyuan Region where the Yangtze, Yellow and Lancang rivers all originate) to the ground.
The test was jointly carried out by the China Meteorological Administration (CMA), the AVIC and other related units, reported Xinhua. After the first drone flight in the Qinghai-Xizang Plateau, the CMA also reportedly plans to conduct "multiple tests relating to vapor channels, glaciers and regional water supply of the "source of three rivers," in order to build a sky-based observation system with the large UAVs as the main body, providing enriched data for ecological protection on the plateau and a scientific response to climate change".
These developments are raising concerns whether the drones will be used to expand CCP's existing surveillance network over Tibet. In 2021, Xinhua reported that a total of 1,009 weather stations of various types have been built in the Tibet autonomous region, leading to all the region's 695 towns coming under meteorological observation.
Extensive use of drones have also been reported earlier to monitor the movement of Tibetans trying to escape from CCP-controlled Tibet crossing the Himalayan mountains on the way to India or Nepal; the Chinese government has tightened its grip around Tibet by securing an already nearly impassable border with drones, facial recognition and radar.
China had also set up an unmanned automatic weather observation station in Tibet near Arunachal border "to eliminate a blind area of metereological services", provide "metereological support for national defence" and "promote military-civilian integration" in 2018.
Earlier, reports suggested that Chinese scientists are working on setting up a meteorological monitoring station on Mount Everest, the world's highest peak at over 8,848 metres in the Himalayas. This development had raised concerns about further exploitation of Tibet's minerals and resources. Recently reports had suggested that sources of lithium were discovered near Mt Everest by China.
With the setting up of weather stations, metereological drones and more expeditions to Mt. Everest, it seems that China is stepping up its surveillance and monitoring tactics in the Himalayan region.
Edited & Collated by Team TRC