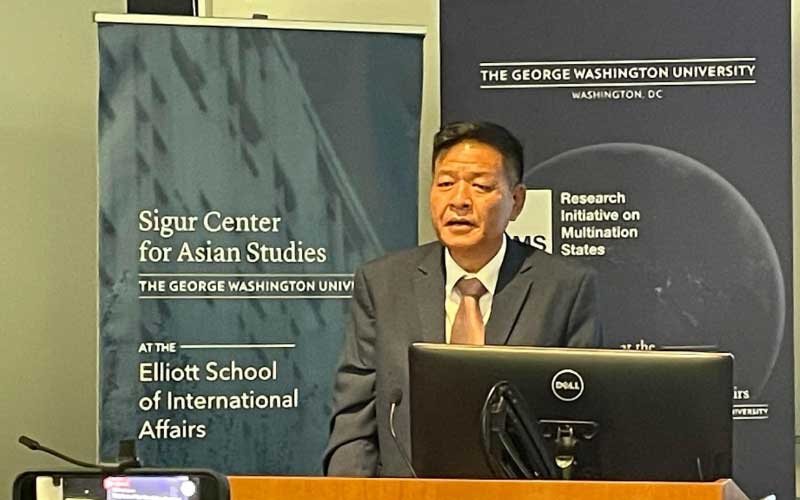 Colloquium on Thirty Years of Tibet-China Dialogue Engagement
Sikyong Penpa Tsering participated in a seminar on Thirty Years of Tibet-China Dialogue Engagement- Current Perspectives in a Time of Global Realignment at Harry Harding Auditorium, Elliott School of International Affairs, George Washington University on 29 April 2022.
The colloquium appraised the development and effects of the thirty years of dialogue initiatives between Chinese government and representatives of the Dalai Lama and the exiled Tibetan government.
Keynote speaker Sikyong Penpa Tsering, elected leader of the Central Tibetan Administration, addressed the challenges and potential for dialogue engagement as current political conditions shift and realign.
The panel and roundtable featured Arjia Rinpoche, abbot of Kumbum Monastery and former vice chairman of the national-level Chinese Buddhist Association in Beijing; Tenzin N. Tethong, former prime minister-in-exile and leader of the Second Tibetan Delegation to Tibet; Xia Ming, professor of political science at CUNY; Yue Gang, associate professor at University of North Carolina Chapel Hill; and Anne Thurston, senior research professor at Johns Hopkins University SAIS; with roundtable discussant Joseph Torigian, assistant professor at American University.
Gregg Brazinsky, director of the Sigur Center for Asian Studies, made introductory remarks. The colloquium was moderated by Tashi Rabgey, research professor of international affairs and director of Research Initiative on Multination States (RIMS).
Information supplied by George Washington University
By Team TRC