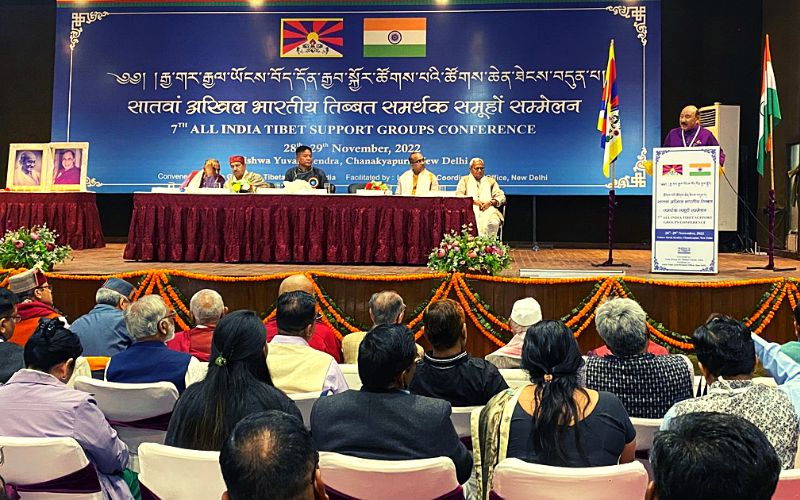 Conference in Delhi to empower Pro-Tibet Organizations to create fresh action strategy
Source: Hindustan Times
New Delhi: Today, Tibetan groups and leaders from all over India meet in Delhi for a conference to finalize a plan of action and convince the Indian government to have a clear policy on Tibet and the Dalai Lama's reincarnation, reported Hindustan Times. The 7th all-India Tibet Support Groups Conference has begun at Vishwa Yuvak Kendra, Chanakyapuri, New Delhi.
Every three years, members and representatives of all Tibet support groups in India attend the All-India Tibet Support Groups Conference. The representatives will concentrate on developing a strategy for India's clear policies regarding Tibet in accordance with the US Congress's Tibet Policy and Support Act 2019.
The US legal system supports the right of the Tibetan people to choose their own leaders, including the 14th Dalai Lama's reincarnation, free from interference by the Chinese government, as well as the protection of Tibet's environment and water resources.
"The 7th All India Tibet Support Groups Conference is happening now in the presence of Sikyong Penpa Tsering, Sujeet Kumar, Dr. Indresh Kumar, Prof. Anand Kumar and R.K Khrimey at Vishwa Yuvak Kendra, New Delhi", tweeted Tenzin Lekshey, Spokesperson of Department of Information & International Relations, Central Tibetan Administration.
The conference will also focus on the importance of Tibet to India at a time when the bilateral relationship between New Delhi and Beijing has been affected by China's recent actions, people familiar with the matter said.
The conference is being held against the backdrop of Beijing's insistence that the Chinese government alone can choose the next Dalai Lama. Chinese officials have also said that no other country, including India, should interfere in this process.
The two-day meet is being organised by the Core Group for Tibetan Cause-India, a coordinating body for some 15 major and other smaller Tibet support groups in India.
The conference will also focus on the significance of Tibet's ecology for downstream countries, especially India, and on strengthening the Tibet movement and support groups in India to resolve the Tibetan issue peacefully. In this context, delegates will highlight the threat posed by Chinese dam projects on the Brahmaputra to livelihoods in downstream countries.
More than 200 delegates are expected to participate in the conference, at which Penpa Tsering, president of the Central Tibetan Administration, will be the keynote speaker.
Sujeet Kumar, convenor of the All-Party Indian Parliamentary Forum for Tibet (APIPFT), senior RSS leader Indresh Kumar, and Khenpo Sonam Tenphel, the speaker of the Tibetan parliament-in-exile, are among those expected to attend the conference.
Edited & Collated by Team TRC