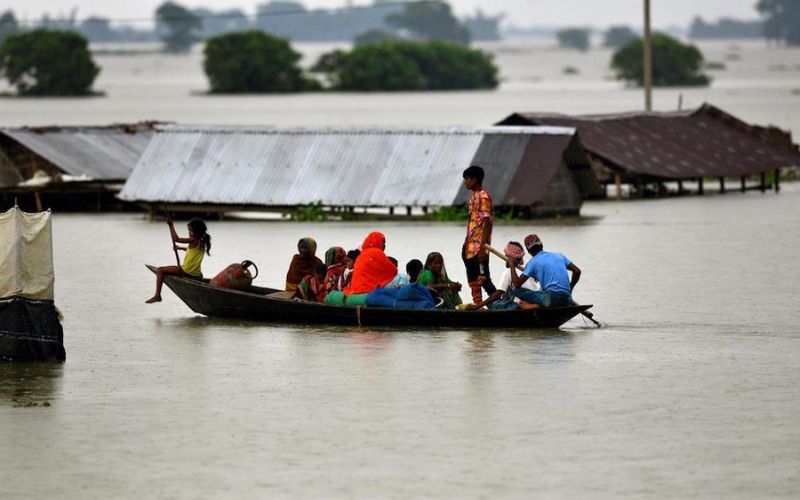 His Holiness the Dalai Lama donates 10 lakh rupees for flood relief in Assam
Dharamshala: Tibetan Spiritual leader His Holiness the 14th Dalai Lama in a letter to Assam's Chief Minister Himanta Biswa Sarma expressed his concern over the recent flooding in Assam which has led to loss of life, property damage and displaced millions of people. "It is most unfortunate that the monsoon rains in Assam and other parts of India seem to wreak havoc year after year," added Dalai Lama.
CM Himanta B. Sarma thanked the office of His Holiness, Gaden Phodrang Trust, for donating 10 lakh rupees for humanitarian efforts. "Assam is humbly feeling blessed at His Holiness expressing concerns at ravaging floods and hardships it is causing. He has graciously sent his blessings," Assamese CM tweeted on Thursday.
"I would like to express my sadness about the hardship caused to so many people in your state due to the recent floods. I offer my deep condolences to you, to the families who have lost loved ones, and to everyone affected by the flooding. I appreciate that the concerned agencies are doing everything they can to rescue those affected and provide them with relief," the octogenarian leader further remarked.
As per reports, the massive floods have affected over 41 lakh people from 34 districts, while 2, 31,819 people took shelter in over 800 relief camps in the state. The death toll in this year's flood and landslides in the state has now gone up to 126; over 17 were killed in landslides, according to India Today.
The Tibetan leader has engaged in many philanthropic activities in the past. Following the second dose of vaccine, the Dalai Lama's office in April last year announced that it has donated to the PM-CARES Fund "as a token of our solidarity with fellow Indian brothers and sisters." The Dalai Lama Trust had also donated a consignment of Personal Protective Equipment (PPE) to Dr. Rajendra Prasad Government Medical College and Hospital (Tanda) in Kangra during the onset of the deadly pandemic in May 2020.
Information supplied by Phayul
By Team TRC