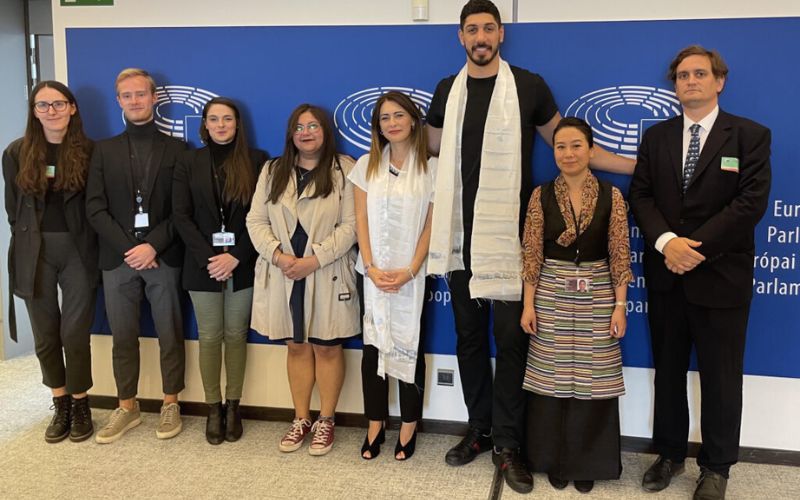 "I Do Not Regret the Consequence of Speaking Out", Says Enes Kanter Freedom
Brussels: Representative Rigzin Genkhang met with former NBA basketball star Enes Kanter Freedom and Vice-President Picierno in the European Parliament. He is on a two-day advocacy tour in Brussels, meeting lawmakers, Journalists and other related Officials.
Enes Kanter, who sacrificed his NBA career speaking up against authoritarian regimes, including China, shared his experience of how he became involved in defending human rights and became the target of an Interpol "red notice" put out by his native country, Turkey.
During the discussion, Representative Genkhang spoke about China's new policy aimed at "controlling minds", which risks the complete erasure of Tibetan religion, identity and culture if not reversed in time. She also briefed the audience about how European and other citizens of Tibetan descent are coerced and neutralized not to speak against the Chinese Communist Party.
On behalf of the Tibetan people, Representative Genkhang expressed her gratitude for his commitment to speak up for the Tibetans whose voices are suppressed and for his defiance of the Chinese Communist Party's human rights violations in Tibet and other areas.
As a token of gratitude, she presented him with a traditional white scarf and offered him a copy of the "Book of Joy" by His Holiness the Dalai Lama and Archbishop Desmond Tutu. When receiving the book, he recalled his virtual conversation with His Holiness early this year.
Secretary General of UNPO, representative and staff members of World Uyghur Congress, Belgium, were also in attendance at the meeting, according to report.
(Information supplied by Tibet.net)
By Team TRC