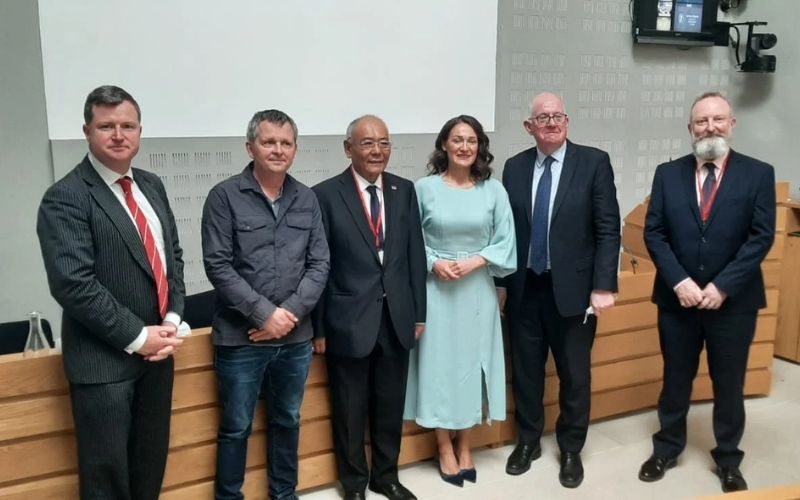 In Ireland, Representative Sonam Frasi meets Senator Malcolm Byrne and other lawmakers.
On May 10, Representative Sonam Frasi met with Senator Malcolm Byrne of the Seanad, the Irish Parliament's Upper House, and other lawmakers in Dublin.
Senator Malcolm Byrne, the current convenor of the Irish Parliament (dáil éireann), was a member of the Senate. Members of parliament (Teachta Dála/TDs) Richard Barrett Boyle of the People Before Profit Party, Charles Flanagan TD, Chair of the Foreign Affairs Défense Committee, Irene Dunne of County Louth, Senator Roisin Garvey of the Green Party, and Tony Dunne, Chairman of the Tibet Support Group in Ireland were present at the meeting.
According to the reports, representative Sonam Frasi gave an update on the current situation in Tibet and explained the Middle Way Approach as a viable solution to the Tibet-China conflict.
He went on to say that the People's Liberation Army of Communist China conquered Tibet by force in 1950, which is illegal under international law. Tibet was formerly an autonomous country whose boundaries were forcibly seized, and it is now an unlawfully occupied country in need of international assistance. The problem is not solely a Chinese concern; it necessitates the involvement of the world community in the peaceful resolution of the Sino-Tibetan conflict.
He asked the TDs and Senators present to form a core Tibet group in the Irish Parliament to help Tibet's voice be heard. He also requested that the Irish Parliament adopt the CTA's strategy of the Middle Way Approach.
The discussion went well, and Charlie Flanagan, the chair of the Foreign Affairs Select Committee, pledged to write the Irish Foreign Ministry a representation letter on Tibet.
Following the discussion, the Representative met with Department of Foreign Affairs officials, where he voiced concern about the deteriorating human rights situation in Tibet and appealed for assistance for Tibet, rather than accepting the Chinese mantra that Tibet is a part of China. China claims it lacks the legitimacy to rule Tibet and asks Ireland not to make any statements implying Tibet is a part of China.
Tsering Dolma, chairman of the Tibetan community in Ireland, and Tony Dunne of the Tibet Support Group of Ireland accompanied Sonam Frasi. A meeting with members of the Tibetan Community in Ireland marked the end of the representative's official tour.
(Information Supplied by Tibet.Net)
By Team TRC