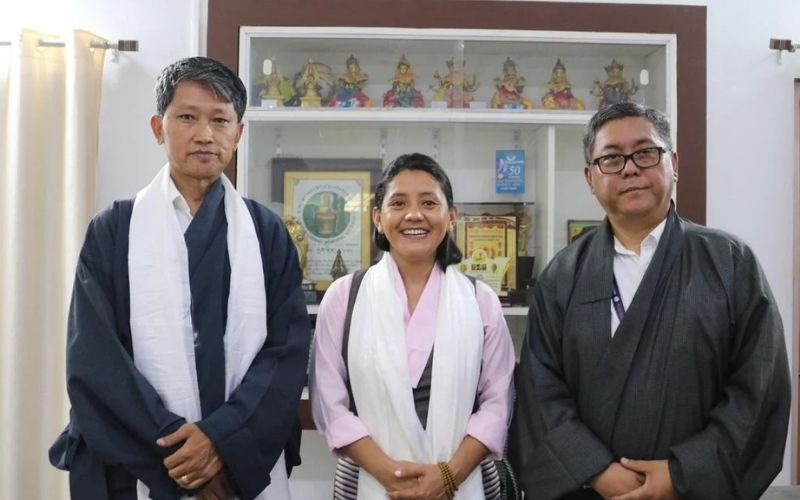 Lhakpa Dolma appointed as Settlement Officer of Doeguling Tibetan Settlement in Mundgod.
Mundgod: Ms. Lhakpa Dolma took charge as the new Settlement Officer of Mundgod Tibetan Settlement from Outgoing Settlement Officer Mr. Lhakpa Tsering on 13 April 2022.
Mr. Jigme Tsultrim, Chief Representative Officer, South Zone, Central Tibetan Administration, attended the handover ceremony as the official witness on behalf of the Department of Home, CTA.
According to the reports, on 13 morning, during the handing-taking ceremony, a customary Tibetan butter tea and sweet rice was served to all the guests. Later, the staff and the guest greeted and expressed gratitude towards incoming and outgoing TSO by offering scarves.
The outgoing and incoming TSO along with the official witness addressed before the public at public hall. After that, visited to STS School, Old People's Home and DTR Hospital.
In the afternoon, along with CRO, Outgoing and incoming TSO paid a courtesy call to ADC and SP at their respective offices in Karwar.
The handover ceremony was held at the settlement on 12 and 13 April 2022.
Mr Lhakpa Tsering, the outgoing Settlement Officer has been transferred to Gangtok Tibetan Settlement Office.
(Information Supplied by Tibet.net)
By Team TRC