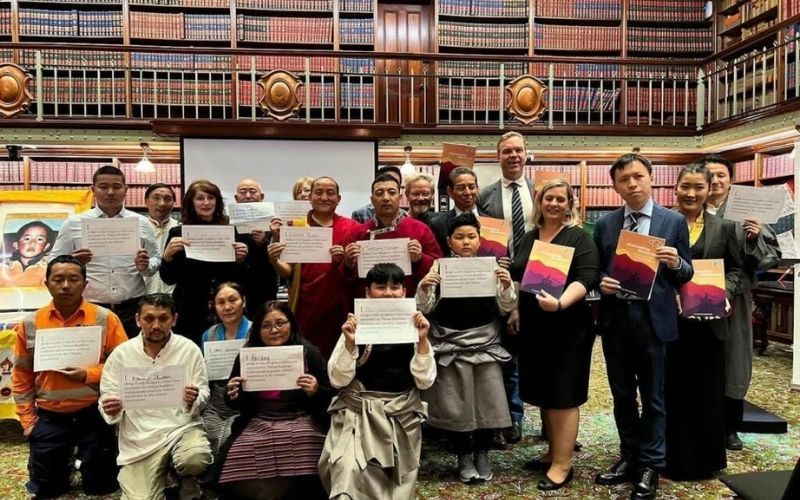 "Overcoming Obstacles Protecting Tibetan religious & Identity," A new Paper by the Australia Tibet Council
Canberra: On the 27th anniversary of the forced disappearance of the 11th Panchen Lama Gedun Choekyi Nyima, the Australia Tibet Council (ATC) released "Overcoming Obstacles: Protecting Tibetan Religious Identity," a new report on the systemic attack on Tibetan religious identity, at the NSW State Parliament in Sydney.
On the occasion, Sikyong Penpa Tsering issued a video message thanking the Australia Tibet Council, members of the NSW state legislature, and the Tibetan community for raising awareness of the 11th Panchen Lama, who was seized by Chinese authorities when he was just six years old in 1995. "The forced disappearance of Panchen Lama is one representative case of so many other Tibetan political prisoners who are likewise subjected to various forms of torture and imprisonment in various prisons. As a result, we are appealing to the international community to assist us in raising awareness about Panchen Rinpoche Gedun Choekyi Nyima and exerting pressure on the Chinese government to inform the international community of Panchen Rinpoche's whereabouts and well-being, as well as to reinstate him in the religious leadership role to which he was born." he stated.
Honourable Jamie Parker, a member of the NSW Legislative Assembly, joined His Holiness the Dalai Lama's Representative to Australia, New Zealand, and Southeast Asia, Karma Singey, and the Tibetan community of NSW in launching this important report, which details the Chinese Communist Party's (CCP) efforts to destroy and sinicize Tibetan Buddhism.
Representative Karma Singey thanked the Australia Tibet Council for releasing the report on the Chinese government's assault on Tibetan religious identity.
"This comprehensive report will not only raise awareness about the real situation inside Tibet, but will also serve as a powerful recommendation to urge the Australian government to adopt a policy position on the Chinese government's repressive policies in Tibet," he said, emphasising the importance of the new report.
"Your understanding of the plight of the Tibetan people and your persistent support motivates us to continue our struggle and offers us with hope for the future," he added, thanking Australian politicians, Tibet support groups, and friends of Tibet who continue to support the legitimate cause of Tibet.
Yeshi Togden, a former Tibetan political prisoner and former head of the Gu-Chu-Sum movement, spoke about his imprisonment and his resistance to the Chinese government, as well as the human rights violations in Tibet.
The ceremony ended with two young Tibetans from the NSW Tibetan Community singing the Song of Unity and prayers for the 11th Panchen Lama's long life and swift release from Chinese captivity.
(Information Supplied by Tibet.Net)
By TeamTRC