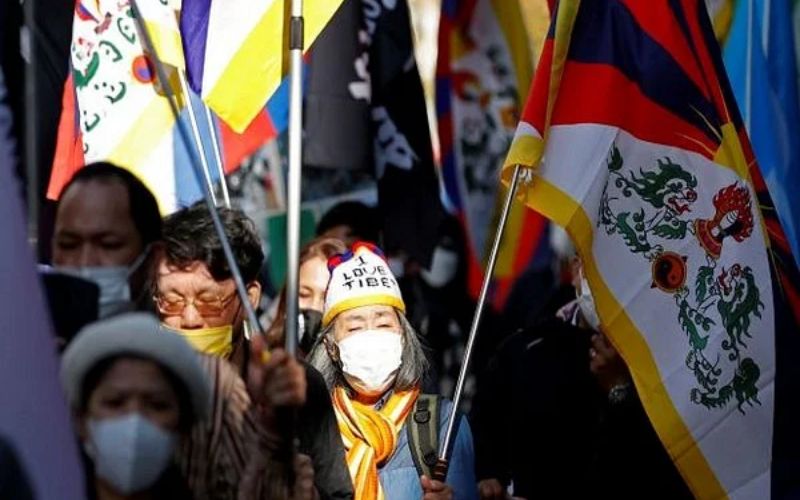 Protest held in Paris over killing of Tibetan national by Chinese men
Paris: Following the killing of a Tibetan National by three men from the Chinese community on July 11 in Normandy, representatives of the Tibetan community gathered in France on July 17, Sunday to perform a white march and pay a tribute to the deceased.
The Tibetan national, named Tsultrim, 32 received a fatal stab wound to the side in front of the restaurant Les Delices d'Asie, which had been employing him for a week in Saint-Leonoard, near Fecamp, local media reported, adding that the attackers were the two managers of the establishment and an employee who were indicted for intentional homicide and imprisoned, reported DecodeTheNewspodcast.
Tibetans from all over Europe – Belgium, Switzerland, and Spain assembled in Paris on Sunday, July 17 with bouquets of flowers, for a white march of unprecedented magnitude. According to internal intelligence, they were around 7,000, perhaps 10,000 according to representatives of the Tibetan community in France.
"We had never experienced anything like it, it's really a shock," said the representative of the Dalai Lama in Europe, Monde Rigzin Genkhang.
Hundreds of Tibetans, who had made the trip from Paris, Rennes, Nantes, Marseille, or Toulouse, visited the scene on July 14, Thursday to pay the first tribute but when they learned that the body of their compatriot had been placed in a plastic bag near the garbage room by the attackers and discovered traces of blood present on the ground, the protestors started to ransack the restaurant, DecodeTheNewspodcast reported.
"We fled Tibet for political reasons, to join a free country here" testified Tsering, 32 years old, met during the white march. "Having the Chinese do this is a direct blow to our hearts. We are coming together to make sure this doesn't happen again.
In another statement, Ugen-Tenzing Nubpa, a Tibetan representative for Switzerland, said that the case goes beyond a simple news item. "That the Chinese kill Tibetans in Tibet, occupied territory, it is common. In France, in Europe, this is a first. It is difficult to say whether this is a racist act. But we have been asking for justice for Tibet for sixty years, and now there is a form of urgency, we have taken a step. We are a nonviolent people and we demand justice," he said.