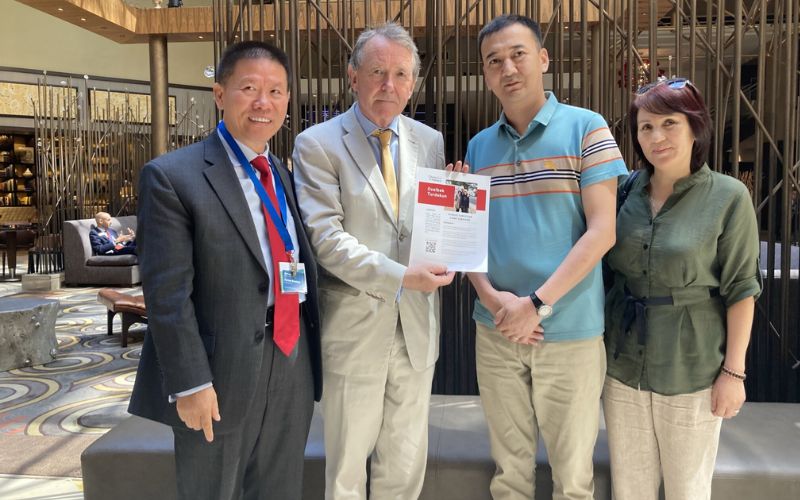 "Religious persecution is a hallmark of the CCP": David Alton at IRF Summit 2022
Washington DC: Speaking at the Washington International religious freedom Summit, human rights activist David Alton said that "Religious persecution is a hallmark of the CCP. Think of Tibet's Buddhists; Xinjiang's Uyghur Muslims; Chinese Christians, and Falun Gong practitioners. Think of the arrest of the venerable Cardinal Joseph Zen".
He is a former Liberal Party and later Liberal Democrat Member of Parliament who has sat as a crossbench member of the House of Lords since 1997 when he was made a life peer. Alton is also known for his human rights work including the co-founding of Jubilee Action, the children's charity which changed its name to Chance for Childhood in 2014, and serves as chair, patron or trustee of several charities and voluntary organisations.
Alton added that the "CCP regime is a member of the United Nations Human Rights Council is a sick joke. Every minute of every day the CCP breaks Article 18 of the Universal Declaration of Human Rights which guarantees freedom of religion or belief for every citizen, everywhere."
He also mentioned that the CCP's persecution of religious believers has now reached Hong Kong. CCP propaganda media such as Ta Kung Pao publish articles attacking churches in Hong Kong and threatening further restrictions One church, the Good Neighbour North District Church, has been raided by police and the bank account of the church and its pastor were frozen by HSBC under pressure from the authorities.
One of China's most venerable Christian leaders, Cardinal Joseph Zen, has been arrested – while Christians who have been at the forefront of the movement for democracy, human rights and the rule of law languish in prison or face further court cases.
By Team TRC