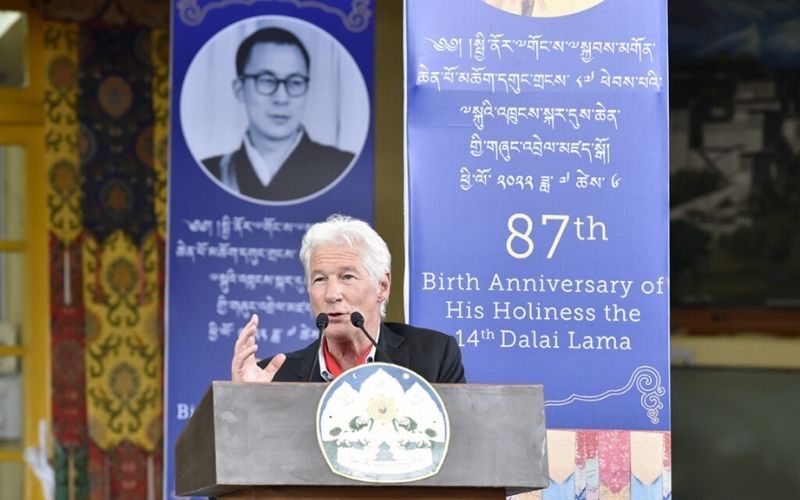 Richard Gere attends His Holiness the Dalai Lama's Birthday Celebrations at Dharamshala
Dharamshala: Tibetans across the world are celebrating the 87th birthday of the 14th Dalai Lama on July 06. Hollywood actor and a friend of His Holiness, Richard Gere participated in celebrations organized by Central Tibetan Administration (CTA) of Tibetan government in-exile at the main Buddhist temple in Tsuglagkhang.
Richard Gere is an internationally renowned actor, social activist and philanthropist. For over twenty-five years, he has worked to draw attention and practical resolutions to humanitarian crises rooted in injustice, inequality and intolerance. Through his private foundation, the Gere Foundation, he has served as a longtime human rights advocate whose humanitarian efforts have taken him to Honduras, India, Kosovo, Mongolia, Nepal, Nicaragua, Switzerland and Tibet.
The special guest Richard Gere spoke to the gathering, saying, "Tibetans, you should be proud" since "once, not in a lifetime, once in a millennium, maybe in two millennia, such a person, such a human being as the Dalai Lama emerges and he is a Tibetan", he continues, however, "His Holiness is not going to be here forever, he is going to leave this body at some point" therefore "we can't rely on the Dalai Lama to carry all of us. We have to carry each other, and it's going to happen soon enough that that reality hits us. It's up to the Tibetan people to carry the weight of your freedom, the weight of your truth, the weight of your possibilities, and the weight of your vision."
Hence, "in that context of knowing, we all have to step up", said actor Richard Gere while recollecting his first visit to Dharamshala 40 years before as well as his experiences during the conferment of Noble Peace Prize to His Holiness the Dalai Lama in 1989 where His Holiness talked about the mankind's responsibilities towards the earth and its environment.
Information supplied by Tibet.net
By Team TRC