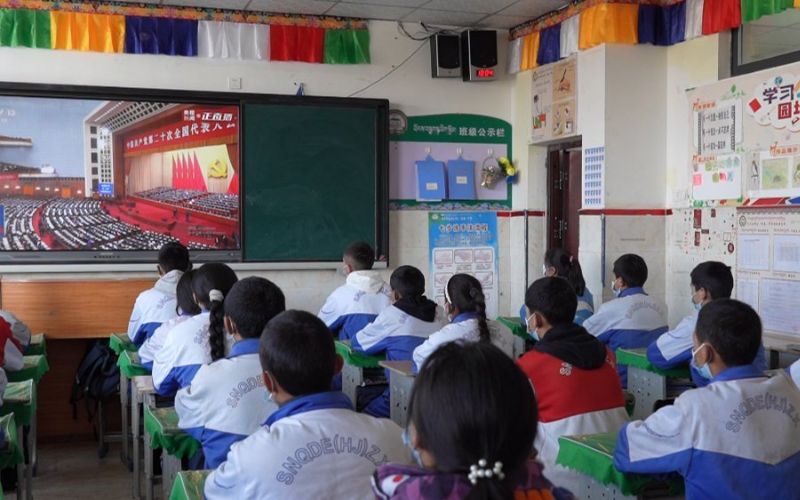 Rural Tibetans 'inspired' by 20th CPC Congress Report, claims Chinese media
Rural Tibetans in occupied Tibet are "inspired" by the Congress report presented by Chinese President Xi Jinping at the 20th Party Congress earlier this week, claimed reports published by Chinese state-affiliated media. This comes amidst reports that Tibetan students and monks were forced to watch the live telecast of the opening of Congress, forbidding them to leave their homes until the sessions end.
The report quoted Tibetans who were "excited and overwhelmed when watching the congress on TV" and how they "joined villagers to watch the live broadcast of the 20th National Congress of the Communist Party of China". "She said she is happy to learn that China has built the largest education system in the world and will continue to give high priority to the development of education and speed up the work to build a stronger education system", added the report.
The report also claimed that the report to the congress also "inspired the ethnic people" in Monba, one of the smallest ethnic groups in China, in the region's Metog county. The report quoted Dorje Phuntsok, a leader of Jeling village of the county, as having said that the part in the report about comprehensively promoting rural vitalization and developing agriculture and rural areas as a priority provided him "with confidence and spirit".
Pictures of monks, students and workers watching the live telecast of the Congress are being shared online by Chinese social media handles. With flags in their hands, monks of occupied Tibet have been photographed watching the CCP Congress Opening day telecast in front of walls adorned with pictures of Xi Jinping & other leaders. China-appointed Panchen Lama was also seen attending 20th CPC Opening Session. He was spotted among delegates attending opening session. This could be seen as a Chinese attempt to garner support and credibility for their candidate, who Tibetans have not accepted as the real Panchen Lama.
Ahead of the Party Congress, CCP had used COVID19 as a tool to further its surveillance mechanism and repressive actions in Tibet. Videos had shown how Tibetans were tortured in the name of draconian measures as part of CCP's Zero-COVID policy. While China's propaganda machinery covered up THE covid situation in Tibet, dissenters were suppressed before 20th National Congress of the Chinese Communist Party.
Tibet was unlawfully invaded by China and has been involved in grave human rights violations in the region. China claims that Tibet has always been part of China, while history shows that Tibet was an independent country with its own flag and passport.
Edited and collated by Team TRC