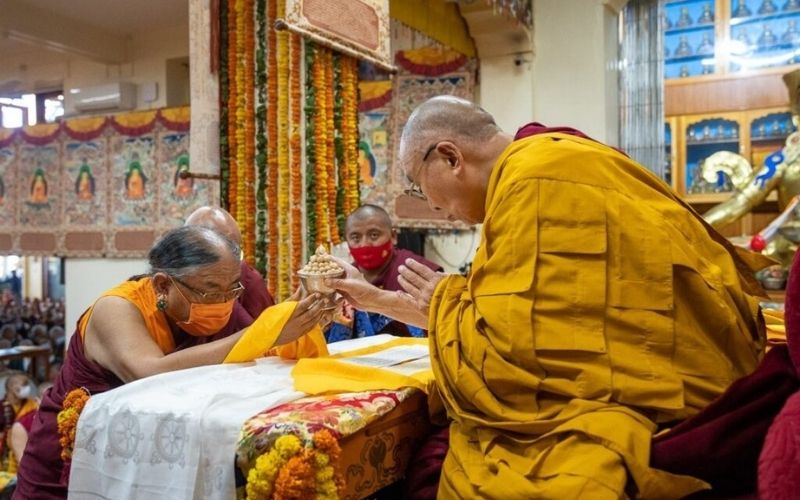 Sakya Tibetan Buddhist Tradition Offers Long Life Prayer to His Holiness the Dalai Lama
Dharamshala: This morning a Long-Life Offering was presented to His Holiness the Dalai Lama by members of the Sakya Tradition of Tibetan Buddhism at the Tsuglagkhang, the Main Tibetan Temple in Dharamsala. Hierarchs of both palaces, the Dolma Phodrang and Phuntsok Phodrang, headed by Sakya Dagtri Rinpoche, led the ceremonies.
Sakya Dagtri Rinpoche greeted His Holiness as he stepped out of his car just inside the gate to his residence. The two of them walked steadily through the gate and into the garden, where they were welcomed by a group of dancing drummers.
Walking through the garden, His Holiness smiled and waved to members of the public, stopping occasionally to greet young children. He rode the recently installed lift up to the temple veranda and continued to engage with the public on his way round to the temple door.
Once His Holiness was seated on the throne, the Sakya Lamas offered scarves in welcome and the ceremony began. Tea and sweet rice were distributed while the congregation recited the mantra of White Tara.
After the text of the long-life prayer had been recited, statues of the deities of longevity, White Tara, Amitayus and Ushnishavijaya, were presented to His Holiness. Sakya Dagtri Rinpoche then offered him a bowl full of long-life pills. His Holiness took one for himself and gave another back to Sakya Dagtri Rinpoche, a process he repeated when he was given a spoonful of long-life nectar.
Read more details here.
(Information supplied by Tibet.net)
By Team TRC