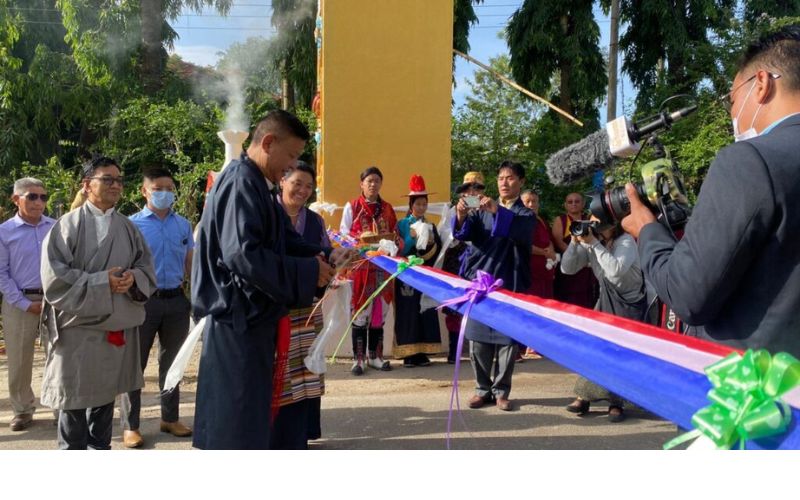 Sikyong Penpa Tsering get a rousing Welcome by Tibetan Community of Bylakuppe
Bylakuppe: The Tibetan community in Bylakuppe gave a rousing welcome to Sikyong Penpa Tsering as he arrived at the settlement on Tuesday, 31 May.
Swarms of crowd lined up with ceremonial scarfs and flower bouquets to catch a glimpse of the Sikyong who was visiting the settlement for the first time since assuming the office in May last year. Led by the Settlement Officers of Dekyi Larso and Lugsam, Sikyong was received by an entourage of heads and representatives of monastic institutions and NGOs. As part of his first-day official engagements, Sikyong inaugurated the newly built gate of the settlement following that.
Sikyong visited and toured the premises of His Holiness the Dalai Lama's palace at the settlement. The highlight of the day's event featured his address to the faculty and students of TCV school and his visitation and address at the monasteries scattered across the settlement.
In his keynote address at the school, the students were detailed on the objectives of the 16th Kashag and apprised of the activities initiated and the future plans of the administration but mostly noted his assurance to empower the students' capacity through whatever support and facilities are required by the schools imploring that they prudently utilize the fund of donors.
During the interactive session with the students, Sikyong was questioned about his approach to dealing with cases of divisive and polarizing agendas often reported in the communities to which, Sikyong firmly established transparency and accountability as the guiding principles of his administration, besides that, he urged the students not to indulge in disinformation and petty skirmishes adding 'no good will come out of such indulgence'. Instead, the students were advised to devote all attention and effort to actualizing the aspirations of His Holiness the Dalai Lama and toward enabling a self-sufficient community.
Read more details here.
(Information supplied by Tibet.net)
By Team TRC