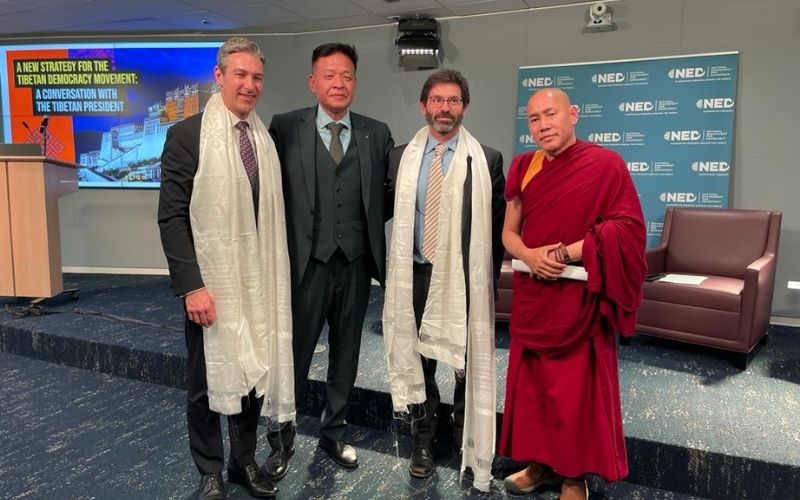 Sikyong speaks at a National Endowment for Democracy (NED) panel in Washington, D.C.
Dharamshala: The National Endowment for Democracy (NED) – an independent, nonprofit foundation dedicated to the growth and strengthening of democratic institutions around the world, held a conversation with Sikyong Penpa Tsering on 26 April, discussing extensively about the development of democratic administration of the Tibetan exile polity.
Damon Wilson, NED's president and CEO, praised Tibetan democracy as introduced by His Holiness the Dalai Lama in his opening remarks. "Once in exile, he (H H Dalai Lama) enacted important democratic reforms almost immediately," he remarked. Sikyong Tsering now leads a government that is a model of functioning democracy in exile." NED's president also stated that the organisation is proud to be one of the Tibetan movement's most steadfast partners, and vowed to uphold that tradition.
According to NED's president, the Tibetan democracy movement is supported by human rights advocacy, international support for Tibetan freedom, and a strong exile community rooted firmly in democratic norms and values. NED had previously hosted and awarded the Democracy Service Medal to His Holiness the Dalai Lama. He went on to say that Tibet's democratic exile polity "may serve as a model for other exile democracy movements."
Sikyong Penpa Tsering praised NED's efforts to promote democracy in general and the Tibetan democratic movement in particular, and gave a brief overview of Tibetan democracy's progress under His Holiness the Dalai Lama's visionary leadership. He also discussed the parliamentary impasse that occurred during the early stages of his term as Sikyong and voiced confidence in the maturity of the Tibetan people's democratic administration in Dharamshala. He also stated that, despite China's covert interference in separating the Tibetan community in exile, every Tibetan's commitment to the Tibetan struggle remains strong and united, regardless of differences in beliefs and ideologies.
Following Sikyong's speech, Brian Joseph, vice president of NED's programmes, spoke with Sikyong Penpa Tsering about a variety of topics, including Tibet, global peace and stability, democracy, refugee issues, and the disappearance of the 10th Panchen Lama, who has been missing since he was abducted by the Chinese government in 1995.
Following the conversation, the audience was given the opportunity to ask questions.
(Information Supplied by Tibet.net)
By Team TRC