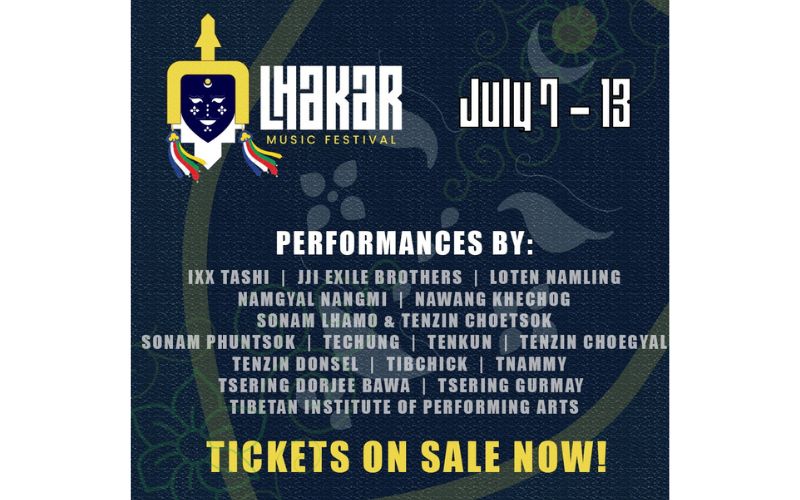 Tibet House US announces Lhakar Tibetan Music Festival
Washington DC: In celebration of their 35th anniversary, Tibet House US has announced a global virtual concert featuring exclusively Tibetan artists from across all musical genres to be broadcast online from July 7-13, 2022. In alignment with their mission to spotlight the culture and art of Tibetan people, this concert will highlight the rich diversity of Tibetan musical expression and showcase a vibrant range of traditional and contemporary music. This is the first ever virtual music festival to feature exclusively Tibetan musicians and we are excited to share the incredible talent and creativity of these artists.
Lhakar translates to "white Wednesday" in Tibetan and is astrologically recognized as an auspicious day for H.H. the Dalai Lama and therefore considered a special day in the week to honor Him and all that He represents for Tibetans. In recent years, Lhakar has additionally become a worldwide movement to embrace Tibetan culture and identity. People observe Lhakar on Wednesdays by intentionally speaking Tibetan, eating Tibetan food, wearing traditional clothes, and shopping at Tibetan owned businesses, symbolically uniting Tibetans around the world in the diaspora and inside Tibet.
H. H. the Dalai Lama's birthday auspiciously falls on a Wednesday this year – July 6, 2022 – therefore Tibet House US will broadcast this Lhakar Music Festival from Thursday, July 7 through midnight Eastern Time on Wednesday, July 13. Artists including Loten Namling, Sonam Phuntsok and Tenzin Seldon will be featured in the festival.
More details here.
By Team TRC