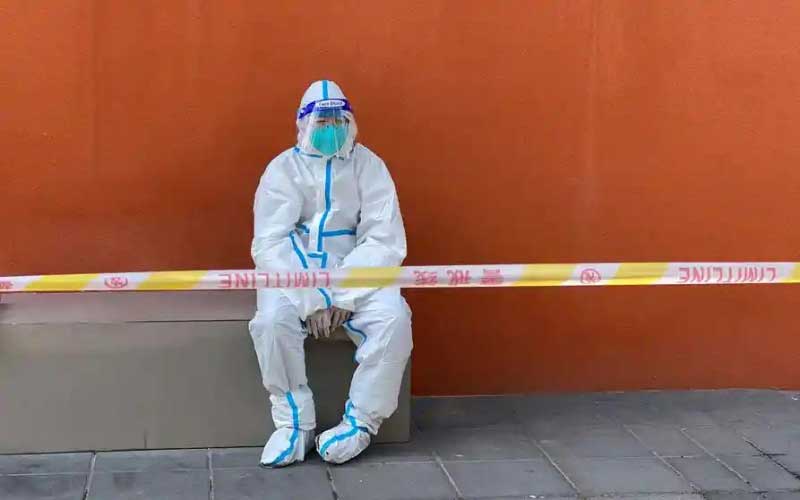 Tibetans at risk as China makes makeshift COVID hospitals in Tibet
Lhasa: Reports have suggested that authorities in Tibet are building massive Covid isolation and care facilities in anticipation of further outbreaks in China even though the plateau has reported only one case during the ongoing pandemic. This move, according to Chinese media, is to "reduce pressure on the hospital system" in China.
"Temporary hospitals with at least 1,000 beds each are being built in Lhasa and Shigatse by the Chinese firm Jiangsu Qi'an Construction Group", reported The Guardian. The firm was quoted to have said that it had been tasked with building the hospitals in late March and given "less than half a month" to complete them and that more than 400 personnel were working across three shifts to hasten the construction.
This latest measure follows China's national health commission's order that all provinces in China should have two to three makeshift hospitals to house and treat people with mild or asymptomatic cases of Covid-19 and "reduce pressure on the hospital system". China had unlawfully invaded Tibet in 1959 and has since been imposing its rule on the remote region.
Earlier, Chinese media had reported that "anti-epidemic supplies" including 100 tonnes of dried yak meat and 3,000 tonnes of drinking water were transported from Tibet to pandemic-hit Shanghai on 10th April, as per decision by "TAR Party Committee and Government". Additionally, 5,000 tonnes of drinking water were transferred to China's Jilin province. "To show its support for the eastern metropolis and the northeastern province battling a COVID-19 resurgence" Tibet was "donating" the supplies, claimed CGTN news outlet.
China is battling a surge in COVID19 cases, the worst since Wuhan. On Thursday the city reported 2,634 local cases, and 15,861 asymptomatic cases. Authorities in Shanghai had imposed draconian lockdown measures since March 2022 that significantly impeded people's access to health care, food, and other life necessities. An unknown number of people have reportedly died after being denied medical treatment for their non-Covid related illnesses.
Reports suggest that only one case has been reported so far in Tibet in the ongoing wave of infections in China. Building COVID hospitals in Tibet will open up Tibet to more transmissions and a new wave of infections.
By Team TRC
(Information supplied by The Guardian)