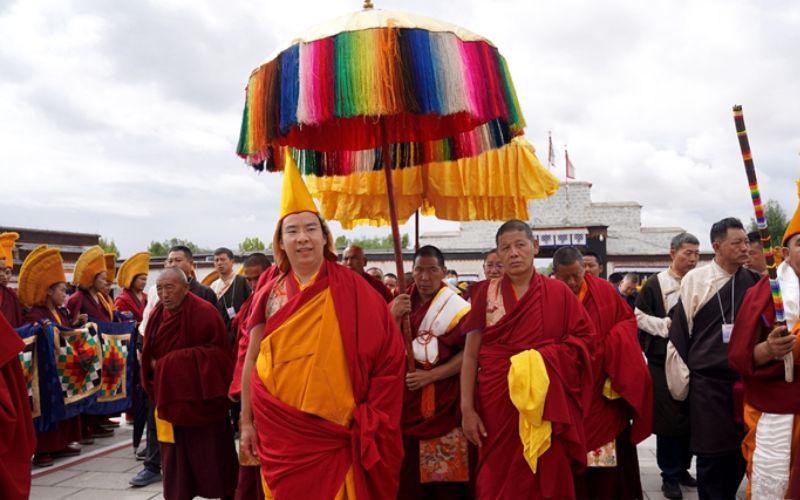 Tibetans must be grateful to CCP: China-appointed Panchen Lama Gyaltsen Norbu
Lhasa: Chinese appointed Panchen Lama Gyaltsen Norbu has reportedly visited the Tashilhunpo Monastery, which is located at the foothills of Nisiri Mountain on August 2, 2022. Reports suggest that Gyaltsen Norbu has also visited Sangding Monastery and Lhoka City last month where he gave lectures in which he spoke about the "Sinicization of Tibetan Buddhism".
The fact that he chose to arrive at the monastery in a "bullet train" is part of China's "development" narrative; China claims that it brought "development" to Tibet in the form of infrastructure (dual-use), which in reality, masks the grave human rights violations underway in Tibet, which it unlawfully annexed.
Tashi Lhunpo Monastery (Tibetan: བཀྲ་ཤིས་ལྷུན་པོ་), founded in 1447 by the 1st Dalai Lama, is the traditional monastic seat of the Panchen Lama, and an historically and culturally important monastery in Shigatse, the second-largest city in Tibet. The monastery is the traditional seat of successive Panchen Lamas, the second highest ranking tulku lineage in the Gelug tradition of Tibetan Buddhism. The tallest and largest bronze Buddha statue in the world is in Tashi Lhunpo Monastery.
Gyaltsen Norbu's celebrated visit to the monastery seems to be also an attempt to emphasize its role in controlling Tibetan Buddhism, Sinicization of Tibet and to assert its authority over reincarnation debate of Dalai Lama.
Samding Monastery (Tibetan: ཡར་འབྲོག་བསམ་སྡིང་དགོན།) "The Temple of Soaring Meditation" is a gompa built on a hill on a peninsula jutting into Yamdrok Lake about 10 kilometres (6.2 mi) east of Nangkatse. During his visit, he said that "monks in temples should further enhance their national awareness, civic awareness, and awareness of the rule of law, and play a leading and exemplary role in the "three awareness" education activities" and expressed hope that "all people in the Tibetan Buddhist community will practice the tradition of loving the country and religion, and carry forward the Tibetan Buddhist culture". He also projected Dorje Pam Rinpoche, "as a model of loving the country and religion", who has "made due contributions to the Sinicization of Tibetan Buddhism".
In a speech given at Lhoka city, Gyaltsen Norbu mentioned that "Tibetans are the happiest people in the world". "Without the Communist Party of China, there would be no achievements made today, and without the Communist Party of China there would be no bright future. Therefore, we must be grateful to the Party, listen to the Party, and follow the Party", he added.
Gedhun Choekyi Nyima, the 11th Panchen Lama, was abducted by the Chinese authorities in 1995 when he was six years old. Although officially atheist, China selected Gyaltsen Norbu as the 11th Panchen Lama in 1995, in a drive to project him as the face of Tibetan Buddhism and win the hearts and minds of Tibetans. However, China's plans have largely failed to take off and Tibetans within and outside China have refused to acknowledge him as the Panchen Lama.
By Team TRC