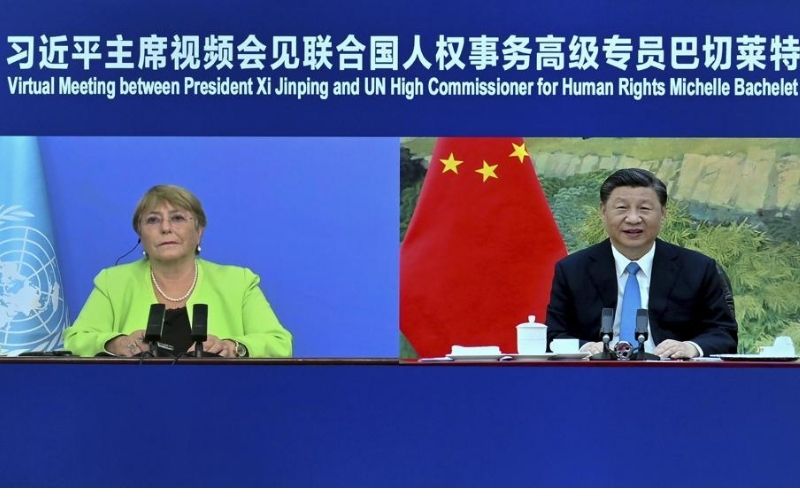 UN human rights chief holds meeting with Xi Jinping on her China trip
Dharamshala: The UN Human Rights chief Michelle Bachelet on Wednesday spoke to Chinese premier Xi Jinping via video link amid rising criticism of her visit for fear of whitewashing human rights abuses committed by China.
The six-day trip also includes a visit to the sensitive East Turkestan or the so-called Xinjiang region, where credible reports from UN and US State Department last year stated that the ethnic Uyghur Muslim community has been persecuted, sent for re-education and unlawfully detained by the Chinese authorities in concentration camps.
The rights chief said that the meeting with Xi is a "valuable opportunity" to speak about human rights issues.
"For me, it is a priority to engage with the government of China directly, on human rights issues, domestic, regional and global. For development, peace and security to be sustainable, locally and across borders, human rights have to be at their core," commissioner Bachelet said in her opening remarks. However, critics and governments have serious doubts whether she will be granted "unfettered access" to make a proper assessment of the human rights situation inside Tibet. China said that her visit would be carried out in a "closed loop," meaning that the delegation would be isolated in a "bubble" to prevent the spread of Covid-19.
The Reuters report cited Western diplomats who had access to Bachelet's meetings that on Monday, she told Beijing-based diplomats her trip to Xinjiang is "not an investigation" but for a "longer-term engagement" with authorities in China. The CCP government had initially denied allegations of mass detention camps in East Turkestan but later said that these were "vocational training centers" designed to curb supposed terrorism, separatism and radicalism in the area.
"We have no expectation that the [People's Republic of China] will grant the necessary access required to conduct a complete, unmanipulated assessment of the human rights environment in Xinjiang," US State Department spokesperson Ned Price said on Tuesday ahead of Bachelet's visit, demanding that she act objectively and report factually on the human rights situation in China.
(Information supplied by Phayul)
By Team TRC