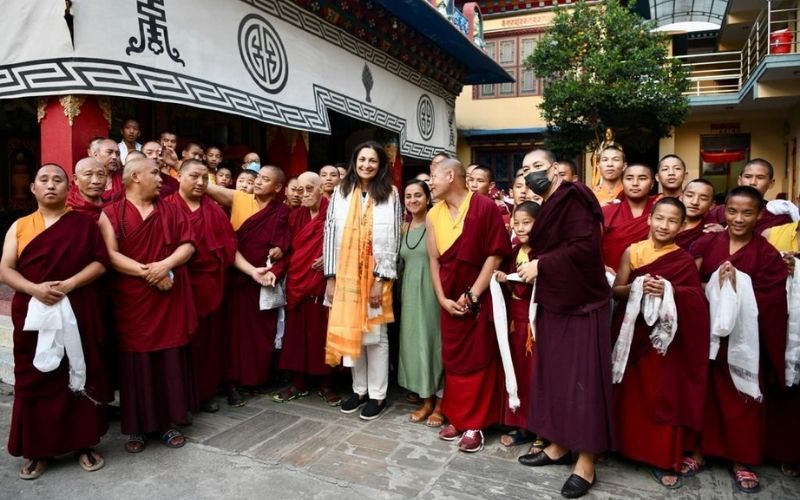 US Special Coordinator for Tibetan issues meets with Tibetans in Nepal
Kathmandu: On her three-day visit to Nepal's capital Kathmandu beginning May 20, US Under Secretary for Special Coordinator for Tibetan Issues, Ms. Uzra Zeya, has paid a courtesy call on Prime Minister Sher Bahadur Deuba at the latter's residence in Baluwatar after having met with Tibetan community leaders and members.
On Friday, 20 May, during a regular press briefing, Foreign Ministry spokesperson Sewa Lamsal said that the government was not aware of any meetings between visiting US Under Secretary Uzra Zeya and Tibetan refugee leaders in Kathmandu.
The press meeting was organized just hours before Zeya's arrival in Kathmandu, from India where her meetings with Tibetan leaders in Dharamshala, including the Dalai Lama, were making headlines.
Some Tibetan leaders in Nepal, who spoke to the Post on condition of anonymity, however, had intimated that the US official would be meeting them during her three-day stay in Nepal.
As soon as Zeya arrived in Kathmandu on Friday, she awarded the International Women of Courage to Bhumika Shrestha and Muskan Khatun, according to the US Embassy in Kathmandu.
On Saturday, Zeya held talks with Tibetan refugee leaders in Jawalakhel. According to security officials, the meeting lasted over an hour and the US official listened to the concerns of Tibetan refugees in Nepal.
Before visiting the Jawalakhel-based Tibetan camp, she also held a meeting with some human rights defenders and discussed the issues related to Tibetan refugees and the problems faced by them.
On Saturday evening, she visited the Boudha area where a large section of Tibetan refugee's lives. She posted a picture on Twitter, saying: "Honored to visit the impressive Boudha Stupa during my visit to Nepal. What an awesome example of Nepal's rich religious, architectural, and cultural history."
More details here.
(Information supplied by The Kathmandu Post)
By Team TRC