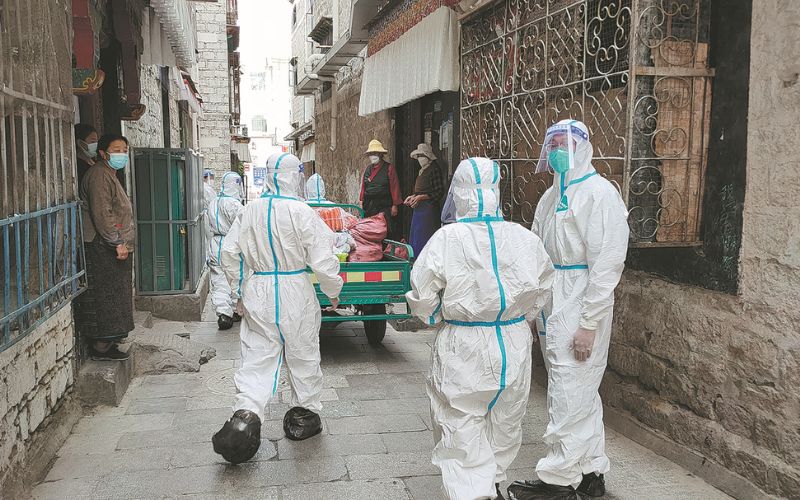 No End in Sight: Tracking Three months of Zero-COVID repression & Lockdown in Tibet
"We just want to go home." Han migrant workers in Tibet's capital Lhasa protesting against the extended lockdown and Chinese Communist Party's Zero-COVID policy were heard screaming in the videos that were shared in social media. The Tibetans in occupied Tibet, who have been under a strict lockdown for the last 80+ days, also want to go home. Just that their 'home' is not 'home' anymore. CCP's mismanagement of COVID and use of such a crisis as an opportunity to further its subjugation of Tibetans in their own homeland are issues that the world is not discussing enough.
Harsh Lockdown & Quarantine rules, Lack of food & Medicines and Arbitrary Testing
In the first week of September 2022, videos posted by Tibetans in the region revealing the harsh conditions they are subjected to under the name of CCP's infamous Zero-COVID policy in Douyin and Weibo started getting noticed.
Some videos showed 'COVID buses' in which people are ferried to hospitals/ quarantine centers/ "centralized isolation points' ' where the patients are held as captives and are given only one meal a day. As observed by Tibetologist Robert Barnett, the city ended up transferring an unusually high proportion of its population into the fangcang system. All the "close contacts' ' who had no symptoms or did not require treatment were sent to these isolation centers. A video shared by Tibetan organization Students for Free Tibet showed the authorities moving perfectly healthy young children and elderly Tibetans to dark rooms with no access to food and medical treatment. The authorities reportedly were also mixing healthy people with those who have tested positive and they are put together in the same rooms.
These isolation centers (schools, construction sites, unfinished apartments, office courtyards, exhibition halls and tents were converted to such quarantine spots) were seen to have inadequate facilities to house those transferred there. A distressed woman from Lhasa posted a video berating the authorities for failing to provide adequate meals and care for people. Videos that show Tibetans talking about poor and unhygienic quarantine facilities with no sanitation/ beds and no caretakers, crowded testing sites with no distancing rules followed, flooded bathrooms, unavailability of food and medicines, barely edible food and no potable water leaving many helpless were shared in social media. Another video showed how due to the closure of restaurants, shops and hotels in Tibet, local Tibetans in Lhasa had to distribute vegetables among themselves to sustain themselves.
A video even showed Chinese health workers spraying chemicals right at Tibetan's faces to 'disinfect' them in a quarantine concentration camp. Earlier, videos of authorities disinfecting areas of Tibet were also shared widely in social media, with netizens questioning the unscientific way in which the city was being 'disinfected'.
Information Blackout
Reports of CCP censoring Weibo posts about COVID19 in Tibet also poured in. "The Weibo hashtag about the handling of the Tibetan coronavirus outbreak #西藏疫情防控# has been completely censored. This morning there were hundreds of posts. Now, nothing but an official press conference from August 11", tweeted Alexander Boyd, Senior Editor, China Digital Times. Chinese authorities have reportedly been arresting Tibetans for posting online videos of harsh COVID-19 lockdown measures being carried out in Lhasa to contain the spread of the disease. Gontse, a teacher of the Tibetan language who shared videos and other images of the Chinese government's inhumane treatment of people in Lhasa was reportedly arrested in August 2022. The authorities have reportedly punished more than 700 people for "creating and spreading rumours."
COVID Suicides
According to Tibetan Centre for Human Rights and Democracy's report, five people died after committing suicide driven by China's ongoing enforcement of their Zero-Covid Policy in Tibet's capital city Lhasa; they were reportedly from the Lhasa comprehensive protective tariff zone number two (West Lhasa), the Bayi community (southwest of Norbulingka), Lanting apartment (near Tibet University) and Gakyiling neighbourhood three (east of Lhasa). If information from Tibet was more freely available, the numbers might even go up.
Protests in Lhasa
On October 25, 2022, Han Chinese migrants of Lhasa reportedly started to protest against the harsh lockdown rules which did not allow them to leave the city. They were joined by local Tibetans who took to the streets to register their protest against the arbitrary and inhumane lockdown.
Videos showed hundreds demonstrating and clashing with police. One showed the protestors gathered on the streets with officials in white protective suits blocking them at one end. Another showed authorities asking for people to "please be understanding and to go back". The authorities were quick to resolve the issue and it was decided to issue faster permits for negative-tested people to leave the lockdown.
Why are these protests significant? In reality, these were protests by the Chinese against the Chinese government. When the Han Chinese (who have suppressed Tibetans in their own land) themselves begin to protest, it reflects the impact the unscientific and inhumane lockdown and mishandling of the situation has had on the inhabitants of the region. Their demands were met and the authorities resolved their issues; as one Twitter user pointed out, if it was a protest by the Tibetans, it would have been met with brute force and there would have been "bloody suppression". Any similar demand by Tibetans would have been dubbed a threat to the state.
Some media reports compared the protest with the 2008 protests by Tibetans, which were brutally suppressed and shut down by Chinese authorities. This is the first instance of a mass unrest since 2008 and this is a significant development given that China maintains tight control over the occupied region, trying to put out the slightest of dissent; even keeping a picture of His Holiness the Dalai Lama is considered a crime in occupied Tibet. Speaking in support of Tibetan language, maintaining contact with Tibetans in exile, creating social media groups and sharing posts/images which CCP perceive as 'threat' are crimes which can land any Tibetan in jail where they will be subjected to torture. Tibet has been converted to a surveillance state where the movement of people are monitored for any sign of dissent. Given these circumstances, the COVID19 protests did break many grounds.
Though the authorities issued an apology for their handling of the city's lockdown, things haven't improved for the inhabitants of the world's rooftop. It is unfortunate that the Tibet issue – from its illegal occupation by CCP and grave human rights issues to the misuse of COVID19 crisis as an opportunity to further suppress the Tibetan psyche – is not receiving the attention it deserves.
The callousness with which CCP has treated Tibet during this calamity reflects the larger indifference it has towards Tibetans, one of the most peaceful communities of the world. This has laid bare the hollow GDP and development rhetoric that CCP indulges in when they talk about Tibet. The world needs to talk about and stand up for Tibet before it gets too late.