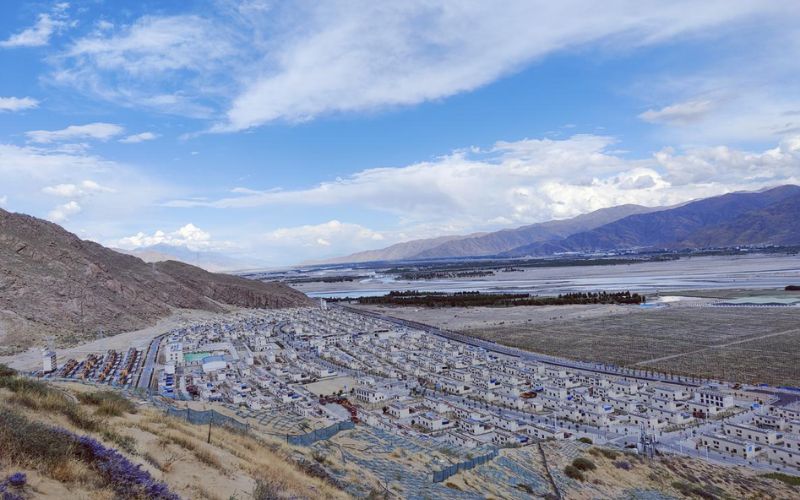 China to relocate thousands of Tibetan people, claims to improve living conditions and protect environment
Lhasa: According to some reports, China is planning to relocate thousands of Tibetan people away from high-altitude places in Nagqu City, Southwest Tibet Autonomous Region under a relocation plan that aims to improve the living conditions of the people and protect the region's fragile ecosystem". More than 26,300 rural residents of 6,306 households from high altitudes in the Tibet autonomous region will be relocated to the Sinpori site in Lhokha before Aug 11, China Daily reported. This is yet another instance of greenwashing, which is spreading environmental disinformation to implement policies that hamper the environment.
More than 130,000 people in around 100 Tibet towns will be covered under the relocation plan in eight years, noted the report. This comes after a recent White Paper of Tibet titled 'Tibet since 1951: Liberation, Development and Prosperity from Beijing' highlighted very clearly how there was no concern about the level of destruction to Tibet's environment, reported Tibet Press.
Since the 1959 Uprising, the central government of China has been steadily tightening its grip on Tibet. In Tibet today, there is no freedom of speech, religion, or press and arbitrary detainments continue. Forced abortion, sterilization of Tibetan women, and the transfer of low-income Chinese citizens threaten the survival of Tibetan culture.
Beijing which currently governs Tibet sees the latter as a dump zone rather than a safe haven and does not provide the required resources to protect this very fragile but significant eco-system and unique biome, added report.
Addition to that, Tibet experiences the harsh reality of climate change through environmental destruction and degradation advocated by policies from Beijing. The melting glaciers of Tibet are worrying and troublesome for all the regions that depend on it as their ultimate source of water. Over 1.5 billion people across the continent of Asia rely on Tibet for their source of water since the largest rivers in Asia such as the Brahmaputra, the Ganges, the Mekong and the Yangtze all flow from Tibet.
Read our op-ed on the relocation and resettlement of Tibetan nomads by China here.
By Team TRC